There's no particular rhyme or reason to this blog…it's just a collection of things that have occurred to me, or that I thought some people might not be aware of, that I wanted to share.
Did you know that there are now four different places to get ice cream in Disney California Adventure? Paradise Pier Ice Cream Co (the former Catch a Flave), the Ice Cream Cone at Sally's Cozy Cones, Clarabelle's Hand-Scooped Ice Cream on Buena Vista Street, and Ghirardelli Soda Fountain and Chocolate Shop in the Pacific Wharf.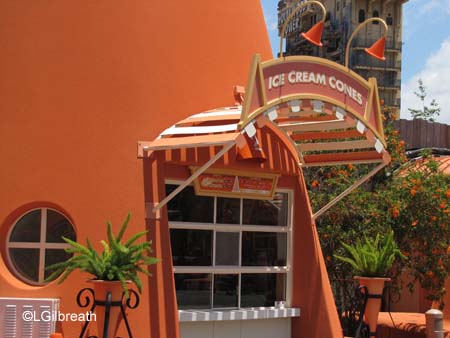 I love the hot fudge sundaes at Ghirardelli, but my new favorite ice cream treat is the Hand-Dipped Ice Cream Bars from Clarabelle's. (In About.com's recent poll of Disney travel journalists I ranked it my #1 snack.) First you choose your ice cream bar: vanilla, chocolate or mixed berry sorbet. Then you choose your chocolate: dark or milk. And then you choose your topping: chocolate chips, confetti Mickeys, blue raspberry bursts, rainbow sprinkles or all of above. No surprise to anyone who knows me, I'm sure, but I am a chocolate/dark/chocolate chip girl.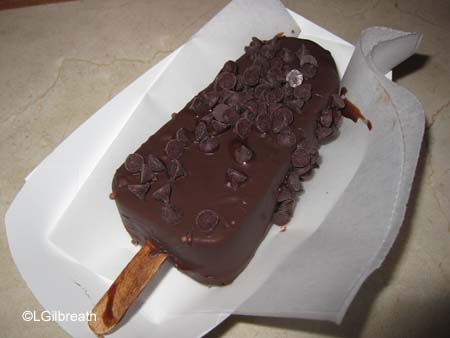 If you haven't seen it, check out one of the Instant Concert – Just Add Water shows. It's a daytime water show where Maestro Goofy conducts the World of Color fountains which have been choreographed to various musical selections. It's Goofy, so sometimes things get a little out of hand…There are three different shows, each taking place twice a day. They are only about 5 minutes long. Check the daily Times Guide for show times.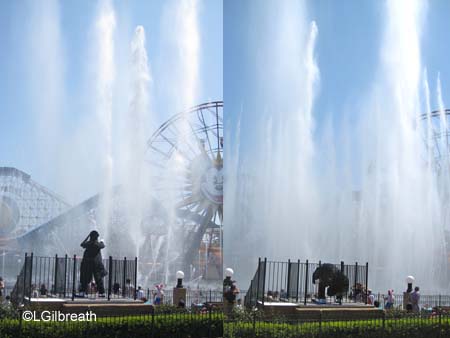 Oh, and speaking of the Times Guide…Disneyland and DCA used to share one Times Guide, with DCA events on one side and Disneyland on the other. This summer, there are so many things going on that each park has its own individual fold-out four page Times Guide! These give a much better overview of the entertainment offerings than the old guide had space for.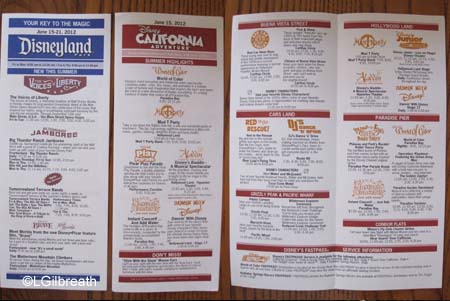 Be sure to check out the new exhibit in the Blue Sky Cellar: The Radiator Springs Historical Society's Museum of the History of Radiator Springs. In the screening room they are showing a really fun Pixar short: Time Travel Mater. It tells the story of the founding of Radiator Springs – which also explains a lot of the artifacts that are in the Radiator Springs Racers queue. This one really makes me smile.
Throughout the day you'll find the Citizens of Buena Vista Street out and about. There's Disney characters in period attire (Zoot Suit Goofy, Newsboy Mickey), and there's the other citizens, like Officer Blue, Donna the Dog Lady, Molly the Messenger and Fifi the Photographer. It's interesting to see these characters interact with the shows on Buena Vista Street – Goofy joins Five & Dime for a dance number, and Mickey and Molly are part of the Red Car News Boys show.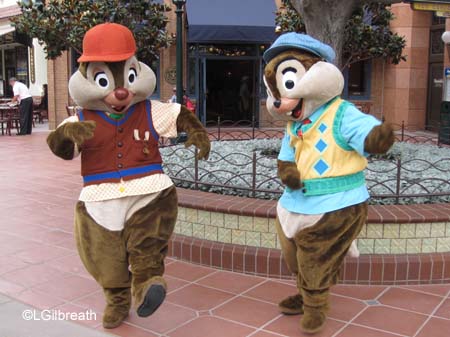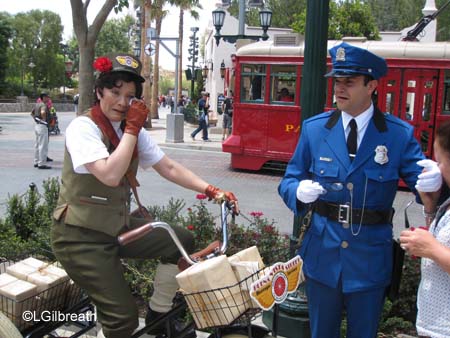 A new entertainment offering this summer, and one that I think has been overlooked by parents with pre-teens, is Dancin' With Disney. It takes place during the day in Stage 17 in the Hollywood Land area of DCA. (By the way, the area formerly known as the Hollywood Pictures Backlot is now Hollywood Land.) While a DJ hosts the event and spins the tunes there are anywhere from 6-8 Disney characters on the dance floor at a time, dancing with any kids (or adults) who want to come out and join them. It's a great opportunity for the kids to get some up close time with the characters. There are at least two different sets – one featuring Disney villains like Captain Hook and Cruella de Vil, and another with some of the Disney "girls", such as Lilo, Daisy, Cinderella's stepsisters, Clarabelle Cow and Clarice the chipmunk. On a warm day it's a nice air-conditioned space to take a break. There's not a lot of seating, but there are some benches around the perimeter of the room.
Each night around dusk there's a moment when the neon lights in Cars Land come on. It's really worth taking the time to see it. The song "Sh-boom" plays in the background as the lights come on – starting at the end of the street by the courthouse and moving down to the entrance to Cars Land. I don't think there's a spot that's going to give you an unobstructed view of all the lights, so there's many places to position yourself. If you're at Cross Street you'll be able to see in all four directions – there's a lot of neon on Flo's V8 Cafe. But I like watching from around Sarge's Surplus, and watching the neon lights move up and come closer to me.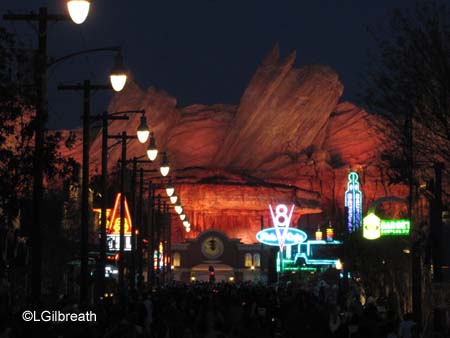 There are some strange critters wandering around the Mad T Party in the evenings. There's these crazy guys riding pink flamingos who get up close with the guests.
And a few times a night they bring the "Who Are You" character out on stage. This colorful "human slinky" performs some very interesting moves.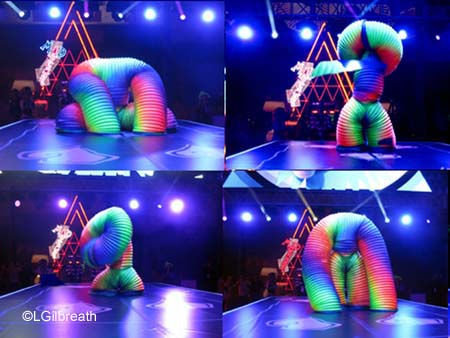 How about you? Any things that you've noticed at Disney California Adventure that you'd like to share with your fellow readers? Please submit your comments using the comment link below.