So another panel I attended was on TRON: Uprising–the new animated series based on the popular Tron universe.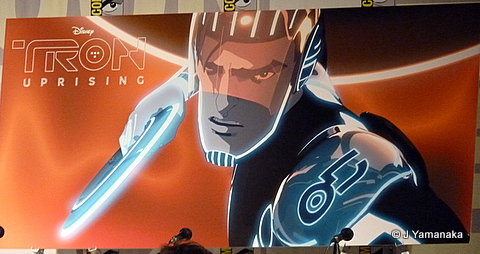 Taking place temporally between the original TRON film and the recent TRON: Legacy, the show promises to fill in the events that led up to the changed situation Sam finds on the Grid, and the metamorphosis of Tron himself.
The panel was moderated by Variety Film Editor Josh Dickey, and included Creator Charlie Bean, Producers Edward Kitsis and Adam Horowitz, voice actors Elijah Wood (Beck), Bruce Boxleitner (Tron), Tricia Helfer (The Grid), Art Designer Alberto Nielgo and Lead Character Designer Rob Valley.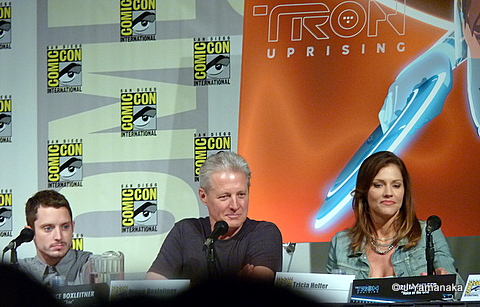 They answered some brief questions about how they liked the TRON movies and came up with the new voices for the series, and then showed clips from an upcoming episode hinting at the eventual corruption of Tron. When asked if Wood's new character would be added to the film series, they could only say that a sequel to TRON: Legacy is currently in the works.
Subsequently, they raffled off some signed light discs, which Boxleitner threatened to send by…direct methods.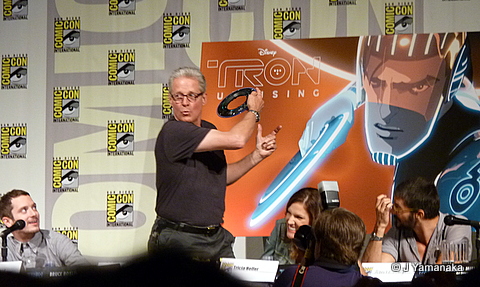 TRON: Uprising plays on the Disney XD channel.
Finally, the last big Disney property I saw being represented was the highly anticipated "Epic Mickey 2: The Power of Two" video game.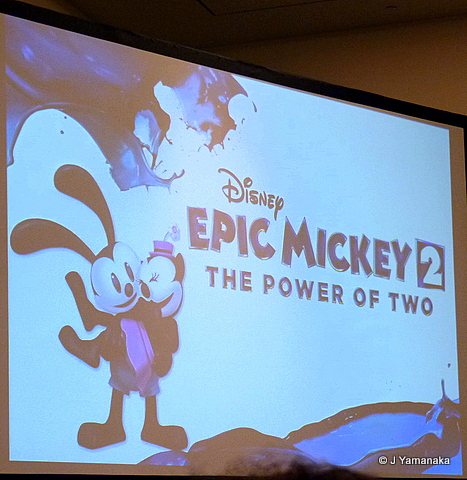 [I actually already covered some of the game information/mechanics as was displayed at the E3 Conference earlier this year: My E3 Blog.]
Representing Disney and Junction Point (the game development company headed by Warren Spector and now part of Disney Interactive Studios,) were DC and Marvel comic book writer Marv Wolfman, game designer Warren Spector, Director of the Walt Disney Archives Becky Cline, and veteran comic book writer Peter David.
As the panel began, all the members were presented with their very own embroidered Oswald ears, which they wore with varying degrees of pride and chagrin.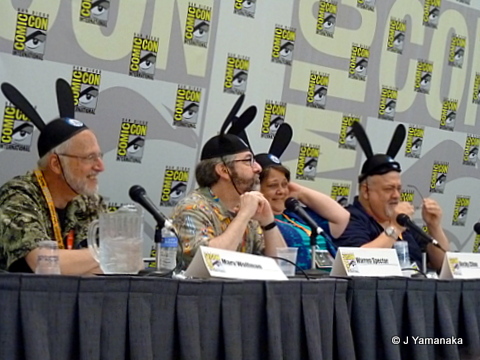 They started off by showing their opening video, setting up the game and showing off some of its immediate differences from Epic Mickey 1. (ALL TALKING! ALL SINGING!)
Some of the introduced themes: Does everyone (the Mad Doctor) have the possibility of redemption? Or is some evil too profound to be redeemed?
Choices in the game also have a bigger impact as changes you make to the game environment, constructive (paint) or destructive (thinner,) have persistence and long-ranging consequences for the course of your story. They estimate the game may take something like 10-15 hours to complete (or half a year, if you're as bad at platforming as I am,) but that you have to play it three times to see everything.
Cline went over the story of Walt Disney losing Oswald to his distributor, Charles Muntz, as depicted online in Prominent Oswaldologist Morgan Ditta's video "Oswald's Story."
There was, of course, a happy ending 80 years later, in real life, as Bob Iger traded sportscaster Al Michaels to NBC for the rights to Oswald. Peter David: "So you're saying we almost sat here wearing Al Michaels ears?!"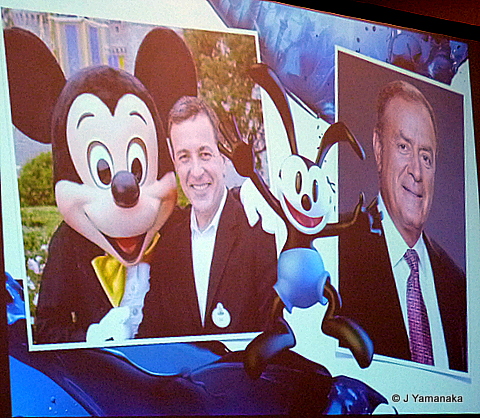 Wolfman spoke briefly about how amazing he found it, being the person to write Oswald's first spoken dialogue in 80 years. "…I don't know how a mouse and a rabbit are brothers…" Spector interjected "…and he has a cat girlfriend!" "…but you accept it, because they also wear pants."
David then described the graphic novel he's writing which tells a number of tales about the Wasteland and Oswald, and which should be out around the same time as the game (November 18.)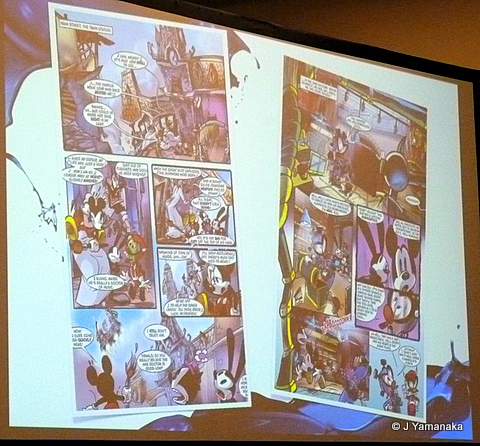 There will also be a Nintendo 3DS version of the game with an entirely different narrative, and numerous 16-bit gaming tributes, including references to "Castle of Illusion Starring Mickey Mouse"
They ended by emphasizing that they've tried to follow John Lasseter's advice to them, to make games for everyone, as Pixar strives to make movies for everyone. Spector also remarked that virtually everything in the game is inspired or references something real from Disney history, and that he's waiting for a fan to make a definitive list for them, because they don't have one.