Have you ever wondered what it's like to cruise with a group? Well I can tell you based on our experience that it's fun!
Carol and I have cruised once on our own; we've cruised with a few friends twice and we've cruised as part of a large group four times. Our experience has been that the group adds a new dimension to the cruise experience. We really like it!
A group cruise is simply a cruise vacation which is organized by a person or company and is then offered to people with common interests. The organizer often arranges group activities which individuals can elect to participate in if they wish. There is no pressure to participate, it is purely voluntary.
What are the advantages of a group cruise?
• Well, an obvious advantage is price. The organizer can sometimes negotiate very favourable pricing by committing to a number of staterooms.
• Another is the diversity of the group. Carol and I enjoy the opportunity to mix and mingle with old friends we see on the ship and we like to meet new people as well. The group cruise gives us this opportunity.
• You can be as involved and active as you like or you can just kick back, relax and ignore all the group activities. There is no truant officer!
So what are some of these group activities? Let me give you some examples from our latest adventure.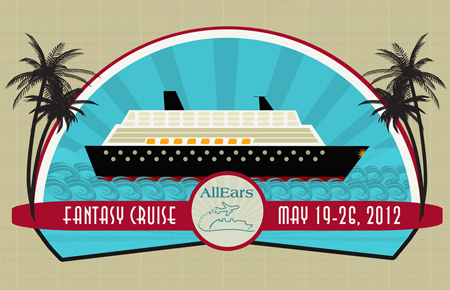 We sailed on the AllEars Disney Fantasy Cruise which took place May 19 – 26, 2012. The bookings were all taken care of by our good friends at MouseFan Travel and the group activities were all arranged by AllEars and MouseFan Travel. There were 125 cruisers in our group and we occupied 52 staterooms on a seven day eastern Caribbean cruise.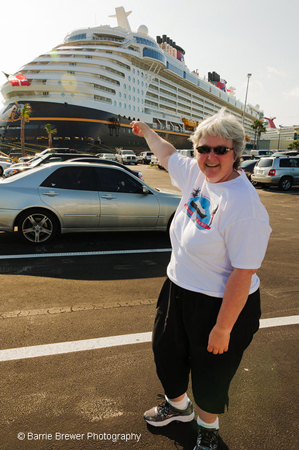 On Saturday we boarded the Fantasy and one of the first stops was the AllEars registration desk where we registered, picked up our AllEars Navigator (schedule of events) and our scavenger hunt questionnaire.
We also received our "Welcome Gift" . . . a backpack full of a variety of swag! Disney Cruise Line gives some pretty nice swag to returning cruisers, members of the Castaway Club, but not nearly as nice as the AllEars swag we received. It was a high quality AllEars backpack full of trinkets and treasures. In the pack we found a handy little first-aid kit, chap stick, hand sanitizer, a sewing kit, a small cooler bag from David's Vacation Club Rentals, a pen from All Star Vacation Homes, an AllEars lanyard and a MouseFan Travel cell phone pouch but the highlight was the AllEars Trading Cards Build-A-Set.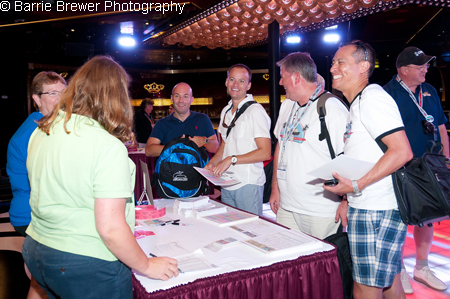 Since May 2010 AllEars has been creating a unique Trading Card for each event they hold. When we sailed there were 52 cards in the series and the Build-A-Set in each backpack contained ten copies of five of those cards. The challenge was to connect with fellow cruisers and trade cards until your set was complete. The trading was fast and furious! There were two more cards released during the cruise and by the time we debarked most people had managed to acquire a complete set of all 54 cards. This was a terrific way to meet a lot of new people!
MouseFan Travel had a table at the registration area as well to help with any last minute arrangements, group booking for a special Palo brunch, etc.
After settling into our stateroom and attending the mandatory lifeboat drill we headed up to deck #12 for the sail-away party. This was our first chance to mix and mingle with others in the group.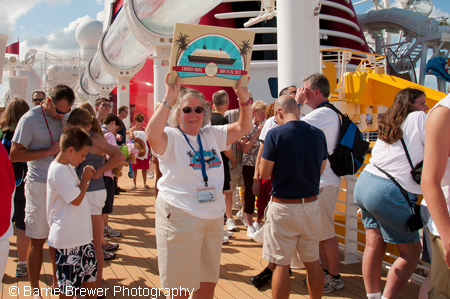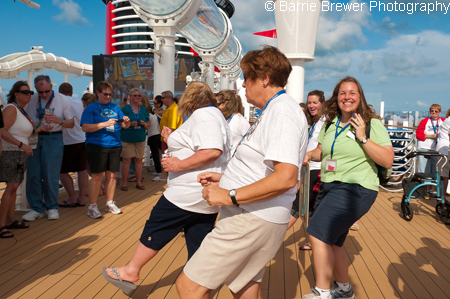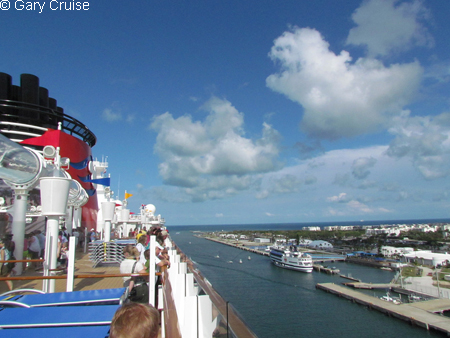 There was a scavenger hunt which required cruisers to answer some very challenging trivia questions about the Disney Fantasy. The door decorating contest ensured that some of the stateroom doors were quickly transformed into lavish art displays!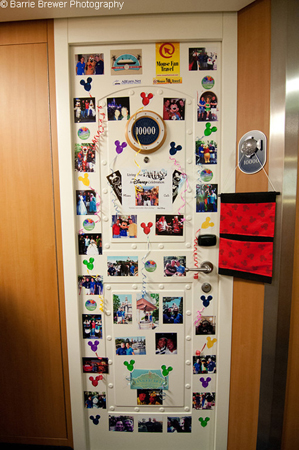 Each of the three "sea days" AllEars founder Deb Wills invited everyone to join her at 8:00 a.m. for coffee and chatter at the Cove Café. These meets were always well attended . . . another opportunity to trade those AllEars Cards! The trading even attracted my wife Carol who is not normally a "morning person".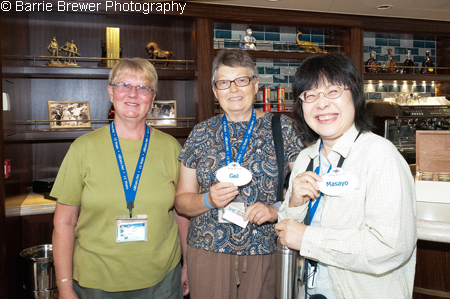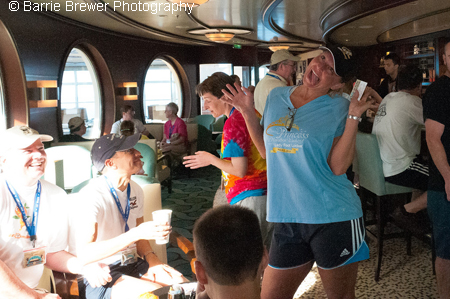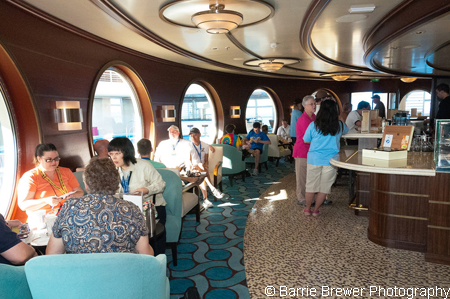 Sunday afternoon there was an Ice Cream Social. We met at Eye Scream Treats on deck #11 and everyone helped themselves to a self-serve ice cream treat. Yum! Everyone enjoyed it!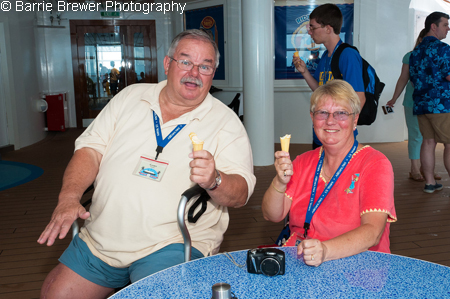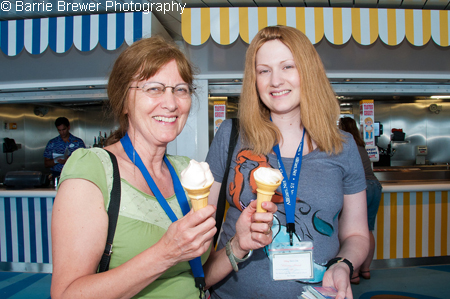 Some people really enjoyed it!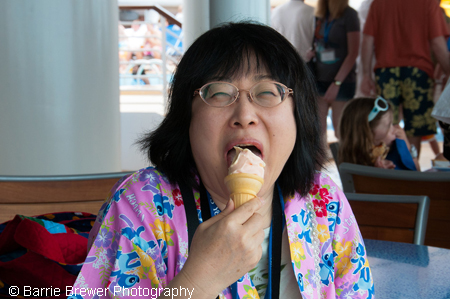 And of course they traded cards!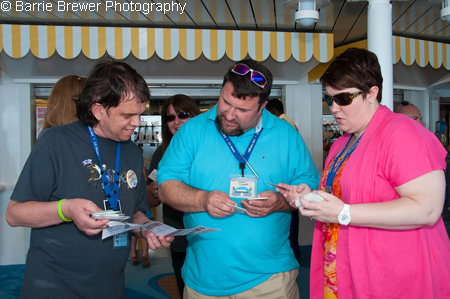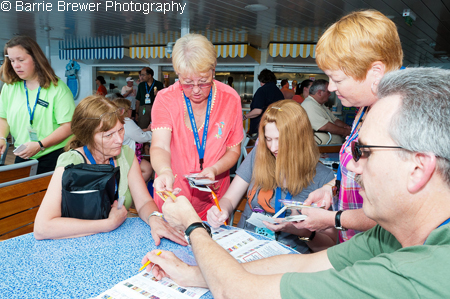 Sunday evening we met for cocktails in La Piazza on deck #4, a few impromptu photo-ops ensued!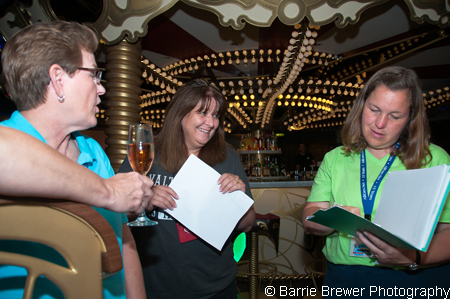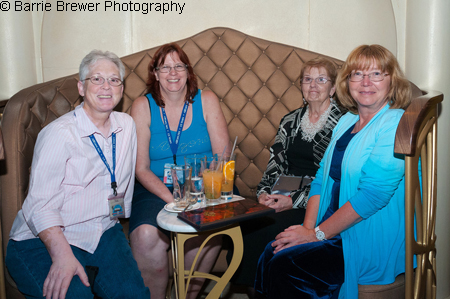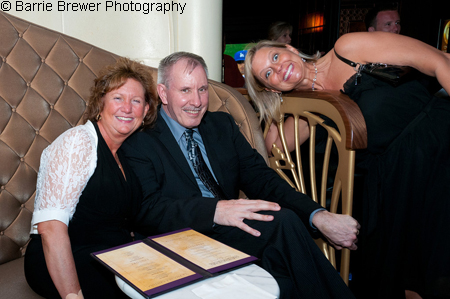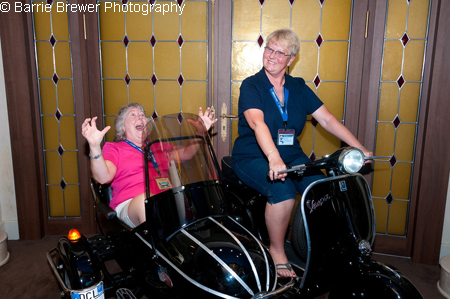 Monday morning, after coffee with Deb in the Cove Café, we gathered in The Tube on deck #4 for some pin trading. Carol was busy manning the pin board for the full 90 minutes and answered a lot of questions for some newcomers to pin trading.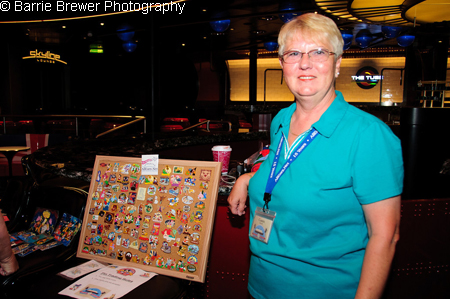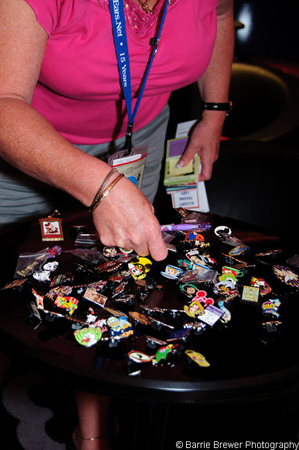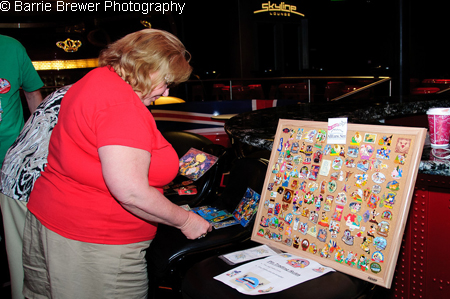 Once folks had done a pin trade (or two or three) out came the AllEars cards and the traders spread out all over The Tube.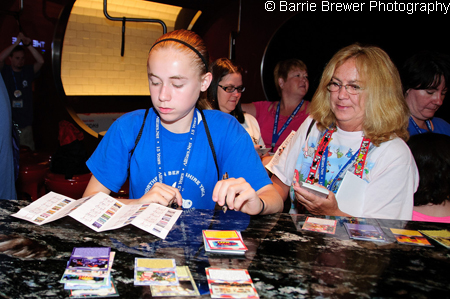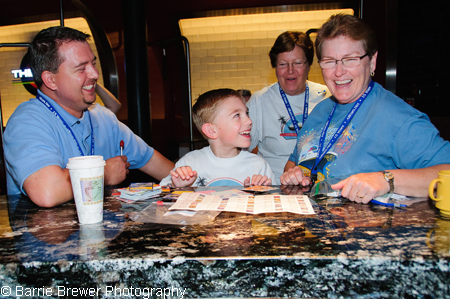 While we had great weather, a brief rain Monday afternoon dampened plans for the Mini Golf meet on deck #13, Goofy's Sport Deck. Maybe next time . . .
Most of our group selected the early dining option and we were all seated in close proximity in the dining rooms. This gave yet another opportunity to see the new people we met and was especially fun on Pirate Night when we got to see everyone's costumes! Argggh!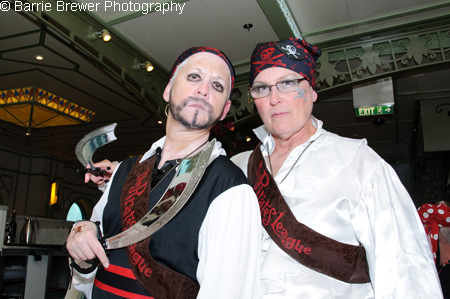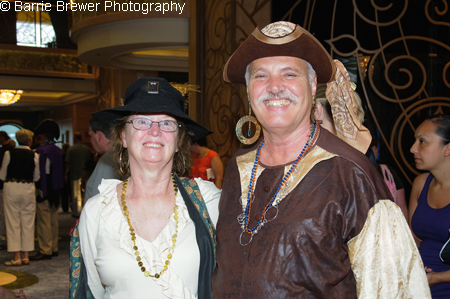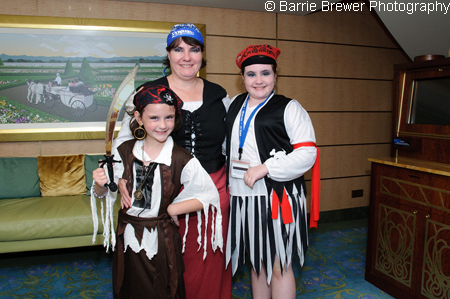 Thursday morning, after coffee with Deb in the Cove Café, we gathered in the atrium on deck #3 for a photo-walk. Barrie Brewer was our leader and expert photographer. She explained what a photo walk was all about, then we broke into two groups and got started. We simply walked around the ship taking pictures. I led one group which stayed in the atrium and did our best to capture some interesting images there. Barrie Brewer and Linda Eckwerth took the other group and headed to Europa, the adult entertainment area on deck #4. My group rejoined them there and the larger group swarmed Europa taking pictures. The mosaic murals of toreadors and flamenco dancers in the restrooms were an extremely popular subject!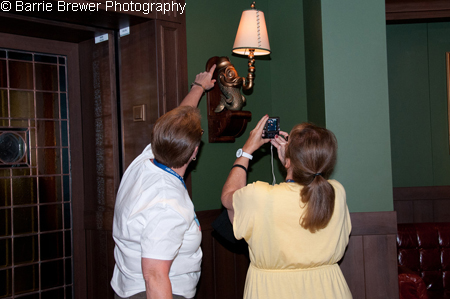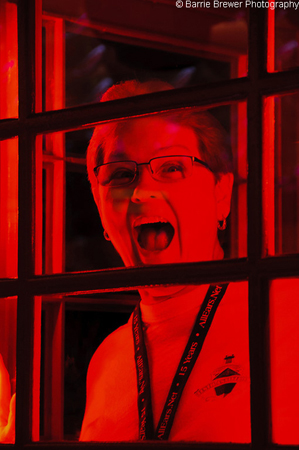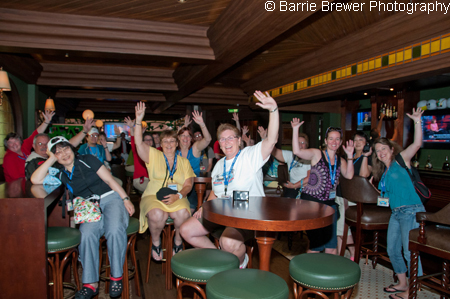 Friday at Castaway Cay many of us convened for a group lunch at the Serenity Bay barbecue. It's funny but even with all the fine dining available on the ship, this barbecue on Castaway Cay is always one of my favourite meals!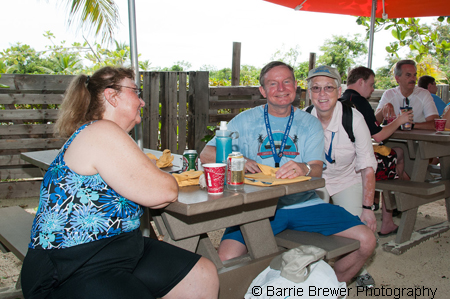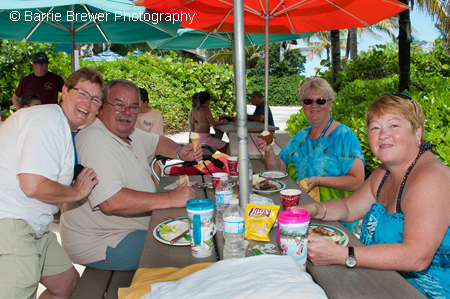 Then came the grand finale! The AllEars farewell party on Friday afternoon. The cruise was coming to an end, we debark tomorrow. Dang! We met in The Tube on deck #4. A slide show of pictures from many of our meets was playing on three large screens behind the stage and we were treated to complementary beverages and snacks!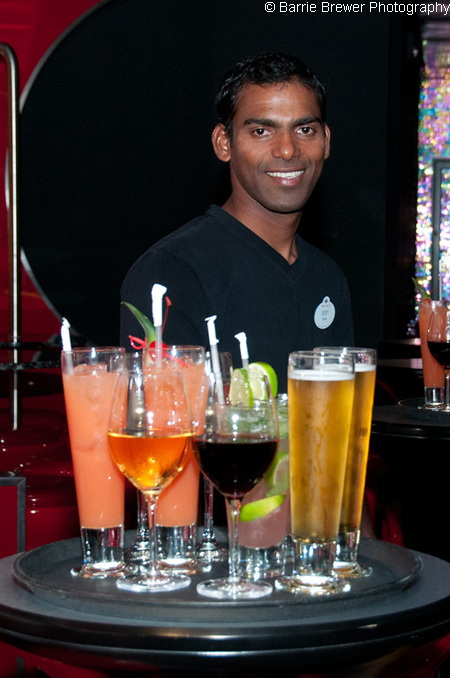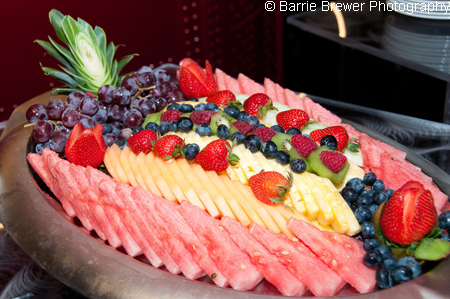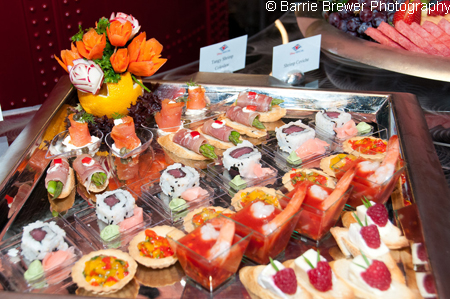 Deb Wills thanked us all for joining her on the cruise and for participating in so many on-board events. These events were scrolling behind her in the slide show so we relived them as she spoke.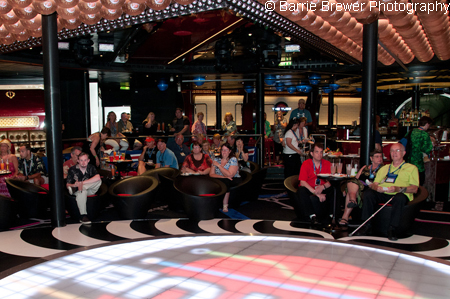 Soon the prizes were handed out for the scavenger hunt and the door decorating contest. Then the raffle tickets were drawn. Every time you attended any of the events or meets during the cruise you were given a raffle ticket. There were over a dozen prizes and some very happy winners.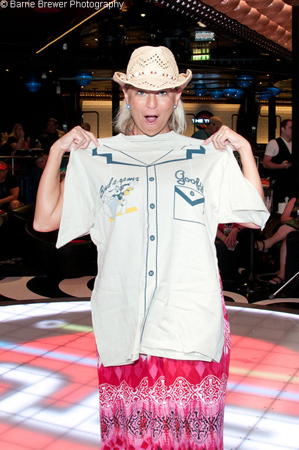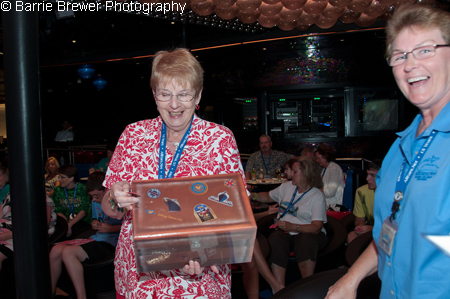 None of us were happier than Karilynn who won the grand prize donated by MouseFan Travel, a seven-night stay at a Deluxe Resort at WDW, including dining! Wow!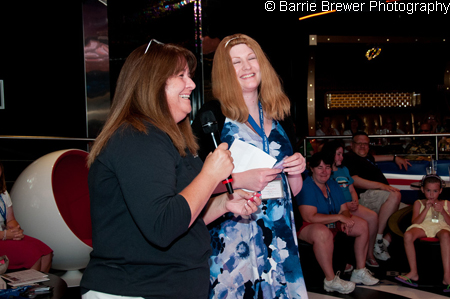 After the prizes were all awarded we had a surprise visitor, Captain Mickey came and posed for pictures with all of us! What a treat!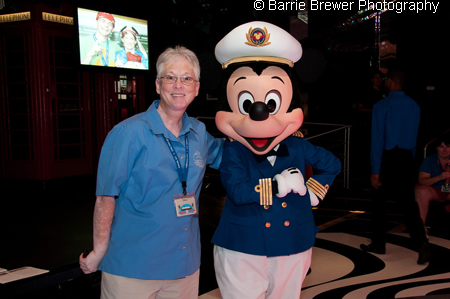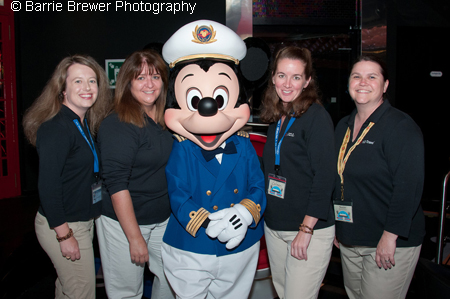 So that's what a group cruise is all about. There is always a nice variety of activities which you can elect to participate in but they do not interfere with other things you want to do. We attended almost all the group activities but we were still able to see every show in the Walt Disney Theatre. We spent plenty of time lounging around the pool, enjoyed shore adventures and did all the other things we like to do while cruising. The bonus was we met some very nice people and made some new friends while we were doing it!
So if you think a group cruise might appeal to you keep your eyes on AllEars.net – Deb was hinting about another AllEars cruise in 2014. I hope we'll see you there!