Star Wars fans will, of course, be in their element at Disney's Hollywood Studios during Star Wars Weekends. But even if your kids cannot tell Luke Skywalker from Anakin Skywalker, they still can have a great time celebrating The Force.
First, get in a Star Wars mindset by riding Star Tours — The Adventures Continue. The re-imagined ride opened last year with a 3D experience that takes riders through one of 54 sequences — and you never know which journey you'll get.
The Star Tours ride empties into the Tatooine Traders gift shop and it's impossible to miss the roped off line for the latest Star Wars toys. New this year is the Droid Factory in the center of the store. There, the young and the young-at-heart can build their own droids with multiple color combinations, in R2-D2's likeness, and topped with Disney Parks' signature mouse ears hat.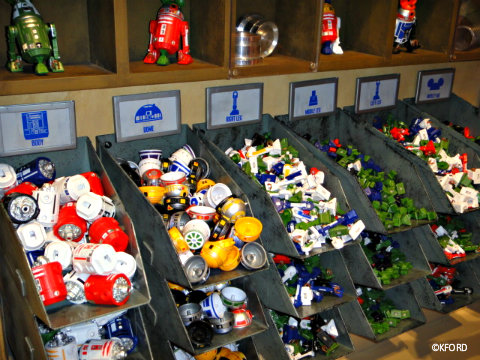 A complete droid consists of a body, a dome, a left leg, a middle leg, a right leg and a novelty hat. Single droids cost $11.95 plus tax and a double package is $18.95 plus tax. (Walt Disney World passholder discounts are honored at Tatooine Traders.) The packaging includes a sticker sheet of letters and symbols so guests can name their creations.
When I checked at various times on Saturday, the line for the Droid Factory remained steady at 30 minutes. That didn't deter my kids or seem to bother them much when we waited. The Droid Factory debuted this past weekend, the first of four Star Wars Weekends, and there is only the one location at Disney World.
Several cast members said that the standard R2-D2 look was the most popular for those making droids. A close second during the opening weekend were the clear domes with red and purple trim. Coming in August: different color body parts and Indiana Jones fedoras, a cast member said.
If your child enjoyed the concept of putting together a toy, the store also offers guests the opportunity to build their own ultimate lightsabers. And kids ages 4 to 12 can test their lightsaber skills next door at the Jedi Training Academy.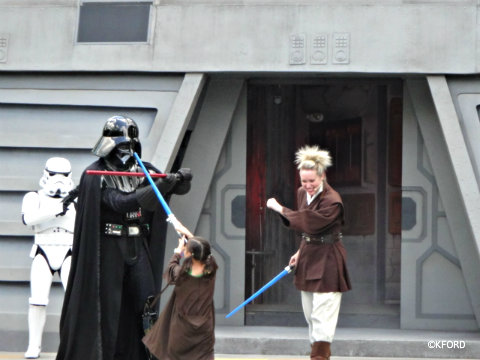 Jedi hopefuls have the opportunity to do battle against The Empire after a bit of training from a master Jedi. The young rebels are provided with brown robes and lightsabers for the show, and they set out to learn some signature moves before Darth Vader appears. (Read more about the story behind the show on Jack Spence's blog.)
Jedi Training Academy started out as an event offered only during Star Wars Weekends, but it was so popular that Disney built a permanent stage so young guests could do battle every day. There are limited spots each day, so registering first thing when you arrive at the Studios is necessary. Even with 16 shows each day, the slots fill up quickly. Sign-ups are in front of Indiana Jones Epic Stunt Spectacular!
(Years ago, when my nephew was really into Star Wars, children were chosen to participate in the Jedi Training Academy from the audience. That meant camping out by the stage for parents of kids whose top priority was the interactive Star Wars experience. This registration format certainly is a welcome change.)
Young guests won't want to miss the Star Wars Celebrity Motorcade that travels down Hollywood Boulevard and concludes with a short show at the Sorcerer Hat stage. In addition to the weekend's famous actors and personalities, the parade includes Jedi Mickey and many, many characters from the George Lucas films. The parade route is packed, so find a spot early if you want to take photos or have a decent vantage point. If you're a casual observer, grab a seat in front of the American Idol Experience and you'll see most of the characters go by, though not the celebrities.
Want more time with the characters? Photo opportunities with Disney characters dressed in their Star Wars costumes can be a fun experience. Look for Jedi Mickey, Stormtrooper Donald, R2-MK and Darth Goofy near the ABC Commissary. Star Wars characters from the movies and other Star Wars spinoffs also are stationed around Hollywood Studios for meet-and-greets.
You also can visit Darth's Mall, the main location for event merchandise, where there is a backdrop set up for photos with Luke Skywalker, Princess Leia and other perennial favorites. Just as my daughter walked up to meet Princess Leia, C-3PO stepped out to join them. She was thrilled with that surprise! And afterward R2-D2 joined the party behind us.
Finally, what child can resist a special Star Wars snack container for a themed treat? Most food locations sell a kids' power pack in a plastic R2-D2 container. It includes string cheese, carrots and ranch dip, yogurt, goldfish, a cookie and a drink for $10.99. If it's time for dessert, there are Darth Vader cupcakes for $4.99 or chocolate or strawberry mousse in a smaller R2-D2 container for $8.99. And may The Force be with you after all that yummy sugar!