A long, long time ago (February 29, 2012) in a state far, far, away (from my home) a fantastic event took place. Legions of sleepless fans and sugar-induced kids of all ages descended upon a happy place for it opened it's gates for 24 hours straight begining at 6 AM Pacific. These photos and comments tell the tale of one such crazed girl who lasted almost 19 hours without a nap. Although her oh-so-awesome friend Yoli took a nap for her while sitting upright in a not-so-comfortable wooden chair, upstairs in The Golden Horseshoe while a gazillion people made endless noise before Billy Hill and the Hillbillies took the stage for the first time that day at 11:15 PM to a standing room only crowd. :breathe: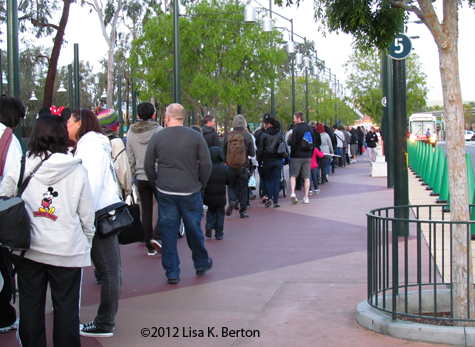 When I arrived at the esplanade, it was still dark out, and only those who had slept overnight were allowed through the gates. I couldn't make heads or tails out of the queue. There was an undercover Disney security guard at bag check for those with bracelets. He's not a morning person or good at being undercover since he showed me his badge.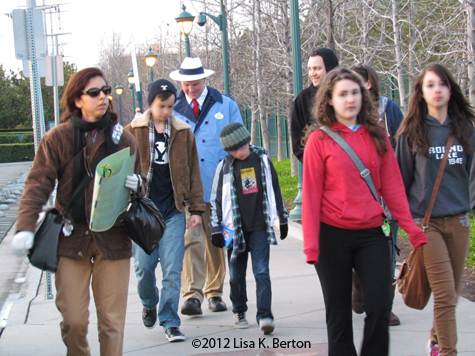 For those familiar with the area, there were multiple lines running thru the bus drop off lot. Then the line went down Harbor Blvd and supposedly ended at the satelite parking lot. I sat down on a bench and waited for the line to end and here it is.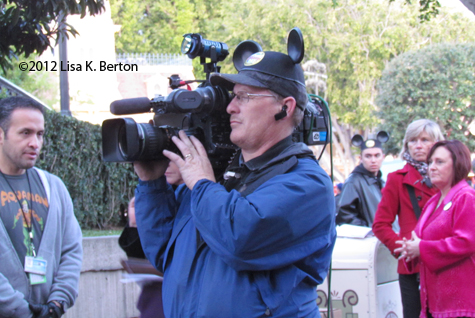 At least one news crew was present. This cameraman got the ears people camped out for 8 hours or more to receive. The same image was used on large button pins and handed out for free to everyone.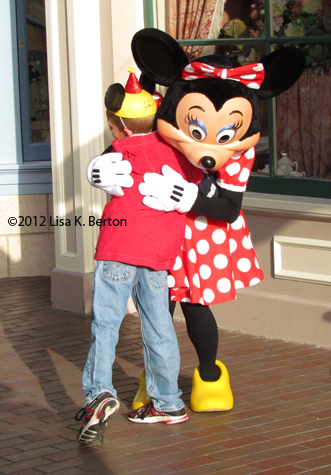 Start your morning off with a hug from Minnie.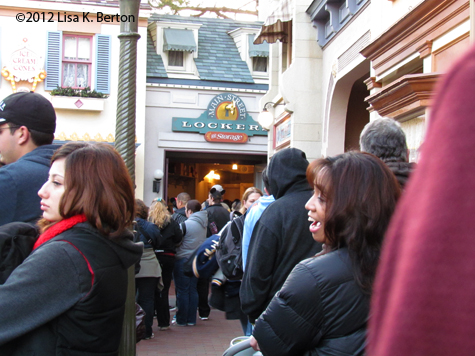 Yes, the first thing I did was rent a locker. It was one of the best decisions I made. My friends and I made good use of it as we added and subtracted clothing layers throughout the day.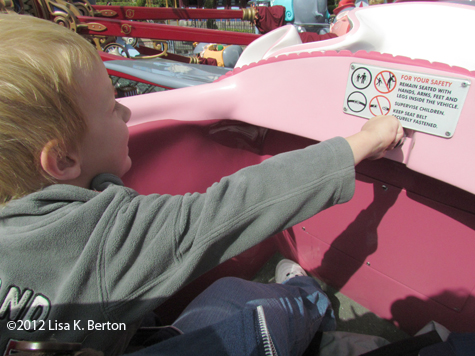 My little buddy Logan piloted Dumbo for me. He found my backseat driving comical as I kept saying "Up, up, up!"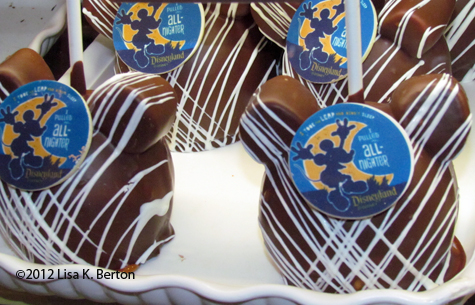 Mmmm. Chocolate covered apples. I don't think I bought anything. What's wrong with me?

Is this a Woozle? I was probably getting tired by this point. I should have had some candy.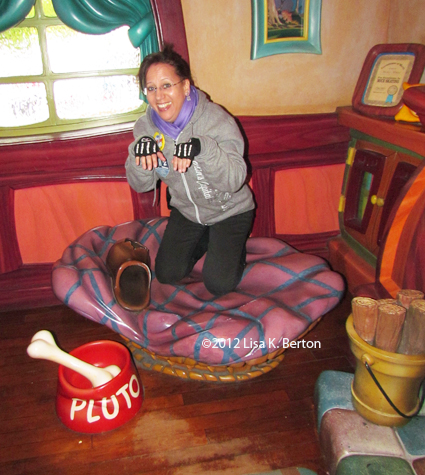 This is the infamous Yoli. That's all I am going to say. Sit girl, sit.

I think it was my friend Jenn who first noticed this very un-Disney-like lack of cleaning. The light was filled with dead bugs and there was heavy dust in the ceiling, and around the light. Maintenance, please report to Roger Rabbit Car-Toon Spin and examine the queue.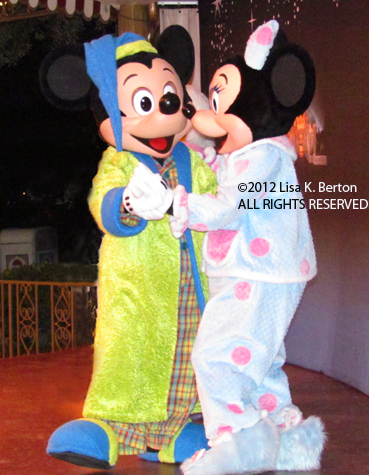 Around bedtime, Mickey, Minnie, Donald, and Daisy hosted a pajama party. They danced and posed for photos. It was very popular with those still conscious.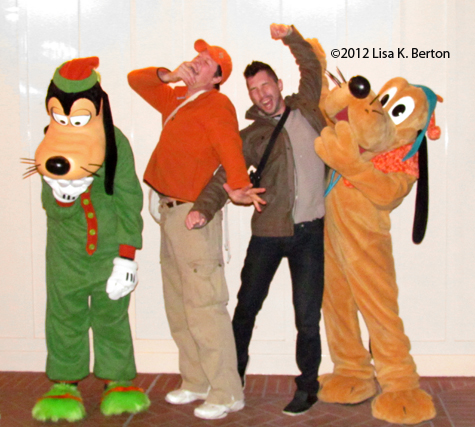 On our way out we caught more pajama party fun and these 2 hams. It was a good end to a very long morning/day/night. Yoli & I left Disneyland around 12:30-1 am, drove back to the hotel down the street that I had so smartly booked and konked out. We hit Downtown Disney, Goofy's Kitchen, and the Disneyland Hotel about 8 hours later.
Keep up with my freelance writing and photography via my Facebook page.