So about a week or two before I arrived there, DLP had premiered its marquee event for the anniversary celebrations, Disney Dreams: A nighttime spectacular that combines fireworks and water projections and castle projections all into one big show. Joe Schott, Senior Vice President and Chief Operating Officer of DLP, told us that he had asked Steve Davison, Vice President for Parades and Spectaculars at Walt Disney Imagineering Creative Entertainment, to come up with a show they could spotlight for the 20th Anniversary only 13 months earlier–making the accomplishment of wedding all these disparate elements into one show that much more impressive.
Here's a video on the making of Disney Dreams:
The first night I was there, Dreams was shown twice, despite the fact that it was lightly raining.
Travel Tip #3: Pick up your map and show schedule when you first enter the park.
Unlike the US parks, in which you can usually always pick up a map and a show schedule in any store or from any available custodial CM, the only place I ever found them in DLP was at the entrance or in the AP center. I actually asked around for a show schedule once I was in the park, but apparently did a poor job at explaining what I was looking for, as the response was "I don't think we have those."
The show is done in an interesting hybrid of English and French. As far as I can tell, any character who was obviously French, such as Remy, Lumiere, or Quasimoto, all spoke and sang in French. Main characters who were not French, like Peter Pan, King Louie, and Rapunzel, spoke and sang in English. Captain Hook and Wendy only spoke in French.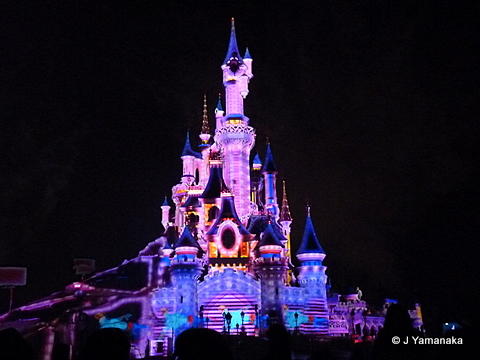 Although it sounds a little confusing, the storyline isn't really so involved that it takes much to follow it–Peter Pan and Wendy are admiring the magical Second Star to the Right, when Peter's shadow takes it into its head to run away. On trying to elude Peter, the shadow inadvertently lets all the magic drain out of the star, causing all manner of Heck to break loose.
At first, as these stories do tend to go, the musical interludes are happy and inviting for Peter's shadow, using numbers like "Be Our Guest," and "Step in Time," but eventually turn darker as villains such as Dr. Facilier start menacing him/it.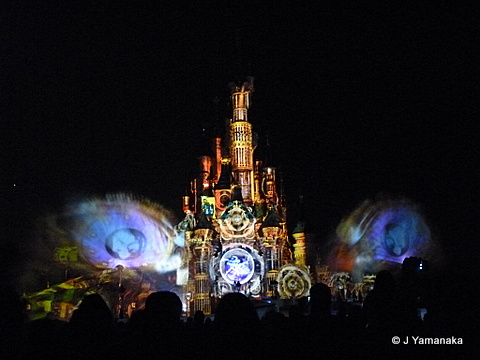 Eventually Peter swoops in to save the day, and everyone lives Happily Ever After, as you do.
The first showing was broadcast online, and one of the questions was whether it would look as awesome in person. I am here to tell you that, yes, it does. All the lights and projectors must be the next generation editions, because the visuals are exceptionally clear on the castle. The fireworks are integrated well into the show and really work as accents. Although the water screens on either side of the castle are effective, I actually thought they were the most dispensible part, as a lot of the time I felt like I was trying to look past them to what was happening on the castle.
To see the show, some people like to be further back towards Main Street, so they can get a better view of the water screens, but I actually found I liked it better up close because it was easier to see the projections at the base of the castle. As with World of Color however, the spray from the screens does start pelting the people in front…and when the temperatures were in the thirties and forties, as they were when I was there, that can quickly become a huge drag.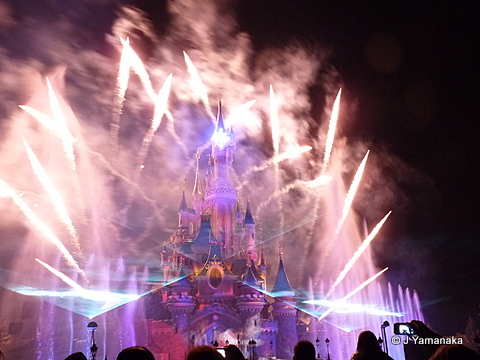 Some nights the park closed at 9:30pm and they had one show at closing, and some nights the park closed at 11, in which case they had one show around 10 and a second showing at 11. My findings were that, on the days with two shows, absolutely everyone in the park went to the first show, leaving all the other attractions complete walk-ons, and no one went to the second one, making it possible to stand pretty much wherever you wanted to watch it. (Whether this was because everyone had to leave to catch a train back to town or something, I never found out.)
In any case, it is a stunning show, and, I think, the best of Davison's recent productions. He's clearly learned from his experiences with World of Color and Tokyo DisneySeas' Fantasmic! and created a show much more easily viewed from different angles. As good as it looks in the video below, it is easily twice as striking in person, so my advice? Get your passport in order.
Next: Is A Parade In Town?