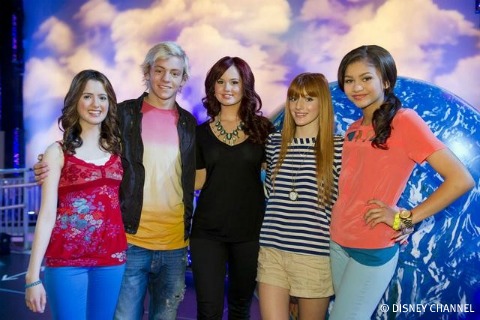 Disney Channel actors Laura Marano, Ross Lynch, Debby Ryan, Bella Thorne and Zendaya interacted with youth leaders at Disney's Friends for Change Youth Summit during the Disney Kids and Nature Celebration at Walt Disney World.
The Walt Disney Co. began celebrating Earth Day at Walt Disney World with a weekend that featured its new star chimpanzees, Disney Channel actors and kids who want to help save the planet.
The Disney Kids and Nature Celebration kicked off April 13 with the world premiere of DisneyNature's Chimpanzee movie, which will be in theaters April 20. It tells the story of Oscar, a young chimp, and his adventures in the forest with his family. Tim Allen narrates the film.
"My favorite scene is everyone's favorite — when the chimp gets on the other one's back. To know that no matter what happens to you, someone is always going to be there for you. For me, that was beautiful and made me tear up," said Bella Thorne, who plays Cece on Disney Channel's Shake It Up.
Her co-star Zendaya, who plays Rocky, wasn't as sentimental. She said, "I just loved the funny moments. I think I am kind of a comedienne just because I'm on a comedy show, and I love that kind of stuff."
Dr. Jane Goodall attended the red-carpet premiere at Downtown Disney, and a portion of tickets sales during the first week will be donated to her Institute to protect chimpanzees. The renowned researcher spoke about her work and the importance of helping the planet.
Ernie D, the lead on-air DJ for Radio Disney, said, "When I talked to Dr. Jane Goodall on the red carpet, she basically said, 'If every country lived like the United States of America, we would need six Earths to sustain that for only 10 years.' That was mind-blowing to me."
(See Jack Spence's blog, which includes photos and videos from the premiere, at /blogs/jackspence/2012/04/chimpanzee_disneynature_world.html The McClain Sisters, including China Ann from Disney Channel's A.N.T. Farm, performed the movie's anthem, "Rise.")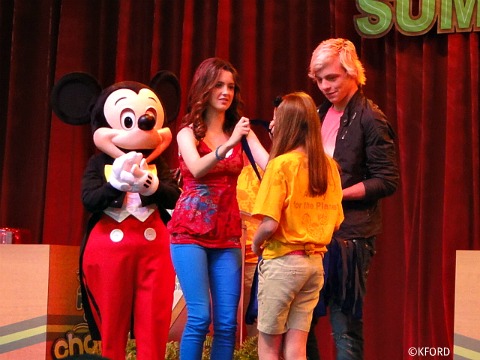 Mickey Mouse, with Laura Marano and Ross Lynch from Disney Channel's "Austin & Ally," presented each Planet Challenge award.
The Disney Kids and Nature Celebration continued April 14 with a day dedicated to celebrating the winners of Disney Channel's Planet Challenge and youth leaders who are already helping the environment in their communities. An awards ceremony at Epcot's American Gardens Theatre honored Brickett Elementary's fifth-grade class from Lynn, Massachusetts for their project "Think Before You Idle" and Christa McAuliffe School – PS 28's seventh-grade class from Jersey City, New Jersey, for their "Project Reservoir."
Students from Brickett Elementary and Christa McAuliffe School – PS 28's pose with Laura Marano; Meg Crofton, Walt Disney World president; Jay Rasulo; and Ross Lynch.
Then, the group moved to World Showplace, an indoor venue at Epcot, to hear Craig Kielburger speak about how kids really can make a difference. He founded Free the Children, an organization dedicated to halting global child labor, when he was 12 years old. Kielburger explained how his requests for help were turned down repeatedly, but he continued his dogged pursuit of what he knew he needed to do. Today, Free the Children is one of the leading youth-driven charities that benefit children.
Kielburger emphasized that every individual has a gift that can be used to make the world a better place. I asked Debby Ryan, who plays the title role on Disney Channel's Jessie, how she thinks she can make a difference in the world.
"Craig has been a role model of mine for a while, and he is so passionate," Ryan said. "He has this phrase, which is 'shamelessly idealistic.' I am that way. I am so realistic and I know what the world is, but I also am idealistic in that I think that we can change some things. I picture the world the way I would like to see it and then I think we can backtrack and see the steps that you require to actually make those changes."
Jay Rasulo, senior executive vice president and chief financial officer of The Walt Disney Co., encouraged the 100 youth participants to be leaders and to not be afraid to fail. "I was most sure what I was doing was right when I was passionate about it and people told me it was a bad idea — but I didn't think it was," he said.
The Disney Channel stars take the stage with Radio Disney personality Ernie D. at the Friends For Change Youth Summit.
After a break for lunch with music and games from Ernie D and the Radio Disney Road Crew, the kids got to work making some concrete plans to help their communities. They were divided into groups, each led by a Disney Channel star, to create Disney 365 spots, which are promotional messages that air on the network. These messages of planet stewardship, however, were intended to inspire the kids' local communities to get involved.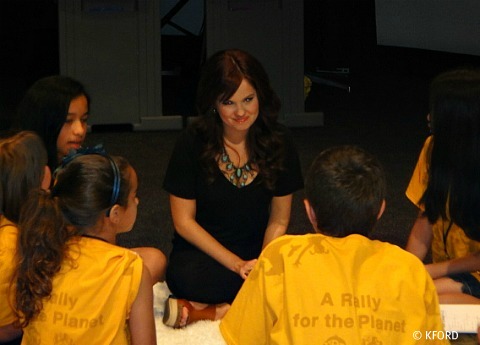 Debby Ryan works with a group of students at the Friends For Change Youth Summit to plan a community initiative to help the planet.
"I think that we are aware, but we are not willing to take action. Awareness is the first step, but some kids, and adults, too, feel too small and that they can't help," said Laura Marano, who plays Ally on Disney Channel's Austin & Ally. "Today, at the Disney's Friends For Change Youth Summit, you see 100 kids from around the world doing things and you realize you're never too small to help. You're never too small to pick up trash or conserve water or join different organizations. Let's not just be the generation that's aware but the generation that changed it."
Marano's co-star Ross Lynch, who plays Austin, chimed in: "We're destroying the planet, and we all need to get outside and experience it. I love to be outside, and I love to play sports. Half of the beauty of sports is the nature around you. What if that's not there? I feel like we're kind of being selfish because we're all using it for ourselves when we have to look at other generations to come."
Disney Channel is expected to soon announce a new initiative tied to its Friends For Change campaign. "I feel like the next phase of Friends For Change, which I'm so excited to get started on, is so much bigger," said Ryan. She said it's likely to replace the Friends For Change Games, which succeeded the Disney Channel Games that were taped at Walt Disney World in 2007 and 2008.
"I feel like I've been blessed to have fans and to have people that I'm able to reach out to," said Zendaya. "But everybody has a voice. If you can use that to speak up for something positive, then that's when we start making a change."