Our Fantasy Maiden Voyage trip actually starts with a short trip to Walt Disney World…if we have to fly all the way across country we might as well visit the parks!
This time we are staying at Animal Kingdom Kidani Village, in a savanna view studio. We figure what's the point of staying at Animal Kingdom if you don't have a savanna view? We are overlooking the Sunset Savanna, though these next few photos were taken from the Sunset Savanna Overlook outside Sanaa.
The Sunset Savanna has zebras, and they are bullies. This ostrich is all riled up because the zebra on the left had just charged at it, even though the ostrich was minding its own business and not bothering the zebra.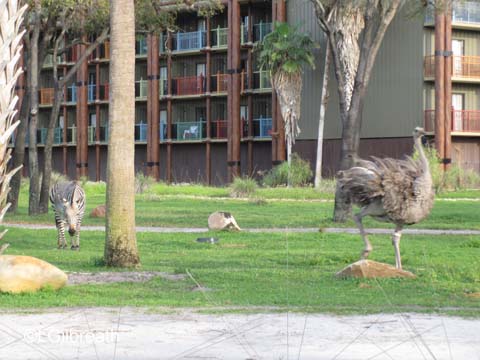 We had dinner at Sanaa. It was really a wonderful dinner, and our server, Rico, was really good, and we had a lot of fun with him.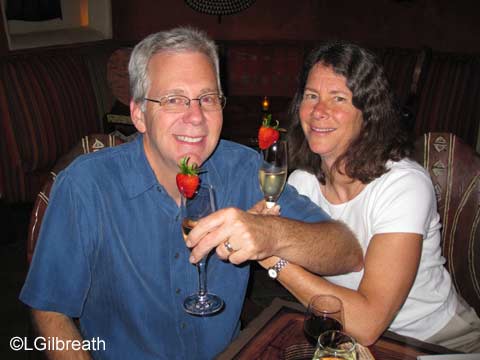 The towel animal in our room was a butterfly, and the card says: "A family is like a forest, when you are outside, it is dense, when you are inside you see that each tree has its place." Yeah, I have family members like that… 😉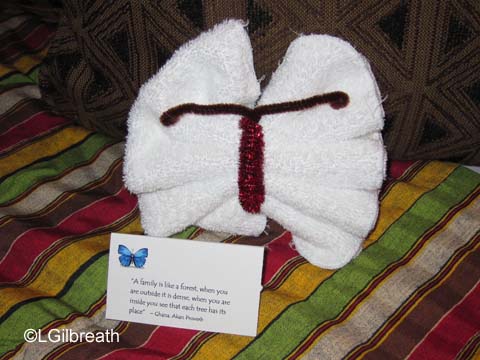 Despite the three hour time difference we managed to go to bed and get to sleep at a reasonable time, and were up this morning in plenty of time to make it to Animal Kingdom a little before it opened at 9:00. We got Fastpasses for the Safari – knowing that now that the rules have changed, we would actually have to be back BEFORE our Fastpass window expired. We did a quick ride on Expedition Everest – that'll give you an adrenaline rush and wake you up in the morning!
We usually have breakfast at Pizzafari, but this time we tried Tamu Tamu instead. Lee had the breakfast flatbread, with egg, cheese, and ham, and I had the yogurt parfait. The flatbread was not what we expected – instead of flat and baked, it was folded in half like a sandwich, and the contents were only barely warm. It tasted ok, but I think we'll go back to Pizzafari. The yogurt parfait was about what I expected, except that I was hoping for fresh berries and got strawberries in syrup – ick. Mushy and way too sweet.
Once we got on the Safari we had a LOT of delays…we'd move a bit, then stop and wait and then move some more. What normally takes 20 minutes took about 40 minutes. We think some of it was because of animals on the road – this giraffe was right next to the road, and was checking out all of the trucks as they drove by. Gave us a really good look at him/her, though!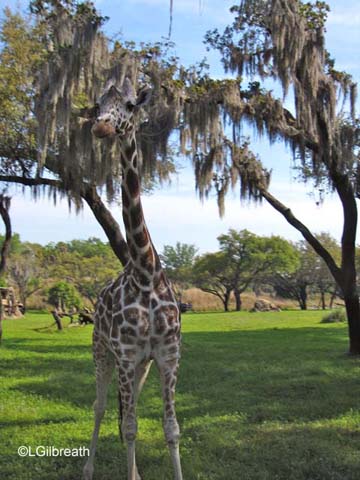 But the delays had really affected the lines – the Fastpass line was all the way back to the entrance and then into Harambe! And the Standby line was way out into Harambe, also, and was at least an hour.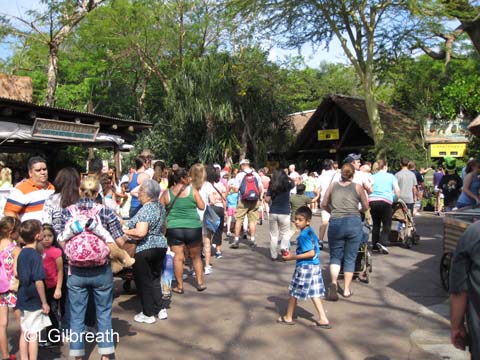 We went looking for animals – no otters in sight and the lemurs and cotton-top tamarins weren't cooperative. Got this view of the Tree of Life, though – there are lots of different animals depicted in this section!
On the Maharajah Jungle Trek we saw this unusual bird – the Bar Headed Goose. It can survive at higher altitude than any other animal on the planet – it migrates over the Himalayas and flies at altitudes of 30,000′!!! Climbers on Mt Everest have reported seeing them – and in this case seeing a flying goose was not just a symptom of oxygen deprivation…
I don't remember what kind of deer these were, but there was quite a herd of them on the Jungle Trek – there were 4-6 others that aren't in this photo.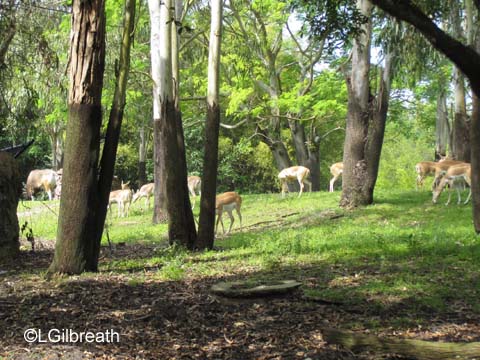 The main thing I wanted to see today was the Flower and Garden Festival at Epcot – we used to get to that almost yearly, but we haven't been in quite a while now.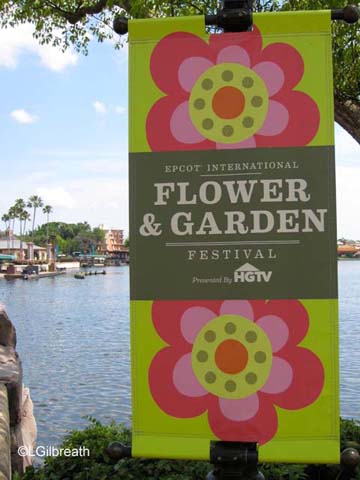 So from Animal Kingdom we took a bus to the Epcot Resorts, and went into Epcot via the International Gateway – which brought us in right at the UK. The topiaries of the characters from Winnie the Pooh were right there.
As was the very colorful Twinings Tea Garden.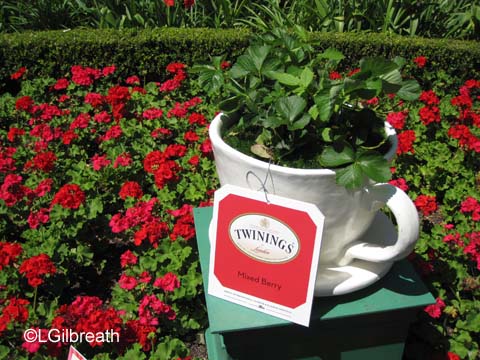 For lunch we had Fish and Chips. This squirrel really wanted to help us with some of our lunch…he was cute, but we didn't feed him. 🙂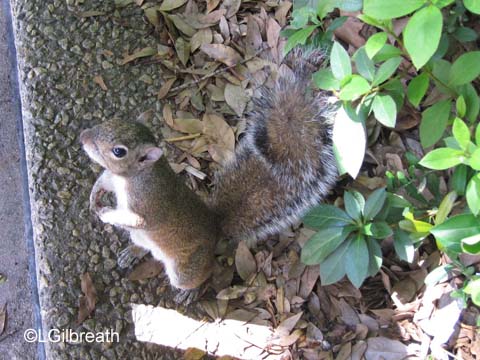 The Canada Pavilion has the Victoria Gardens, "inspired by the spectacular Butchart Gardens". Inspired yes, but as I was just there last May, right before our Disney Alaska cruise, I can tell you that this just doesn't compare with the real thing.
It was a picture-perfect day at Epcot – sunny and in the 80s, but not really humid, and there was a nice breeze most of the time. Really nice to be outside most of the time.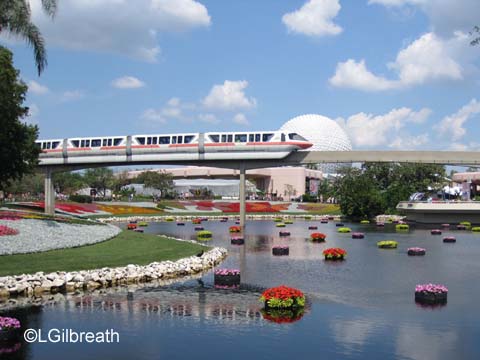 I'm not going to show you pictures of all of the topiaries, but will share some of them. I guess this is American Gothic Mickey?
The Mexico pavilion had their traditional, but always lovely, orchid display. These were so pretty! I took lots of pictures – there were so many beautiful colors and patterns! But I'm only going to share a couple of them here.
And there were several "orchid trees" that had been beautifully decorated with orchids.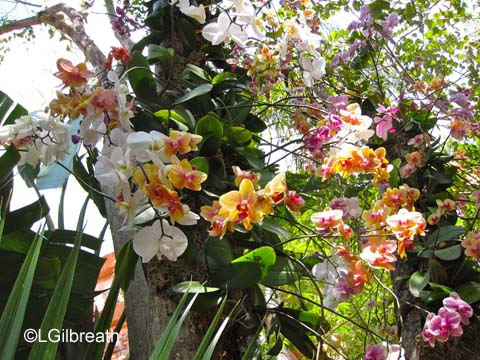 I thought this field of flowers outside Akershus was very pretty and colorful.
And the topiary pandas at China were really cute!
This topiary dragon was very impressive. The spines on its back are pineapple plants with pink pineapples…the Festival had several displays with pineapples that were unusual colors.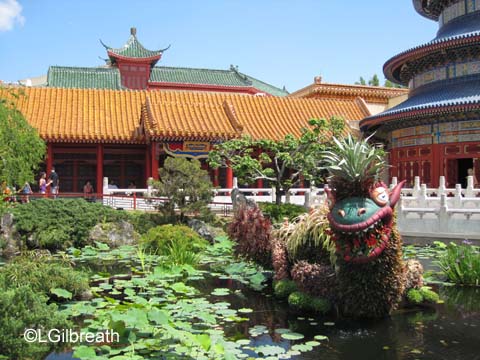 The German train village was decorated for the Flower and Garden Festival and it had some miniature topiaries…and some zombie villagers. 🙂 (I hope when the Agent P adventure replaces Kim Possible that they don't remove the zombie villagers!)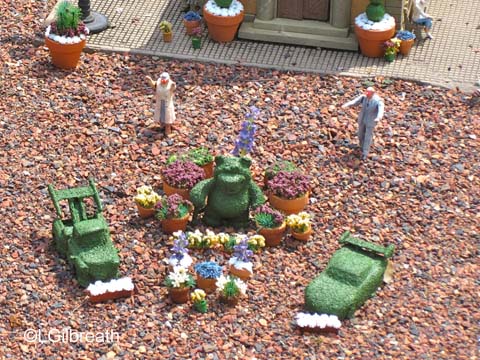 We had a chance to catch a set of the Voices of Liberty. They sang one song I hadn't heard before: Strike up the Band. Their closing number was a really moving version of You'll Never Walk Alone, which I've only heard once or twice before.
Alongside the American Adventure was the Toy Story Alphabet Garden. I really enjoyed this.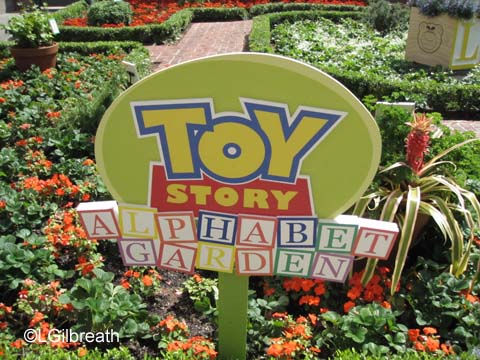 A large Lotso topiary was in the center.
Around the rest of the area were pots with letters in them, and in the pots were plants whose names began with that letter. (I though they kinda cheated on Q and X, though.) M was marigold and milkweed.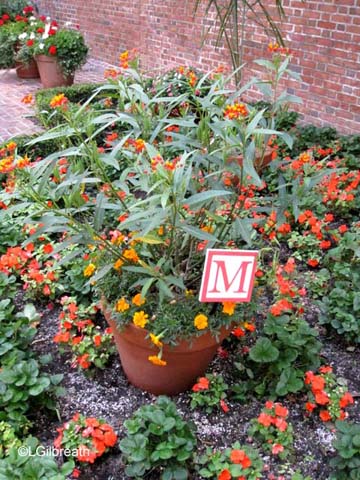 There were a couple of lizards hanging out on the sign. 🙂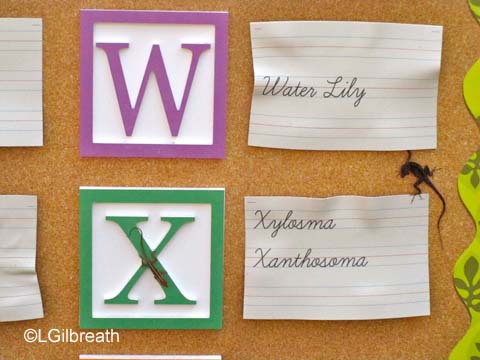 The Lightning McQueen and Mater topiaries were in front of Japan, which I thought was an odd place for them. I guess it ties in with Cars 2, though.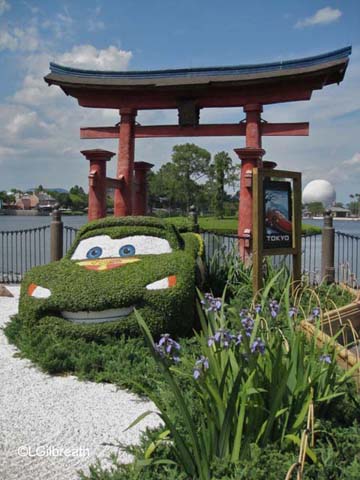 The Giant Apostle's Iris was very popular this year, and we saw it in lots of different places.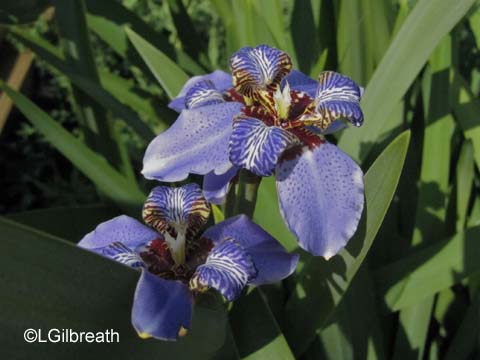 Cinderella and Prince Charming were in front of France.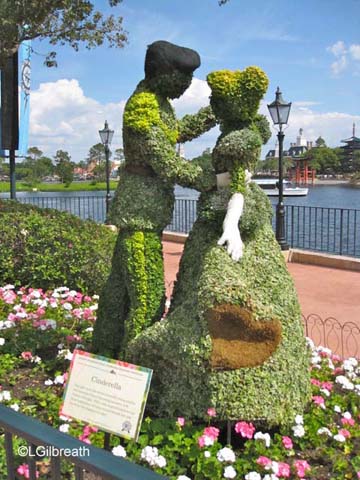 The second time we went past Canada, Off Kilter was performing. Though Jamie, the bagpiper was missing, and they had a violinist instead. They still sounded good, but it wasn't quite the same.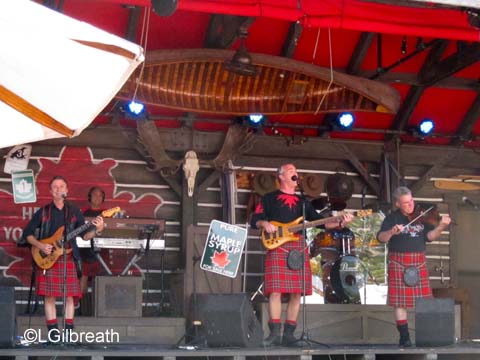 Bambi, Flower, and Thumper are in Bambi's Butterfly Garden. This is much bigger than it used to be, though it didn't seem like there were as many butterflies. Or maybe they just weren't as concentrated since it was a larger area.
Lots of beautiful flower beds!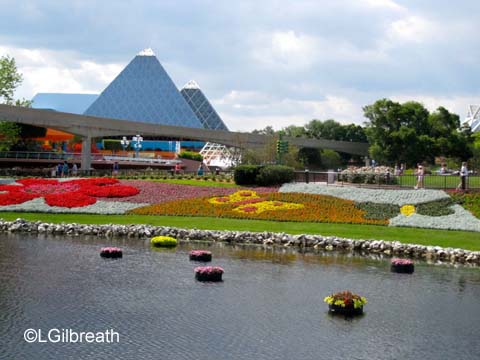 We also went through the Pixie Garden. This is Fawn and her animal friends – there's a deer, a bear, and a cougar in this photo. (And in the background is a balloon that Tinker Bell built. But since pixies can fly, why would she need a balloon?)
My camera battery went dead at that point, so I don't have any photos from the Festival Center or the front of Epcot. It was about 5:00 when we caught the bus back to Kidani – we actually had good luck with buses today, and pretty short waits.
For dinner we walked over to Mara at Jambo House. It's not really that far – less than 1/2 mile. After dinner we went to the Arusha Savanna Overlook. There were a LOT of animals out there – we saw oryx, wildebeest, waterbuck, crowned cranes, a giraffe, and this Patterson's eland came over to where we could get a good look at her.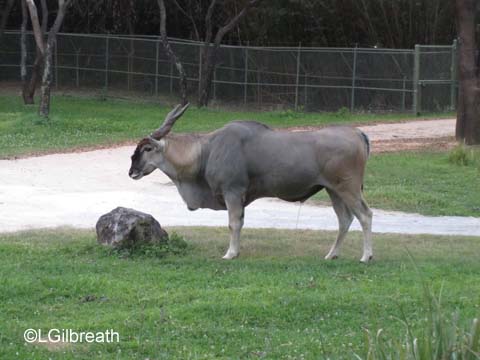 And tomorrow we'll be on the Disney Fantasy for her Maiden Voyage! You can be sure that @AllEarsDeb and I (@AllEarsLaura) will be tweeting from the ship while we are in port…Let the Fantasy begin!