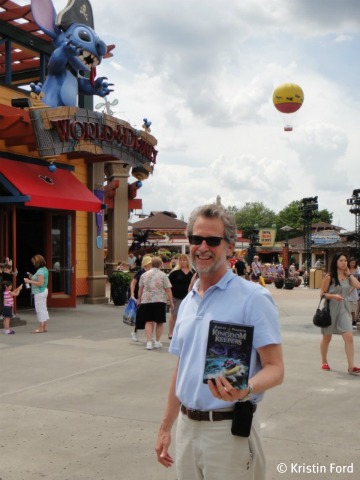 Author Ridley Pearson debuted his new 'Kingdom Keepers V: Shell Game' at Downtown Disney on March 29.
"This is Ridley Pearson, Ace Detective, Kingdom Keeper, currently hiding out somewhere in Walt Disney World with a suspicious-looking woman with a long, long pen and a piece of paper."
So began my interview this week with author Ridley Pearson, who was at Walt Disney World for pre-release book events for the fifth installment in his popular Kingdom Keepers series for young adults.
Pearson's love of mysteries — he readily shared that he enjoyed The Hardy Boys series as a young teen — made me wish we could duck into a utilidor or, at the very least, find a secret room. But, instead, our sunglasses, my 9-year-old son and a friendly publicist had to throw any villains off our trail.
Copies of Kingdom Keepers V: Shell Game were on sale Thursday at Once Upon A Toy store at Downtown DIsney and Friday at The Writer's Stop at Disney's Hollywood Studios. After purchasing books, hundreds of fans queued up at Downtown Disney on Thursday to meet Pearson and get his autograph. (KK5 goes on sale nationally on April 3.)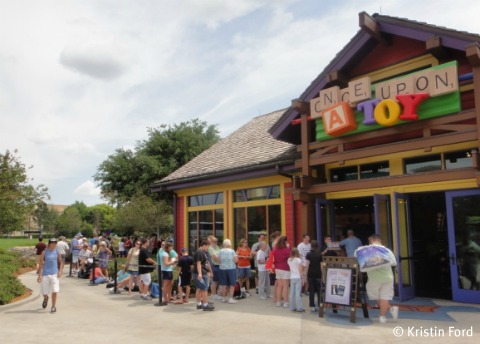 Fans waited hours for the opportunity to buy 'KK5' before its release date and to meet Pearson.
Kingdom Keepers V: Shell Game is set onboard Disney Cruise Line's Disney Dream, but the author had just stepped off back-to-back preview cruises on the newest ship, Disney Fantasy, so, of course, I had to ask him for a comparison of the two ships.
"The Disney Dream and the Disney Fantasy are two of the most amazing cruise ships to work the sea. They are sister ships so I would never pick one sister over the other for fear the other would club me over the head with her umbrella," Pearson said. "They both are just sensational. They aren't even ships; they are experiences. I've been on both ships for over a week at a time, and you want to be on them for 3 or 4 weeks. And still, I don't think you would have had every experience you can have. Part of their attraction is this infinity of experience."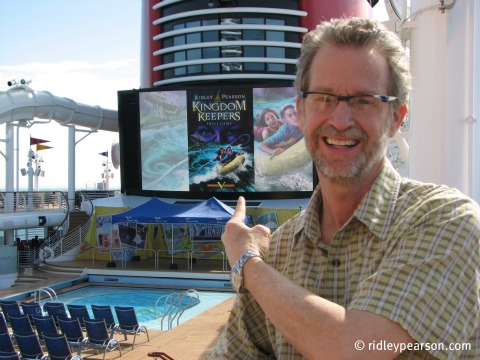 Pearson's 'Kingdom Keepers V: Shell Game' is promoted on the Disney Dream, where it takes place.
Still, after being pressed, he will admit a certain fondness for the Dream because of the incredible access he was given while researching KK5 and KK6. (Yes, the sixth installment of the series also is set onboard the ship.)
"I have been places that even some crew members have never seen. I've been down in the engine room. I've been inside the galleys. I've been in the broadcast center. I've been in the security offices. I was very, very privileged. As a reader, you get to experience these things as I did."
Readers also will take a trip to Castaway Cay, Disney Cruise Line's private island in the Bahamas. Pearson teased fans by saying an airplane makes a mysterious landing on the tropical paradise in KK5, but I wanted to know more.
"I was just so surprised to see this giant runway. It's not even that Disney uses it very often, but I immediately, upon seeing, it said, 'That's got to find its way into my story,' as well as a tower that is set off in sort of the brushy area. All of a sudden, the story threads came into a single thread and I realized that the Overtakers were going to be bringing something really funky and smuggling it onto the ship, and the only place they could possibly do that was Castaway Cay. So that ends up a big part of Books 5 and 6.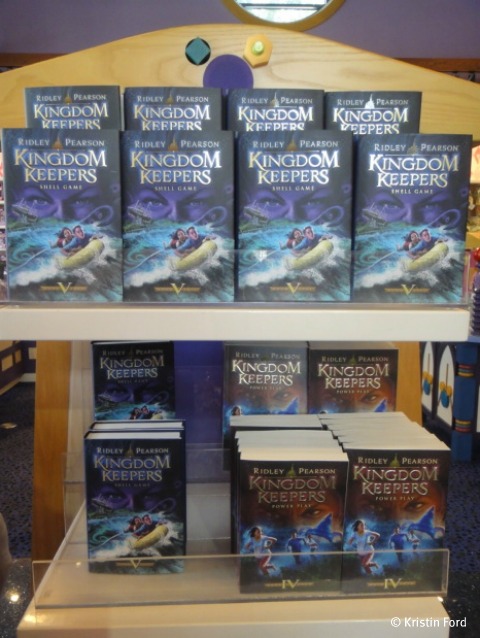 'Kingdom Keepers' books were in high demand before the book signing.
"The other thing is that the story of the Kingdom Keepers, the Overtakers, is growing darker and more complex, and this book is really the breakaway for all of that. Things are about to get very heavy in Book 6, and Book 5 is sort of the gangway to that."
It's a loosely kept secret that Pearson relies on his teen daughters for input on his young adult books. Not only do they read the books, but he says, "A lot of what the Kingdom Keepers go through emotionally in my books is based on the lives of my kids. So the Kingdom Keepers continually get older in the series because my kids are getting older and dealing with boyfriends (or "louts" as he jokingly calls them). I see them go through this torture, and I put into my books."
Emma Smith's shirt displays the entries in a contest for a logo for Pearson's upcoming book tour.
Pearson's writing obviously resonates with his young, passionate readers. In line for the book signing Thursday, one teen fan was thrilled that the timing of her Disney World vacation would allow her to meet Pearson, her favorite author. Emma Smith, 13, of Tipp City, Ohio, entered a recent contest on the author's website, ridleypearson.com. The challenge was to design a T-shirt for the KK5 book tour, and then fans were able to vote on their favorites. In addition, they could purchase shirts that showcase all the images or just one in particular.
"I love drawing and I like his books a lot, so I thought it would be fun to enter," she said.
Fans should check the website often for other contests and book tour information for Pearson.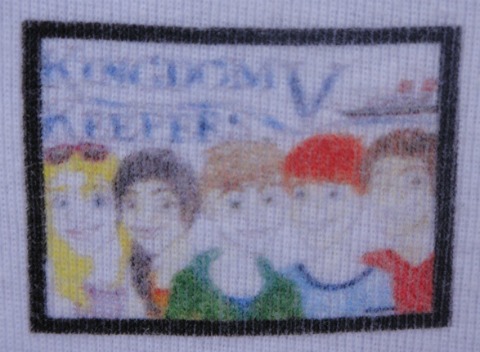 Emma's 'KK5' design is among those featured on her T-shirt.
So what's next for the author? He's in the process of writing Kingdom Keepers VI, which will be followed by the seventh and final book in the series. Pearson won't reveal the backdrop for that book, except to say, "You'll have to stay tuned, but the ZIP code will change." The books are due out on the first Tuesday of April in 2013 and 2014, respectively.
"We would sure hope to be back in Walt Disney World, releasing ahead of time. This is to me, the best of all fans, and if we can give them an advantage by letting them get the book before the rest of the country, that's all the better," he said.
In the meantime, his next trip back to The Most Magical Place on Earth is at the end of April, when he will be a speaker at the Disney Social Media Moms Celebration.