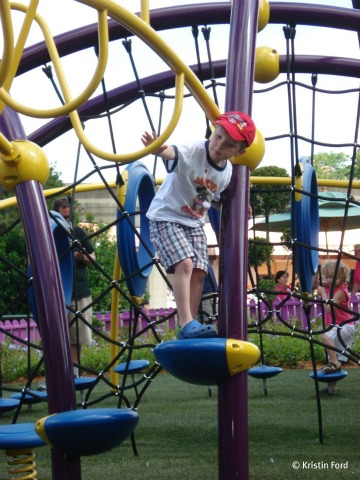 If you think the Epcot International Flower & Garden Festival, which begins March 7, is just for adults, think again! Sprinkled throughout the beautiful scenery are several interactive opportunities for kids that will make parents smile as well.
For my elementary-age children, the hands-down favorite is the annual "Let's Get Moving" area along Imagination! Walkway. This is the only time during the year that guests will find play structures this elaborate at Epcot.
The first year we saw the crowded play area, my husband and I thought, "Why do we want to waste time at Epcot on a playground — something we can do anywhere other than Walt Disney World?" But the bright colors and unusual shapes called to my kids, so we went inside to check out the PlayBooster play sets, which are made for ages 5 to 12.
Our opinion changed after we saw just how much fun our son and daughter had. Honestly, they would stay there for hours each visit if we let them! There is also a PlayBooster Weevos area just for 2- to 5-year-olds and a Sensory Play Center.
The photos pictured above are from the play set from the past few years. I'm told this year's new, larger equipment, the PlayBooster Vibe, is expected to look like this.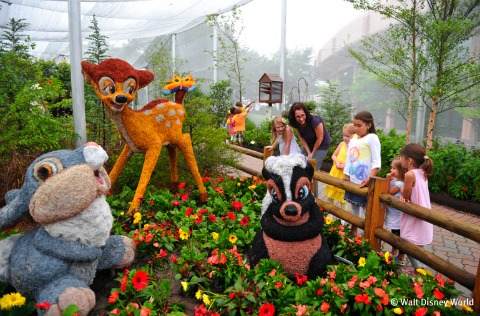 Bambi's Butterfly House
While you're on that side of Epcot, be sure to check out Bambi's Butterfly House. Hundreds of native butterflies float through the air and guests can see them growing at different life stages. Topiaries of favorite characters from the movie Bambi lead up to the enclosed gazebo.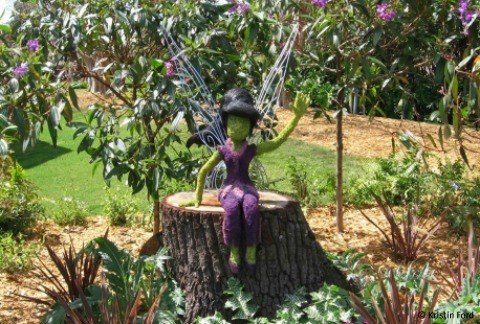 Pixie Hollow Fairy Garden
Another must-do for our family is the Pixie Hollow Fairy Garden, which is located in the Test Track Walkway and presented this year by Disney's Secret of the Wings, which will be released in the fall. The garden, which first debuted in 2009, has grown as Disney has released each direct-to-DVD Tinker Bell movie over the last four years.
Inside the lush area, guests will find beautiful topiaries of the Disney Fairies and miniature fairy houses. The creativity and attention to detail in the houses is just amazing, and my kids enjoy trying to find everyday items incorporated in the structures. A Disney landscape artist said they use things like watering cans and teapots because they help illustrate the size of fairies.
Kids of all ages can make crayon rubbings in the garden, and young visitors (ages 2 to 5) can check out the Weevos play set and the Cozy Dome hide-away tucked into the landscape.
Adjacent to the fairy garden is Tinker's Nook, where kids can color and receive fairy stickers and seed packets.
New this year
The Backyard Play Garden, located between Morocco and France in the World Showcase, is a new play area full of unusual gardening ideas for families. See how to turn a concrete block wall into a planter, reuse an old bathtub outdoors or make the roof of your doghouse green. "The whole theme of the garden is getting your kids out of the house and into the yard," said Eric Darden, horticulture manager for the Epcot International Flower & Garden Festival.
Also new this year is a Haiti garden near Germany — only at Epcot! This is the first illuminated night garden in the 19-year history of the festival. Kids of all ages can participate and show off their creativity by coloring their very own Haitian "Tap-Tap." Families will also find other ways to delve into the Haitian culture and refreshments in this produce garden and marketplace.
(Check out the AllEars Epcot International Flower & Garden Festival page for even more details.)
There are many other kid-friendly aspects to the Flower & Garden Festival, from Sorcerer Mickey and Toy Story topiaries to concerts to HGTV presentations. Disney Channel fans won't want to miss Brandon Johnson, who plays Gary Wilde on Shake It Up, talk about his other show, My Yard Goes Disney, on April 13, 14 and 15. (The premiere of My Yard Goes Disney aired Friday, and you can get a sneak peek at what this season holds in my previous AllEars blog post.)
The festival, including all gardening programs and exhibits, is included in regular Epcot admission.