When EPCOT Center opened on October 1, 1982, there were no Disney characters roaming the park and few activities to keep children entertained. The Imagineers wanted guests to take the pavilions of Future World and World Showcase seriously. It was thought that Mickey and the gang would detract from the more mature atmosphere they had created in this innovative new park. However, many guests were disappointed by this more cerebral park. From day one, parents complained that there was nothing for their children to see or do. They were expecting more Magic Kingdom-type entertainment and were disappointed when EPCOT Center didn't deliver. Something needed to be done.
One of the quickest fixes was to add characters to World Showcase and clothed them in traditional national costumes of each nation. Here you see my friend Eddie and me posing in Mexico, Norway, and China with Donald, Goofy, and Chip.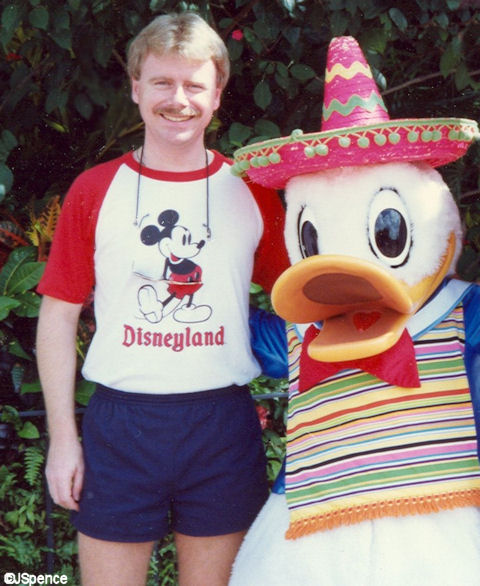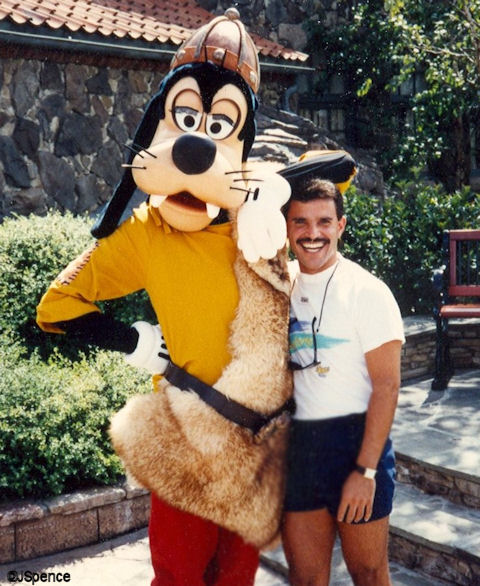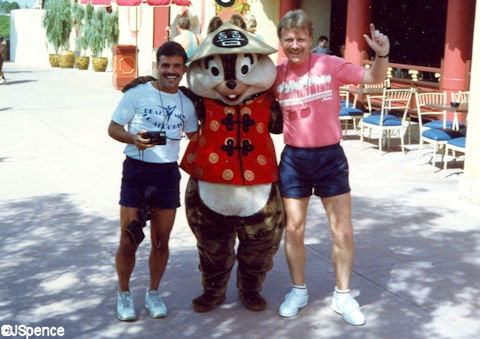 Of course, a few characters would not be enough to satisfy parents and their children so other forms of entertainment were researched and implemented. One solution to make EPCOT Center more kid friendly came sometime in 1985 with a show called Skyleidoscope. This daytime spectacular took place on World Showcase Lagoon every afternoon. It featured airplanes, ultra-lights, sailboats, speed boats, dragon boats, colored smoke, and daytime fireworks. All of these vehicles and effects were loosely tied together with an impossible to follow story about good conquering evil. At the end of the show, thousands of helium balloons were released into the sky. (Just so you know, Disney no longer releases balloons for environmental reasons.)
The show was never a big success. I remember after I saw it, I thought to myself, "That's fifteen minutes of my life I'll never get back." However, Skyleidoscope did have one redeeming feature in my humble opinion. It brought back a song entitled "There's No Place Like World Showcase" written by the Sherman Brothers for a 1982 television special about EPCOT Center. This is a great tune that I wish would be resurrected again on a more permanent basis.
I filmed Skyleidoscope in 1986 with one of those bulky, rest-on-your-shoulder video cameras. For this blog, I have edited the show down to just over two minutes – which is plenty long enough. However, it is worth watching just so you can hear "There's No Place Like World Showcase" which I dubbed over the original, choppy soundtrack.
Skyleidoscope closed sometime in 1987.
A second attempt to bring daytime entertainment to World Showcase Lagoon came in 1991 with Surprise in the Skies. This show also featured ultra-lights, but this time they were piloted by Mickey and the gang. You can sort of make out Mickey in the first picture. Kites and daytime fireworks also played a big part in this presentation.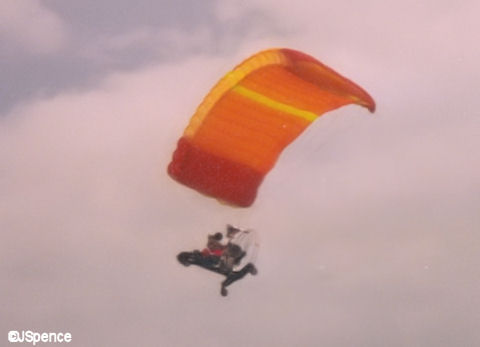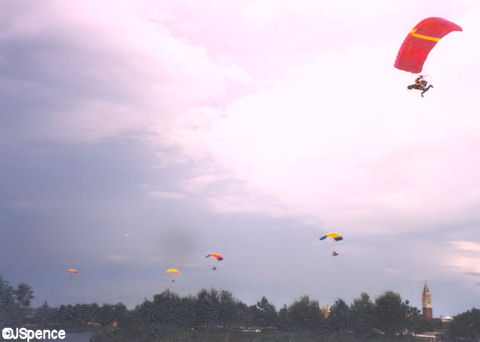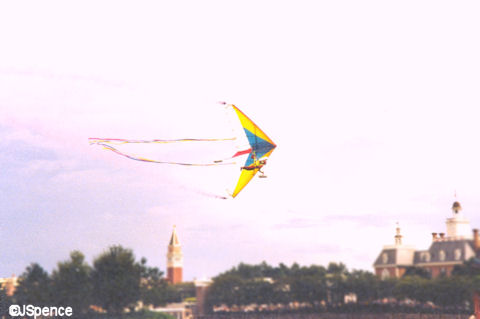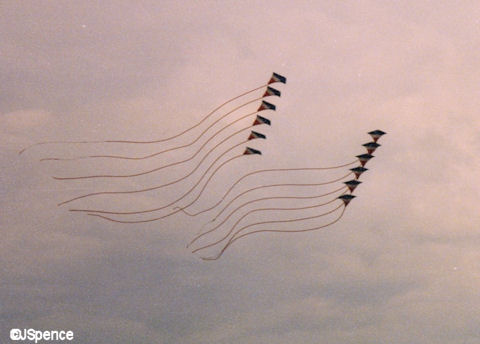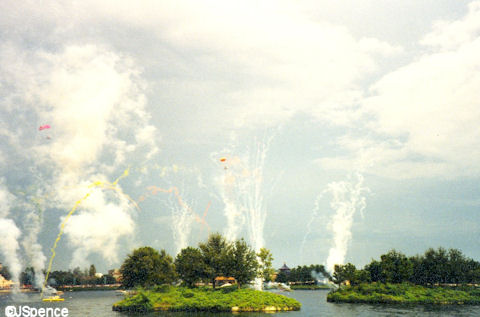 Surprise in the Skies also featured a number of surprises along the World Showcase promenade. Eleven large boxes were positioned, one in front of each nation. At a given moment during the show, giant Disney character balloons inflated and towered over the pavilions. Like the earlier "live" characters, these characters were dressed appropriately for the country they represented.
Winnie the Pooh – Canada
Robin Hood – United Kingdom
Pluto – France
Tigger – Morocco
Minnie Mouse – Japan
Mickey Mouse – American Adventure
Pinocchio – Italy
Daisy Duck – Germany
Chip & Dale – China
Goofy – Norway
Donald Duck – Mexico
I apologize for my pictures. When I scanned them into the computer many years ago, a lot of clarity was lost. I've done my best to rescue them.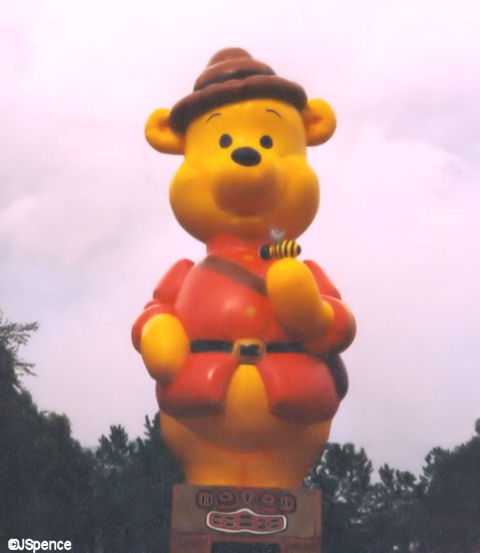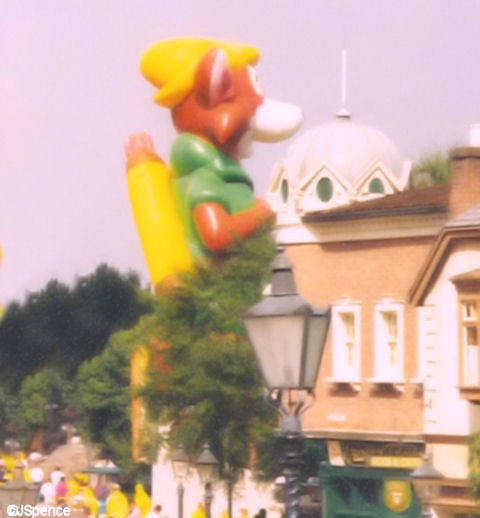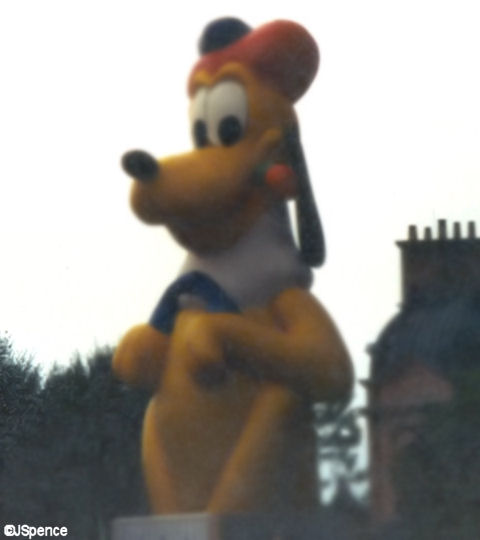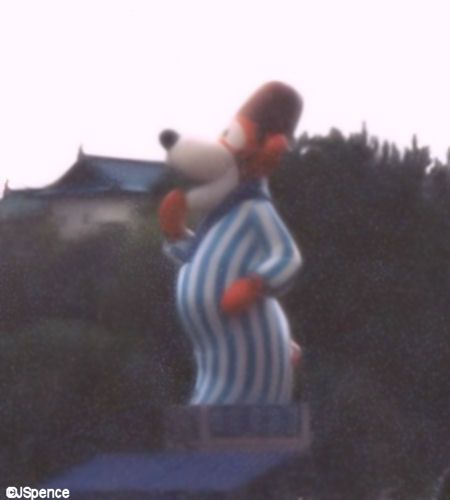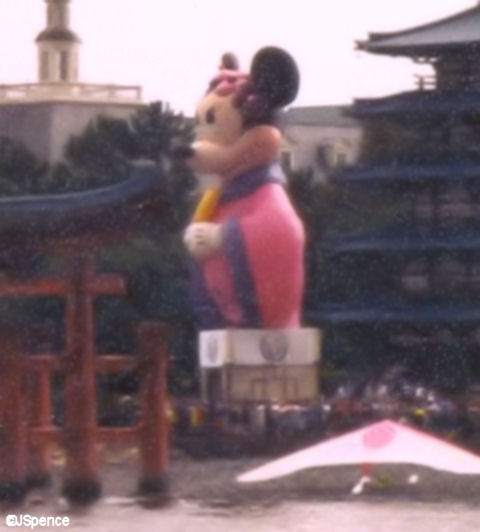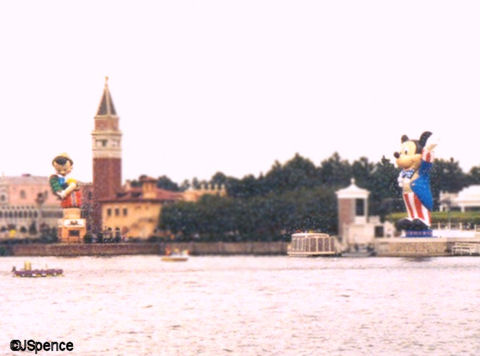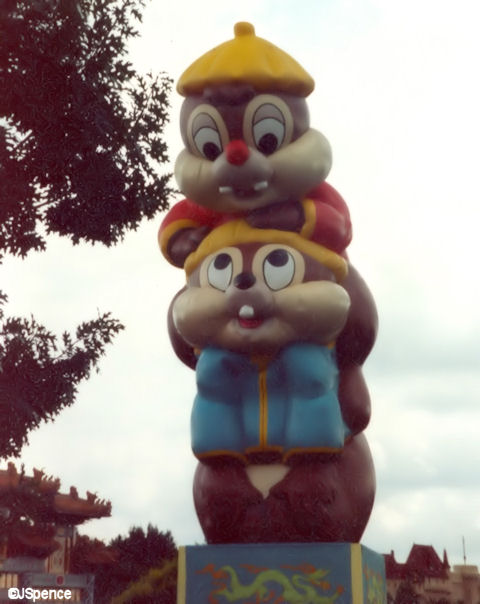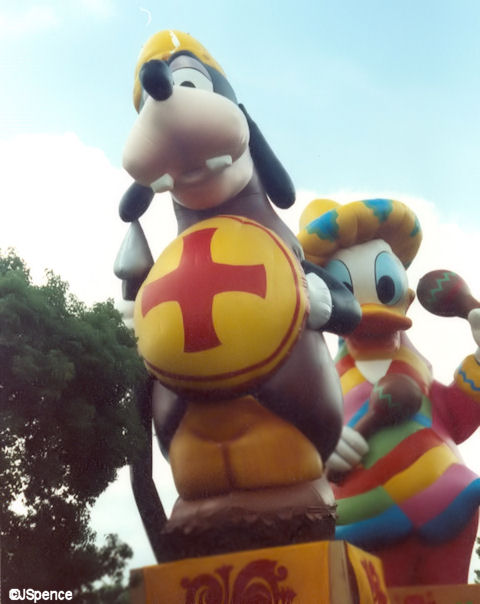 The ultra-lights used in these two shows took off and landed at a spot now occupied by the new Art of Animation Resort under construction next to the Pop Century Resort.
Surprise in the Skies only lasted one year and closed in 1992. Some critics called this show, "Mistake on the Lake."
The first really successful daytime show to take place at World Showcase was Tapestry of Nations/Tapestry of Dreams which ran from 1999 to 2003.