Well, it's happened again this year. I fly into Orlando for the Epcot Food and Wine Festival, and hit the ground running… I love this event so much, I always try to cram too much into too short a time.
Even though I've only been here about 36 hours so far, I already feel like I've lived a whole other lifetime… and food-wise, I really have. I've had the chance to sample so many savory and sweet delights, I thought I might give you a quick update. I plan to do more in-depth reviews of most of these experience over the next week or so, so be sure to look for those in the AllEars Newsletter and, of course, on the AllEars.Net website. But until I'm done feasting at the fest, here are my quick impressions via some photos that will hopefully speak a thousand or so words on my behalf.
I started out yesterday by interviewing pastry chef and Food Network star Keegan Gerhard. Chef Gerhard is just as down-to-earth and charming in person as he is on television, and we spent quite a while talking about the work he's done at Epcot's festival over the past 16 years, as well as what's next on his own agenda. (I'll share some video from the interview later this week.)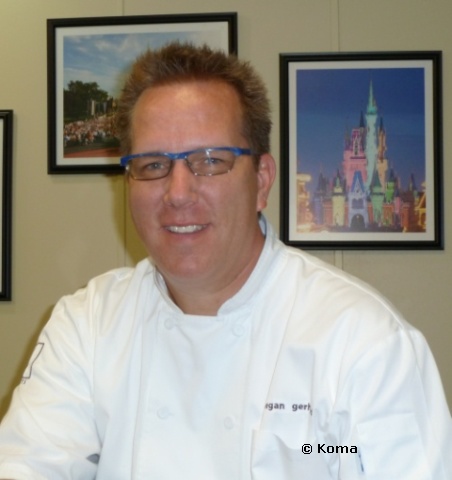 I followed that interview with a quick trip around Epcot's World Showcase, where the Food and Wine Festival's International Marketplaces (aka Food Booths) were open in "preview" mode before Friday's official opening. I sampled a few items but wanted to make sure I didn't overdo it, since I knew I would be attending the Festival opening event, the First Bites Reception.
The Chicken Chipotle Sausage with Polenta from the Canada booth, a winner I remembered from last year — It's a winner again, in my opinion, even if it's not the most photogenic dish:
The feijoada (bean and pork stew) in Brazil — definitely rated a "meh" from me: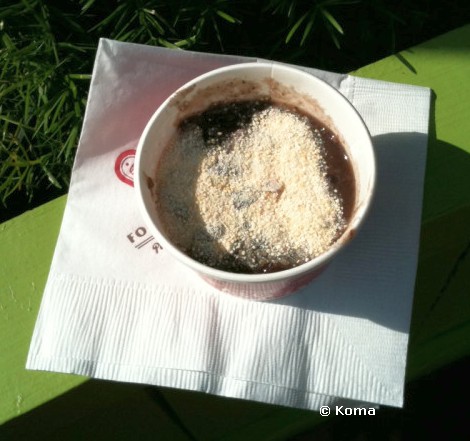 But the rice pudding with berries — YUM! So creamy, so good!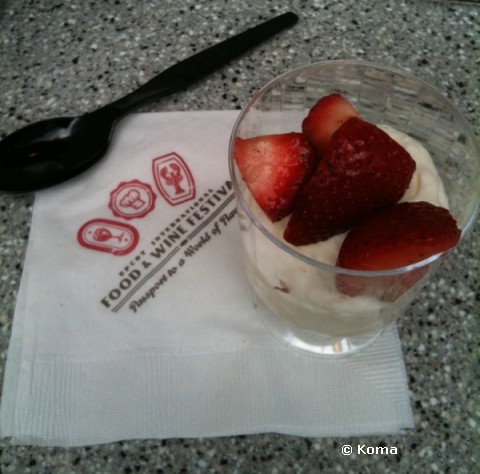 The First Bites Reception in the Festival Center was a nice preview of ALL the different sorts of activities you can experience during the festival's 45 days — the food booths' offerings, culinary demos, wine tastings, HGTV personalities, and live entertainment. I found it ran a lot more smoothly this year, but still, I'm still contemplating whether it's worth the hefty price tag. I haven't quite made up my mind. (You can read my review of the 2010 event HERE.)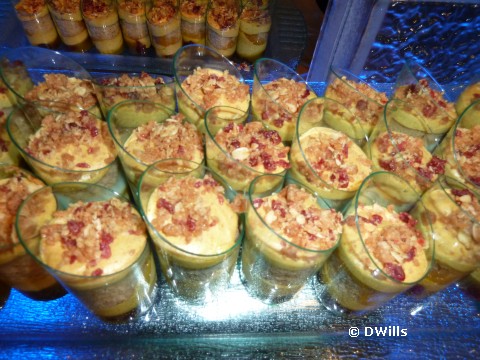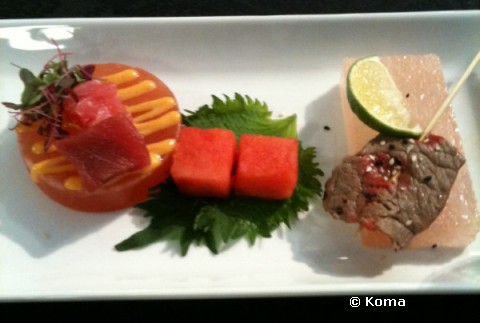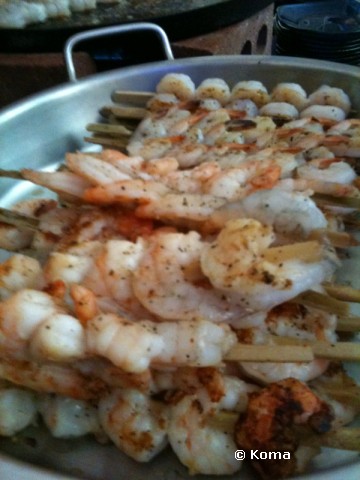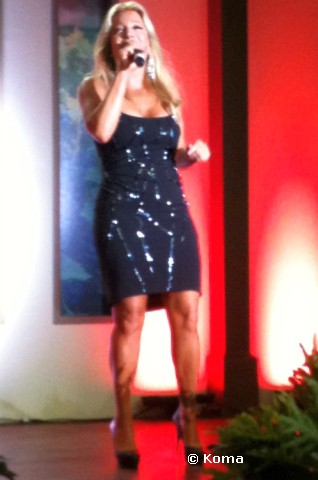 My first Food & Wine Festival event today was "Kitchen Memories" featuring Victoria and Albert's chef Scott Hunnell, and pastry chef Erich Herbitschek. The three course they prepared for us were, in a word, fantastic.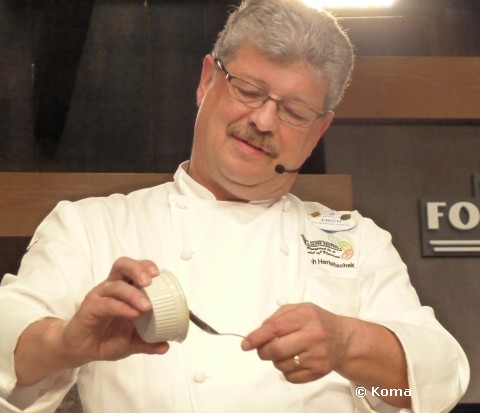 I followed that with a culinary demo hosted by Keegan Gerhard — I *know*, more desserts! But someone has to do it. And so I muddled through, as Gerhard presented his take on the classic Bananas Foster — a "dessert sandwich situation" that featured the chocolate-hazelnut spread known as Nutella, that he called "Faux Foster Banana Impostor"
And all of that doesn't include the various wines that were paired with all of these delightful dishes!
As you can see, it's been an intense 36 hours of eating and drinking! Tomorrow, Saturday, I'll be taking the morning off from festing to head over to the Magic Kingdom to help it celebrate its 40th anniversary! But I'll be right back to Epcot later in the day, trying out some more food booths, and attending one of the new Mixology demonstrations — I understand that they'll be featuring the pear cognac called Xante, and that they'll be showing us how to make three different cocktails! Sounds like fun!
I'll be posting updates all through the weekend on Twitter (follow me @dcdeb_allears) and on my Facebook page: facebook.com/DebraMartinKoma. If you have anything in particular you'd like to know, leave me a message here or tweet me and I'll do my best to come up with an answer for you.
OK, better get ready for tomorrow… I think the next 36 hours may be as whirlwind as the first were!