In keeping with our theme of creative processing this week, I want to share with you an app I was made aware of a few weeks ago. If you own an Apple computer, iPhone, iTouch or iPad/2. You might enjoy getting FX Photo Studio to quickly add one or more special effects to your photos.
The interface is very easy. Once you import your photo, you can select, preview and adjust one of almost two hundred special effect filters to apply to your photo. Here are a few of my favorite Walt Disney World photos after selecting a FX (movie shorthand for special effects) filter from the app.
I keep going back to this photo of Space Mountain. As much as I like the original, it is fun to see it differently using creative filters and textures.
Neon FX filtered Space Mountain in the Magic Kingdom.
Spaceship Earth in Epcot's Future World is based on our planet but what if it was something from another galaxy?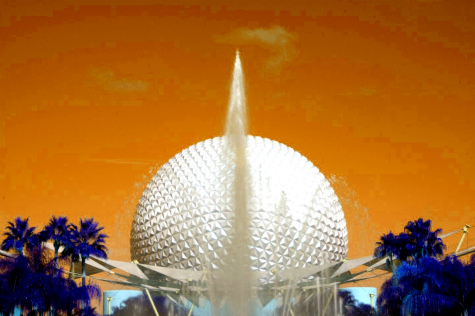 Alien Skinned FX Spaceship Earth in Epcot.
Using FX Photo Studio is very easy. After launching the application on a MacIntosh computer, you can import photos from iPhoto, Aperture 3 or LightRoom libraries. On an iPhone, iTouch or iPad, it can import from any photo album. I imported this photo of the Tree of Life in Disney's Animal Kingdom from my Aperture 3 album of what I consider my best photos.
Tree of Life in Disney's Animal Kingdom before adding an FX filter.
Here is the Tree of Life photo being compared with the special effect called Lindale (selected below in the strip of effects). Once you select an effect, you are given one or more sliders to adjust the effect to your liking.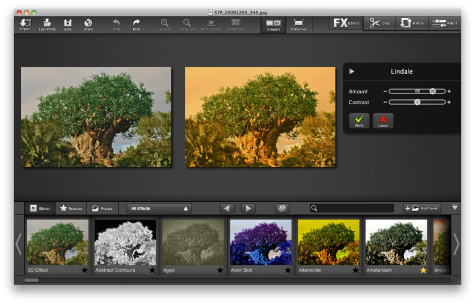 Screen shot of FX Photo Studio with the Tree of Life photo.
After I adjusted the effect from 100% to 80% I saved the image back to my computer.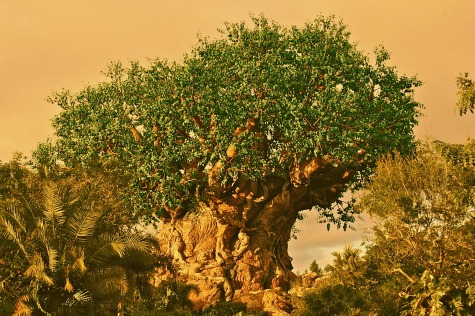 Tree of Life after the Lindale special effect filter was added.
See how easy that was to do? FX Photo Studio costs $9.99 from the Mac App store. The iPhone and iTouch versions cost $1.99 and the iPad version costs $2.99 from iTunes.