Disney's Saratoga Springs Resort is a little bit of upstate New York in the middle of Florida. The resort's theme seeks not only to transport guests to entirely different part of the country but also a completely different time period, with its Victorian architecture reminiscent of the heyday of New York's countryside retreats in the late 1800s. Closely tied into this theme is the historical significance and influence of horse racing; the resort's motto is actually "Health, History, Horses." There are numerous locations throughout the resort that incorporate the theme of horseracing. Guests check-in at the Carriage House and may have a room in the Paddock or Grandstand sections of the resort. It comes as no surprise that this theme is carried into one of the resort's restaurants.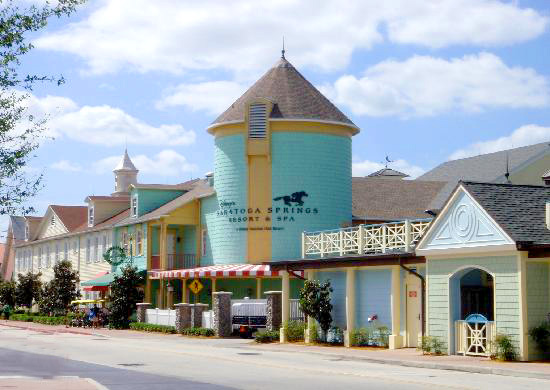 The Turf Club Bar & Grill is centrally located right by the High Rock Spring Pool (the resort's feature pool) and is adjacent to Artist's Palette (the resort's food court), but it is tucked out of the way and can sometimes be overlooked by guests. It is here that the theme of horseracing combines with the flavors of New York State in a quiet and relaxed setting that offers a great escape from the hustle and bustle of the theme parks.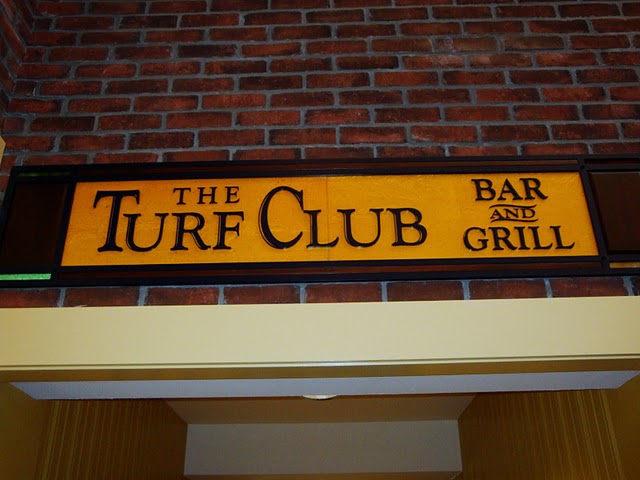 Overview:
As I have noted in the past, many restaurants found at Disney's resorts are usually far less crowded than those at the theme parks, but this does not necessarily make them inferior in terms of quality. The Turf Club Bar & Grill certainly fits into this category. This restaurant is probably not known by many of the guests staying at Saratoga Spring let alone those staying at other Disney resorts. With Saratoga Springs's close proximity to Downtown Disney, many of the guests staying at this resort probably opt for a meal at one of the restaurants there. It is this lack of publicity and hype that makes the Turf Club so appealing because you can expect a calm, quiet, and relaxing meal whenever dining there. While dining reservations are always recommended for Disney restaurants, the Turf Club is the type of dining location that you can most likely get a table without having to plan it out far in advance.
If staying at Saratoga Springs, the Turf Club is the perfect restaurant to go to if you are looking to just spend some time at the resort away from all the crowds and craziness of the theme parks. Also, located right next to the clubhouse of the Lake Buena Vista Golf Course, it is a great place to relax after a round of golf and enjoy a good meal. While it might not deliver the unique type of experiences you can find at other Disney restaurants, the Turf Club's tranquil setting and out-of-the-way location make it the type of care-free, stress-free dining experience that you sometimes need on vacation; it is a nice change-of-pace from many other Disney dining locations.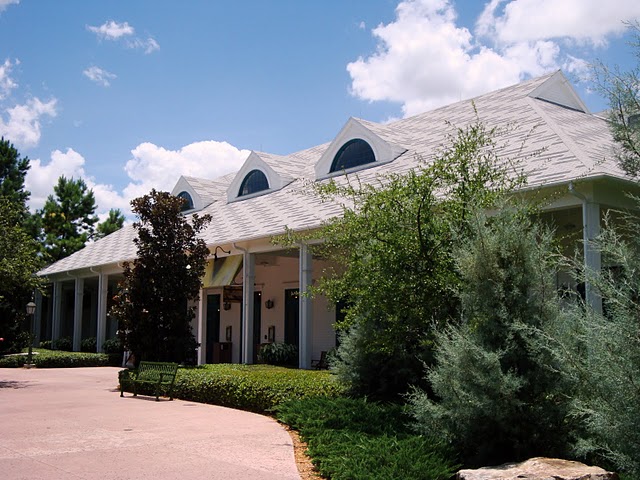 Atmosphere:
While centrally located at the Saratoga Springs Resort, the Turf Club can be difficult to locate. To get there, you need to walk through the Artist's Palette food court and then down a long entrance corridor.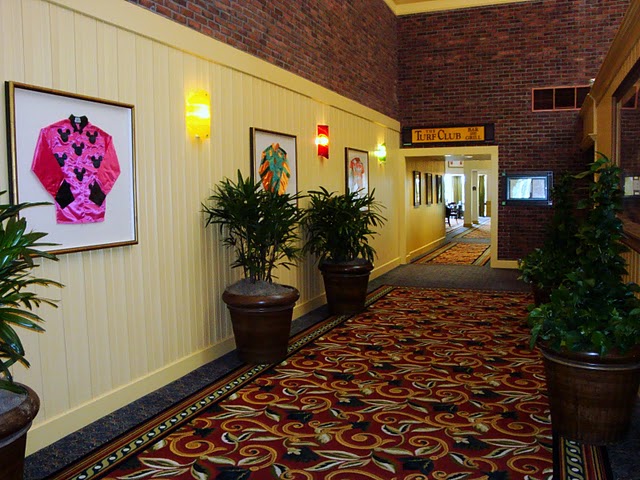 Once at the end of the corridor, you enter not into the restaurant but into a little lounge area with a bar. The lounge includes a seating area with couches and chairs, a television, and even a pool table. This hidden area is a great place to come and relax and enjoy a drink or a game of pool even if you are not planning on eating at the restaurant.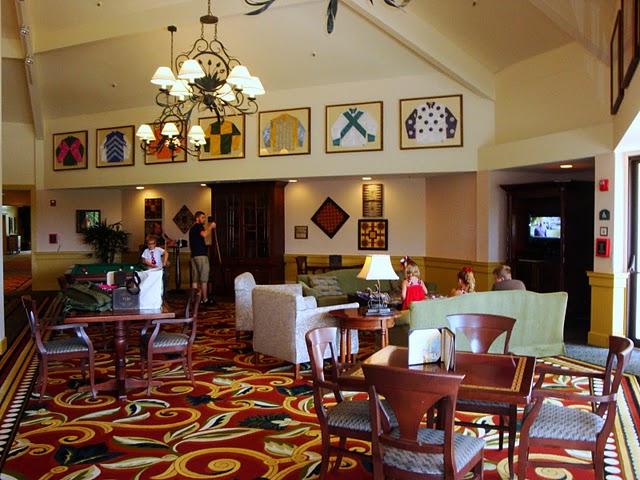 The Turf Club dining room itself is actually fairly small. The dining room's shape is long and narrow and its small size combined with the dark-paneled walls and ceiling give the restaurant a very intimate feel.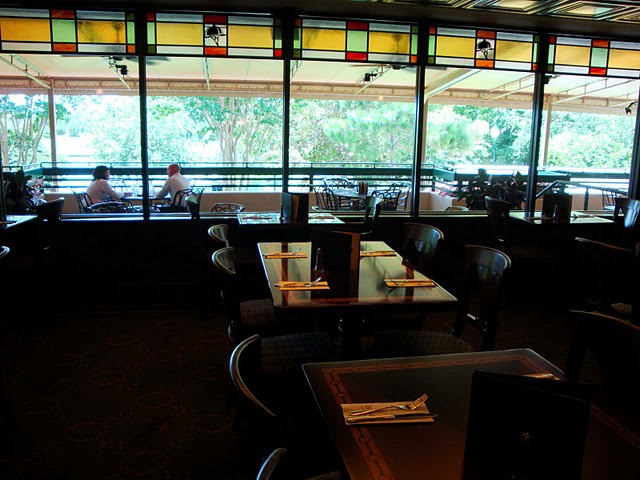 While the restaurant does feature large windows that allow in some natural light, the amount of sunlight entering the dining room is largely blocked by the canopy on the patio. Combining this with the low-level lighting inside, the dark-wood furniture, the dark-colored upholstery and carpet, and the stained glass along the upper edge of the windows all help to give the restaurant a more upscale and refined feel. It is a throwback to the kind of upscale clubs you would find at horseracing track around the turn of the century.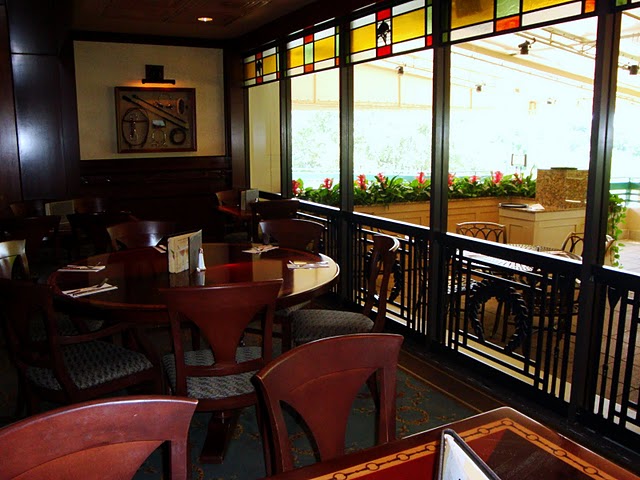 The theme of horseracing is certainly evident, but by no means over-the-top. As one enters the restaurant you are greeted by a variety of vibrantly colored jockey jerseys (including one featuring a familiar shape).
Inside the restaurant there are old black and white photographs of jockeys and their horses, antique racing equipment, and framed newspapers featuring stories and photographs about horseracing. These touches are just enough to solidify the restaurants theme and tie it in with the rest of the resort, but this restaurant's atmosphere is more about its calm, relaxing feel than its theme.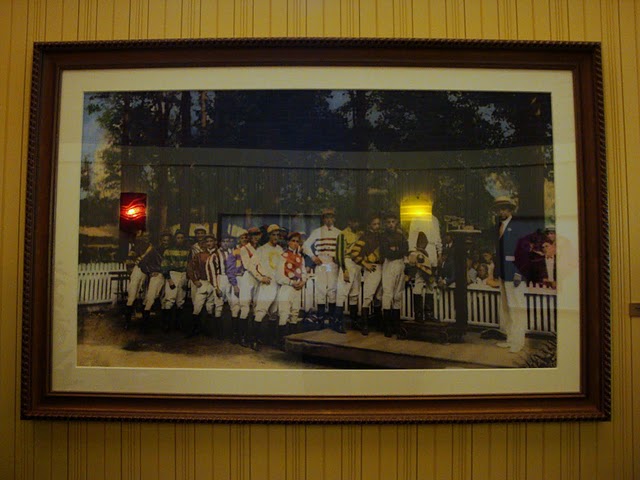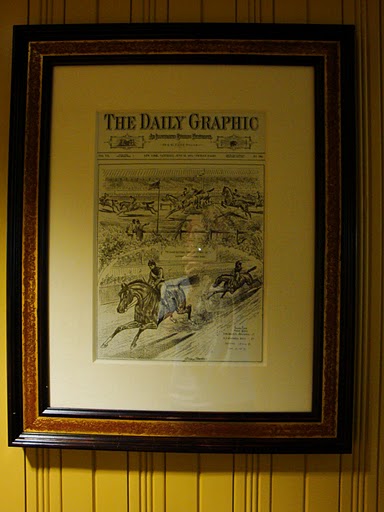 The real allure of the Turf Club is its outdoor dining. The restaurant features a huge covered patio and probably has just as much seating outside as inside. Even though I went in the middle of a hot July day, the patio's awning and fans created a shady and comfortable dining atmosphere. I can imagine this area being even more appealing on balmy summer nights.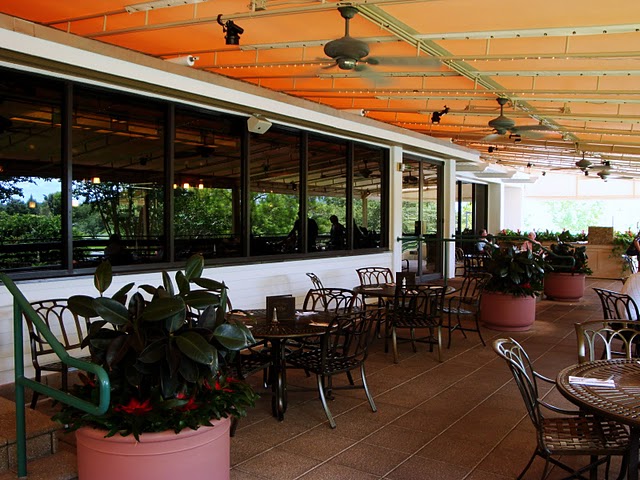 Seating on the patio offers beautiful natural views of flowers, trees, and even a little glimpse of the lake and Downtown Disney on the opposite shore. Its secluded location makes for a quiet meal (there is not even any background music playing) and can really almost make you forget you are in Disney World altogether.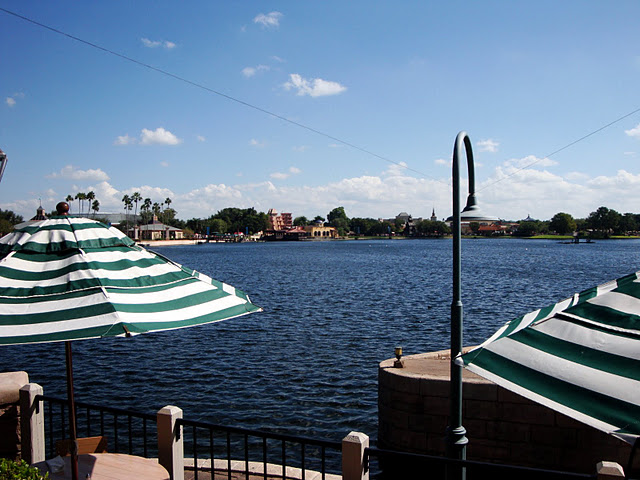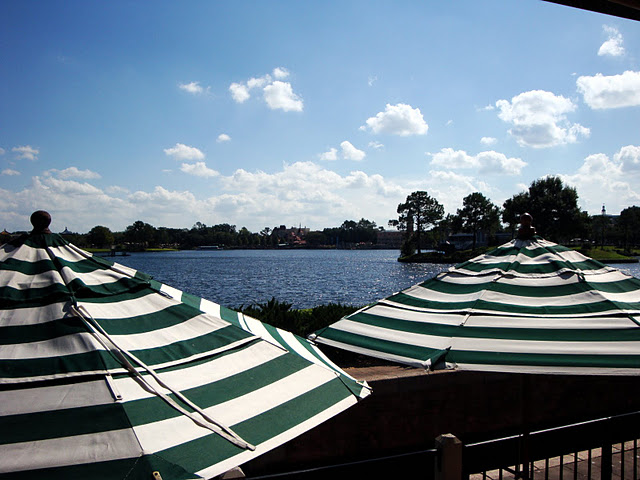 The Turf Club's calm and quiet atmosphere might not make it the best restaurant when dining with children, but it is not so formal that families would be uncomfortable dining here. That being said, if planning on dining here with children I would suggest going for lunch as the restaurant offers a more relaxed, laid-back atmosphere. I would suspect the restaurant to become much more intimate and refined at night (as evidenced by differences in the menu which I will talk about next), making dinner here a great option for couples looking to spend a little time away from the kids and have a romantic night out.
The Menu:
Going into my meal at the Turf Club I was not really sure what to expect from the menu, but I was pleasantly surprised to find a wide selection that offers something for everyone. Whether you are in the mood for just a sandwich or salad, chicken, fish, or pasta, the menu at the Turf Club features a variety of dishes ranging from traditional favorites to some more unique items. It should also be noted that the menus for lunch and dinner offer vastly different options. Lunch features primarily a lighter fare of burgers, sandwiches, and salads while dinner features heartier meals.
One thing that stays consistent on the menu for both lunch and dinner are the appetizers. For soups there is a Tomato Bisque ($5.49) topped with herb goat cheese as well as a French Onion Soup ($6.49). Among the salad selections are an Iceberg Wedge Salad ($6.99) with blue cheese, bacon, and cherry tomatoes and the Turf Club's Signature Grilled Romaine Salad ($5.49) which features lightly grilled hearts of romaine with Caesar dressing, balsamic vinegar reduction, and cherry tomatoes. Other appetizer offerings include Fried Calamari ($9.99), Steamed Prince Edward Island Mussels ($11.99), Crab Cakes ($10.49), Buffalo Chicken Dip ($8.49), and Onion Rings with Dips ($5.99).
When it comes to entrees, lunch at the Turf Club features several intriguing burger and sandwich options. For burgers there is a standard Angus Chuck Cheeseburger ($12.99) topped with cheddar and applewood smoked bacon, but also a Bacon-Barbecue Angus Chuck Burger ($13.99) topped with smoked bacon, barbecue sauce, crispy fried onions, aged cheddar cheese, and cilantro mayonnaise. For the more adventurous there is the Surf & Turf Angus Chuck Burger ($18.99) which comes topped with watercress, lobster, and bernaise sauce.
Other sandwiches on the menu include the Crispy Chicken Breast Sandwich ($13.99) with herbed goat cheese, balsamic-marinated tomatoes, and onions served on rosemary foccacia, the French Dip ($14.99) featuring shaved prime rib, au jus, horseradish cream, and watercress on a baguette, the Classic Reuben Sandwich ($10.99) with corned beef, thousand island dressing, Swiss cheese, and sauerkraut on marble rye bread, and a Barbeque Pork Tenderloin Sandwich ($10.49).
If you are not in the mood for a sandwich the lunch menu also includes several other entrée options. There is the Greek Salad ($12.99) with mixed greens with grilled chicken, tomato, cucumber, pepperoncini, kalamata olives, feta, and a lemon vinaigrette (substitute grilled shrimp for $15.99), the Turf Club Pasta ($16.99) that comes topped with shrimp, garlic, olive oil, vegetables, and fresh herbs, the Turf Club Fish and Chips ($13.99), and a Spiced Salmon Salad ($15.99) on tossed arugala with vine-ripened tomatoes, smoked bacon, and a roasted garlic mayonnaise.
Dinner at the Turf Club features a more upscale and elegant fare as the burgers, sandwiches, and salads are replaced with more substantial dishes. The dinner menu features Prime Rib ($25.99) served with Yukon gold mashed potatoes, Swiss chard, and a red wine demi-glace, a Grilled New York Strip ($30.49) with lump crabmeat, asparagus, bernaise sauce, and red bliss potatoes, Grilled Salmon ($19.99) served with cauliflower puree, fingerling potatoes, fennel, onion, and tomato, Mint-Crusted Lamb Chops ($22.99) with a smoked gouda polenta, a Roasted Free-Range Chicken Breast ($17.99) accompanied by a shiitake mushroom risotto and topped with a sweet-and-sour cherry glaze, and a Pork Chop ($21.99) served with a three cheese casserole and red onion jam.
The dessert offerings are the same for both lunch and dinner, although there was nothing that really stood out to me. Among the desserts are Cheesecake ($5.49) with seasonal toppings, a Chocolate Espresso Torte ($5.99) with raspberry sauce and vanilla port wine ice cream, and a Warm Apple Crisp ($6.49) with vanilla bean ice cream.
When perusing the menu there were a couple of appetizer selections that stood out to me, but I decided to start my meal with the Buffalo Chicken Dip ($8.49) which featured pulled buffalo chicken in a spicy wing sauce topped with blue cheese and celery and served with Saratoga chips. As a warning, this appetizer is not one for the faint of heart. I am a big fan of spicy foods and even I considered this to be a very spicy dish.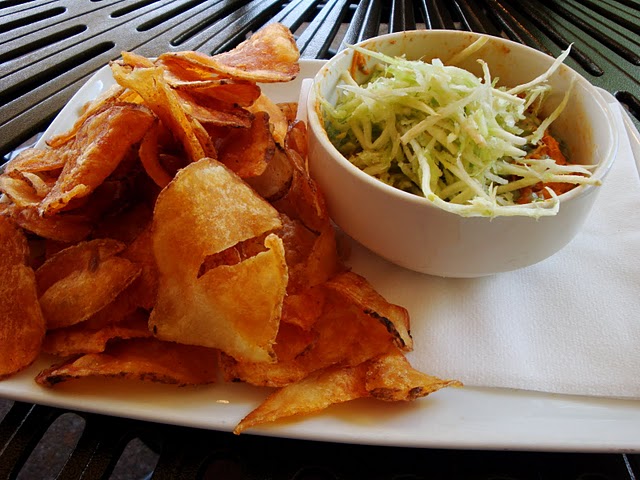 First off, I was very impressed by the portion size, not only the amount of dip but also the large serving of chips that accompanied it. The chicken had the consistency and stringiness of a pulled pork sandwich, but was still tender. I am not the biggest fan of blue cheese and there was a layer on top of the chicken that was a little too much for my taste. I felt the blue cheese was too overpowering and ended up picking some of the cheese off the top. Also, once I had mixed the cheese with the chicken it helped to subdue the strong flavor of the blue cheese. The chicken also came topped with shredded celery. While this did provide a light and refreshing contrast to the spiciness of the chicken and the strong-flavored blue cheese, I felt that there was too much of it and I likewise ended up taking off a lot of the celery.
While I thoroughly enjoyed the dip I kept thinking that it would have been nice if it was served with something that would tone down the spiciness slightly; I had to drink a lot of water while eating this appetizer. A side of ranch dressing would have been the perfect compliment. What made the dip even better were the Saratoga chips with which it was accompanied. The chips are freshly made and were served warm. They were cut a little thicker than your average potato chip with made them perfect for dipping. The chips had a beautiful golden-brown color and were not greasy at all. They were also seasoned slightly with salt, pepper, and chili powder to give them just a little kick.
For my entrée I chose the Barbeque Pork Tenderloin Sandwich ($10.49). Much to my delight, the sandwich came with another health portion of Saratoga chips. The pork itself was basted with an ancho-coffee barbeque sauce, but I did not find the coffee flavor to really stand out. Rather than overpower the flavor of the pork, I felt that this barbeque sauce actually enhanced its flavor; the two paired together very well. The pork itself was extremely tender and was grilled to perfection so that it was slightly charred so as to add just a little extra flavor.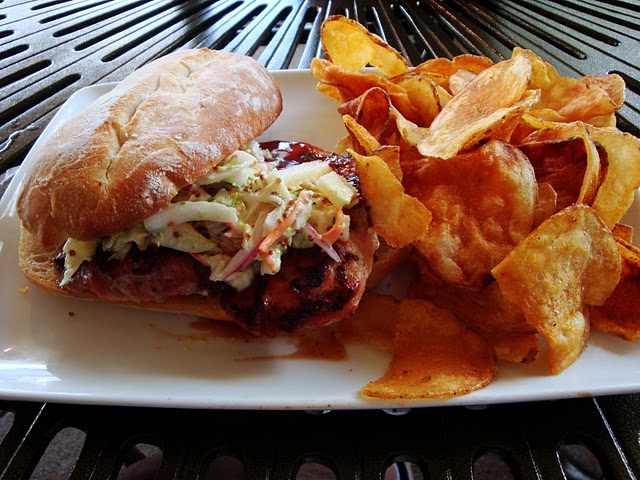 What made the sandwich unique was that it came topped with coleslaw. I have heard of coleslaw as an accompaniment, but never as a topping for a sandwich. I was pleasantly surprised. The slight sweetness of the coleslaw provided a light and refreshing contrast to the stronger, heavier flavor of the pork and barbeque sauce. The bread that the pork was served on was soft and fresh, but I would have liked it even better if it had been lightly toasted. Nevertheless, this was a very tasty and filling sandwich and the portion size was substantial enough that I was too full to consider having anything for dessert.
Service:
Overall, I found the service at Turf Club to be very pleasant and it started as soon as I entered the restaurant. Everyone from the hostess that sat me at my table to my server and all the other servers I witness all seemed to be in a cheery mood. My server was very energetic and enthusiastic, although not necessarily the most personable. She explained some items on the menu and took my order, but did not really try to strike up any type of conversation. Because the restaurant was not very crowded for lunch, my server did not have too many other tables to wait on and was able to pay close attention to my needs, regularly refilling my drink and checking in on me multiple times to make sure I was enjoying my meal. The meal itself progressed at an efficient but relaxed pace; I certainly did not feel rushed and there was just the right amount of time between courses to enjoy the scenery while sitting on the patio.
Dining on a Budget:
While dinner at the Turf Club can be a little pricey, lunch is very affordable. It starts with appetizers including the Fried Calamari for $9.99, which is an particularly good deal when considering the same appetizer is $14 at both Tutto Italia and Via Napoli and $13 at Mama Melrose's. There is also the Buffalo Chicken Dip for $8.49 and a great value on Onions Rings for $5.99, especially since onion ring appetizers at other restaurants like 50's Prime Time Cafe and Sci-Fi Dine-In cost $7.99. If you are looking for a light lunch, just getting a couple of appetizers to split amongst a group would be a very affordable option.
The rest of the lunch menu also includes several economical choices. The Barbeque Pork Tenderloin Sandwich might be the best deal on the menu for $10.49, but other sandwiches like the Classic Rueben for $10.99, Crispy Chicken Breast Sandwich for $13.99, and Bacon-Barbecue Angus Chuck Burger for $13.99 are also very affordable. Even if you are not in the mood for a sandwich, the Fish and Chips for $13.99 is a good value when you consider that the same dish at the Rose and Crown in Epcot would cost you $15.99 and at Raglan Road at Downtown Disney would cost $17 for lunch and $19 for dinner. They may not necessarily be of the same quality, but it is a viable alternative if looking to save a little money.
The Turf Club is on the Disney Dining Plan, but you would definitely get better value if using the dining plan here on dinner rather than lunch. The restaurant also offers a Tables in Wonderland 20% discount and both Annual Pass holders and Disney Vacation Club members receive 10% discounts for lunch.
The Overall Experience:
The Turf Club Bar & Grill is another one of those resort restaurants that tend to get overlooked because they are removed from the hustle and bustle of the theme parks. In the case of the Turf Club, however, that is what makes it so appealing. This restaurant is the perfect place to go if you are looking for a clam and relaxing meal in a tranquil, quiet setting; it is really an escape, a great place to unwind. While you might not want to make a special trip all the way to Saratoga Springs just to dine here, it is definitely worth a visit if staying at the resort. In addition, its proximity to the clubhouse of the Lake Buena Vista Golf Course makes it the perfect spot to visit after a round of golf to enjoy a good meal at an affordable price. While this is not a restaurant that may have the same detailed, immersive theming of other Disney dining locations, it still delivers the same high quality food and service that you would typically expect from any Disney restaurant.
See past restaurant reviews by guest blogger Andrew Rossi.
Check out Reader Reviews of the Turf Club Bar & Grill and post your own too!