Since one of the things that many people seem interested in is the food on-board, here's my blog about our dining experiences on the repositioning cruise. It'll be in two parts, and will include some of Jeanine's photos and comments as well.
Once we (finally) were able to board in Los Angeles, we went to Parrot Cay – they have a really nice buffet lunch available on embarkation day. Salad bar, cheese and sandwiches, hot dishes, carved prime rib, peel-and-eat-shrimp, lots of breads, and of course dessert. Some of those are pictured below, which also show off the presentation, with the edible 'flower' arrangement, the ice sculpture, and the bread sculpture.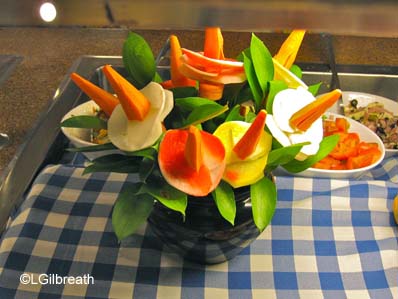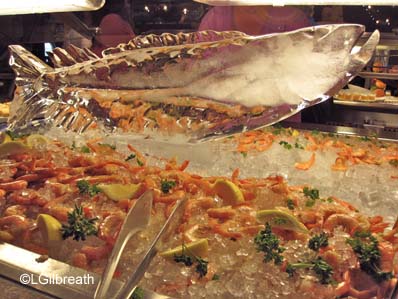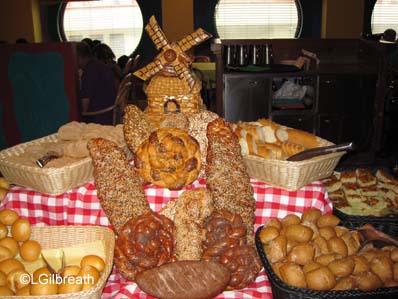 The desserts always look very pretty, but I'm never really too impressed with the flavor – mass-produced desserts aren't usually that good. Though the cake I had (pictured third from the bottom) was pretty good – we couldn't figure out what it was, though. It was sort of like carrot cake without the carrots, though maybe it had zucchini in it. Not overly spiced, but moist and quite tasty.
Our dinner on the first night was in Parrot Cay – it was their regular "Island" menu. I had something that I think was new since the last time I ate here – the St. Maarten Stack. Grilled calabaza squash, zucchini, and mozzarelly with tomato and basil vinaigrette. It was yummy – the calabaza was thick and gave it some extra texture.
Before I go any further I have to mention the awesome serving team we had – Balwan from India, and Tita from Hungary. The best we've had (though TJ and Meg on our first cruise were really good, too – since it was our first cruise we didn't realize at the time just how good they were). Our head server was Tektas from Turkey.
Lee had the Baked Crab Dip Martinique. Lump crab baked in cheese sauce and served with a couple of tortilla and plantain chips. It all disappeared, so I think he enjoyed it.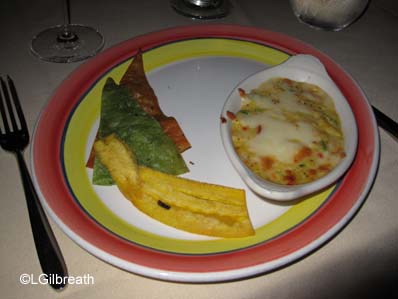 We both had the Parrot Cay Salad – spinach with red onions, mushrooms, bacon bits and chopped egg. It came with warm bacon dressing, which Lee said tasted like bacon, unlike when he had it last summer on the Med cruise. It was a very nice salad.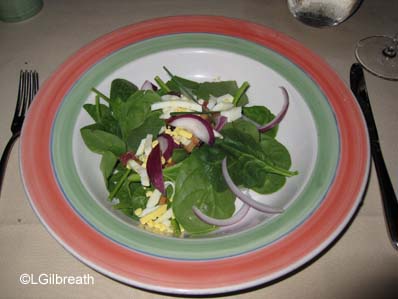 I've been enjoying more of the vegetarian dishes on-board over my last few cruises, so I ordered the Pearl Barley Cakes with Shallots, Leeks, and Rosemary. It was served over carrots, root celery, and leeks with a saffron sauce. It was very good – I would order it again.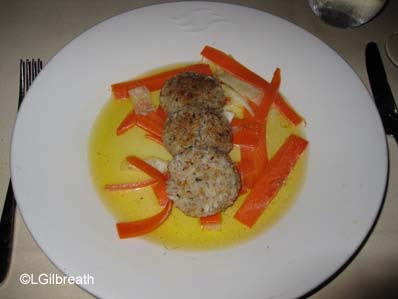 Lee ordered one of our Balwan's recommendations – the Mixed Grill. It was grilled beef tenderloin, lamb chop, bacon-wrapped sausage and jumbo shrimp with mashed potatoes, asparagus and a Cabernet mushroom sauce. He said all of the meat was excellent. I had one of the shrimp and it was very good.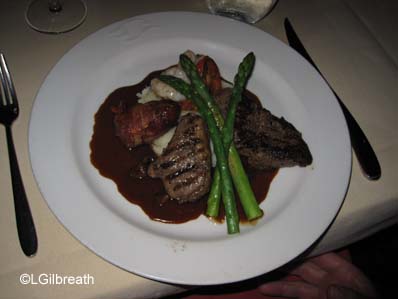 Here's the Island-spiced Grilled Rib-Eye of Beef, served with corn on the cob and double-baked potato.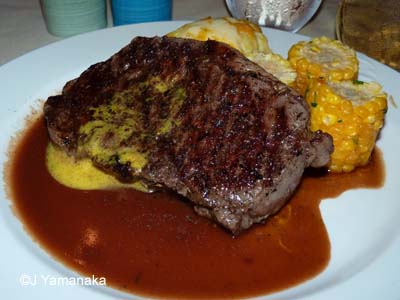 And the Shrimp and Avocado Salad.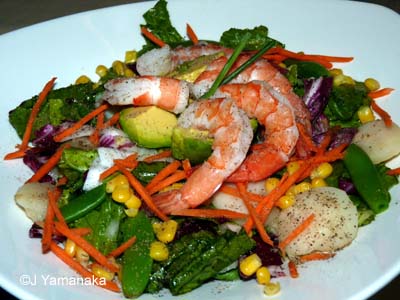 For dessert I had the Ice Cream Sundae – cookies and cream ice cream, a "fudge bar" and chocolate sauce. It was a very sincere ice cream sundae, and pretty good, though I didn't really detect the "fudge bar".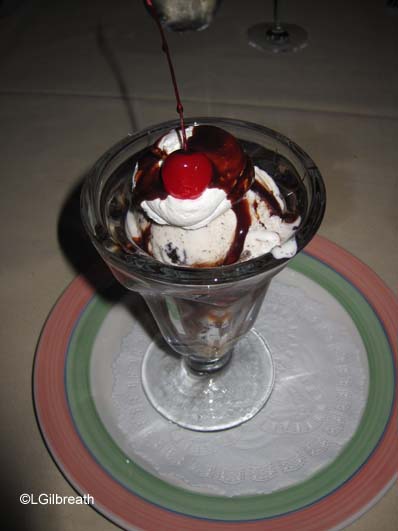 Lee had the French Toast Banana Bread, with coconut ice cream and caramel sauce. He loved it.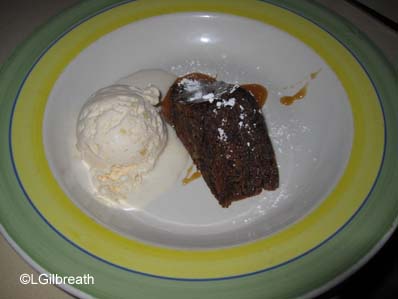 Beci had the Sweet Temptations – creme brulee cheesecake, lemon meringue pie and chocolate s'more vanilla cake.
Day 2 was an "At Sea" day. I did the buffet lunch at Parrot Cay – it had different selections than the day before. Two of the hot dishes were rosemary polenta and gnocchi. They also had carved turkey, but I didn't get any of that.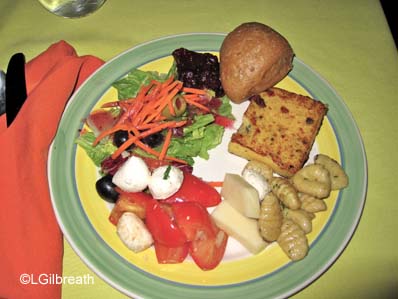 Dinner that night was at Palo with Deb and Linda. It was just amazing. Palo has a fairly new menu, and they also got new dishes just before this cruise – we were the first ones to eat off the new dishes.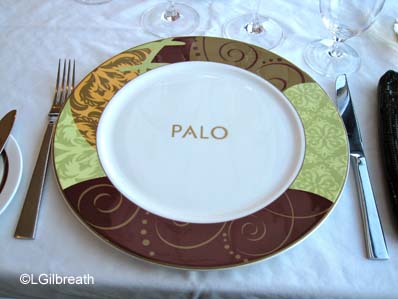 Dinner began when our server, Hristos, wheeled and anti-pasto cart to our table and began plating it for us – prosciutto, thin dried beef, several kinds of olives, cheese, artichoke hearts, and peppers. It was really delicious – between that and the bread I could have easily made a meal right there!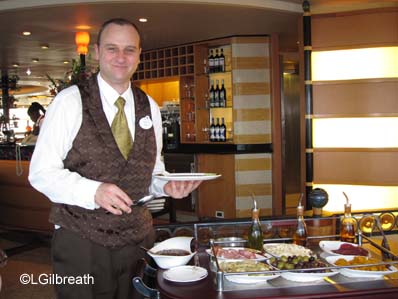 My appetizer was the Mozzarella and Plum Tomatoes with Balsamic Dressing. I'd forgotten how pretty they make this – it looks like a flower! And it was very good.
Lee had the Grilled Portobello Mushroom and Polenta. I don't think it looks very appetizing, but he liked it.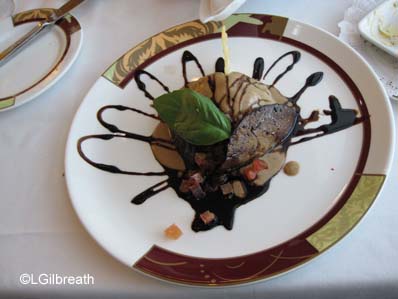 He and I also split the Tuscan White Bean Soup with Prosciutto and Parmesan Cheese. This was very good – it was mostly pureed, but thick with a nice bean flavor.
Linda ordered the Fritto Misto di Pesce con Olie all' Ascolana, a platter with fried calamari, scallops and mussels. She loved it – cleaned her plate!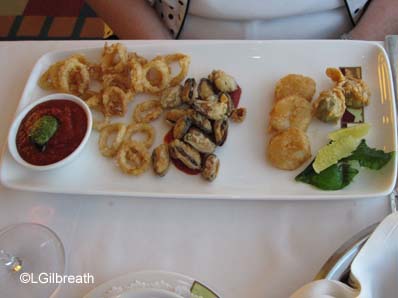 Between courses we had a lemon sorbet aperitif. It only came with one blueberry, but for photographic purposes my tablemates decided we need to enhance it. 🙂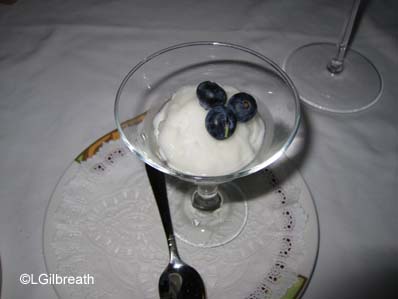 Deb, Linda, and Lee all wanted to try the ravioli, but no one wanted a full plate of it, so Hristos brought us both of them to sample. this is the Chianti Braised Beef Ravioli, which Deb really enjoyed.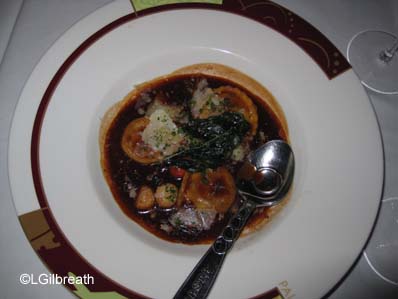 But according to Lee and Linda, the winner was the Lobster and Mascarpone Ravioli. Apparently it just melted in their mouths and was really good. (They didn't quite fight over it, but they did clean the dish!)
My entree was the Rombo al Finocchio – pan seared turbot with fingerling potatoes, porcini mushrooms, pancetta and fennel. The fish was excellent – moist and very tasty.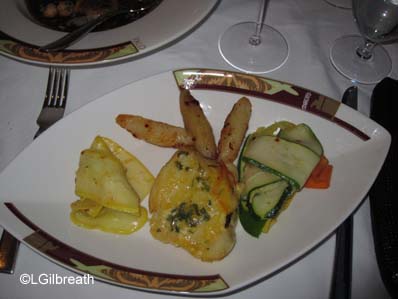 Lee ordered the Beef Tenderloin "Palo". It came with their Barolo red wine sauce. He always judges beef tenderloin as compared to the Tamarind Beef that California Grill used to serve – I don't know if this quite reached that level, but it was way up there.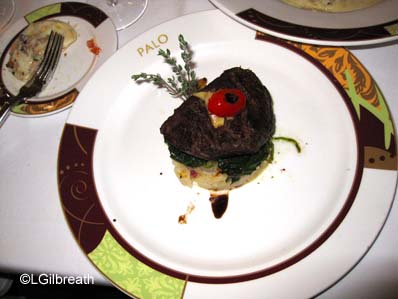 Deb ordered the Fagotti di Petto di Pollo con Ricotta e Basilico. I believe this is new to the Palo menu – it was chicken breast stuff with ricotta, basil and peppers. I think it
was not quite what she was expecting based on the description, but she still enjoyed it.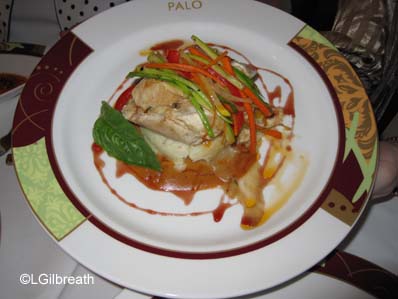 Linda had the Grilled Sea Scallops with Borlotti Beans and Pancetta. As you can tell, she was on a seafood kick that evening. 🙂 Another wonderful dish.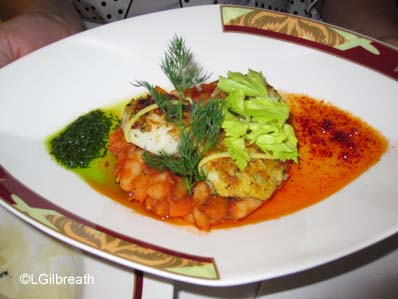 And for dessert we had, what else, the famous Palo Chocolate Souffle. As a bonus, I got to eat all of mine and most of Deb's too. (So glad I went to the gym that day!!!)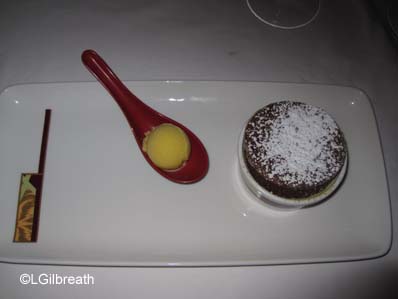 Deb had the no sugar added dessert – Apple Crostata with Salted Caramel Sauce. Deb REALLY appreciated that Palo finally got a no-sugar added dessert. The apple bits were perfectly small complimented with with cinnamon spice and raisins — quite tasty. The cookie on the bottom of the apples was a nice complement and the caramel sauce was on the side. The dessert was light and a great finish to a great meal.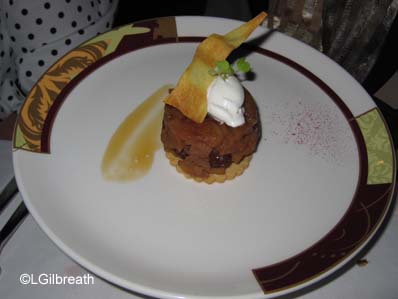 It was really a wonderful dinner!
Our first night dinner in San Francisco was at Triton's. This was the first time we'd ever eaten there. I think I like the decor in Lumiere's, on the Disney Magic, better, but the
undersea mural is really nice.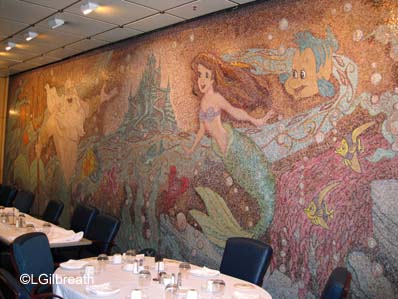 My appetizer was the Chilled Jumbo Shrimp in a lemon-dill dressing. Very good.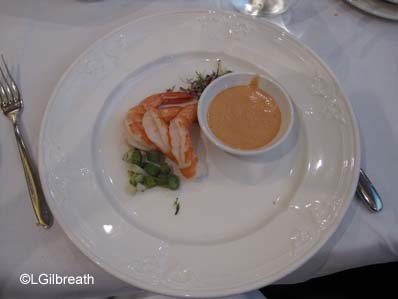 Lee had the Applewood Smoked Bacon and Wild Mushroom Tart.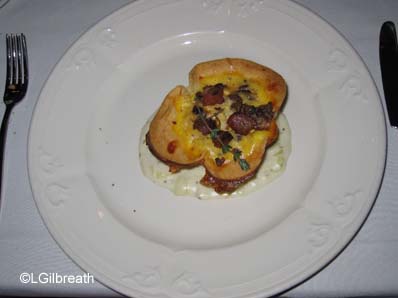 Jeanine is braver than we are, and went for the Escargot Gratinee.
One of my on-board favorites is the French Onion Soup. (It's "Chef Louis' French Onion Soup on the Wonder – as I recall it's Belle's French Onion Soup on the Magic). But it was excellent – nice and hot, with plenty of cheese. That's what Lee had also.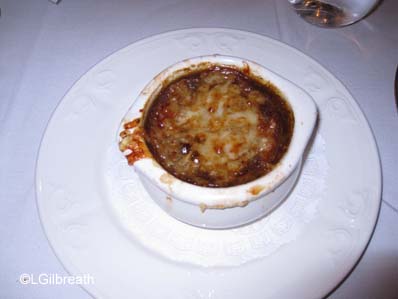 My entree was Triton's Seared Sea Bass – with mushroom and herb risotto, onion marmalade and a potato chip. It was very good. I think this was where I first noticed that anything on the menu that is described as "seared" or "grilled" is a lot better than it used to be – I don't know if they have changed their cooking method (since they can't use open flame), but everything I had that was prepared that way was good.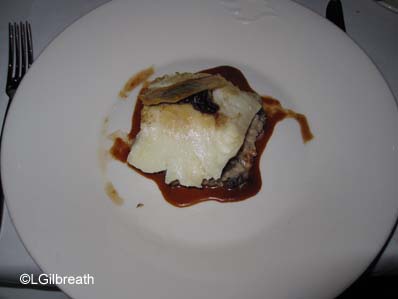 Lee had one of Balwan's recommendations – the Three-Cheese Lobster Macaroni with gruyere and cheddar cheese sauce and penne pasta.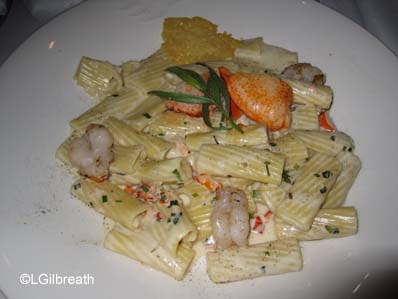 For dessert I tried the No Sugar Added Chocolate Cheesecake. It was ok – not nearly as chocolatey as I was expecting, and it was pretty light – not as rich as cheesecake usually is.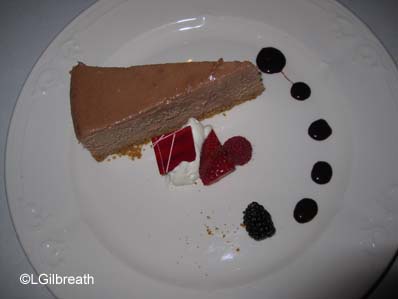 Lee had (no surprise) the Creme Brulee. He liked it, but it tasted a little bland to me.
Beci had the Sweet Temptations – creme brulee, chocolate mousse, and a praline petite choux cookie. It looked really good.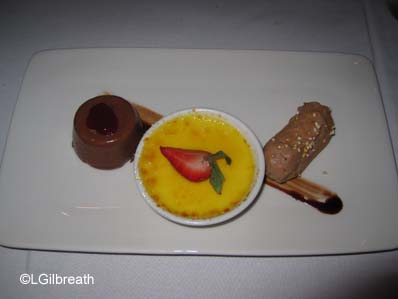 Our second morning in San Francisco we had a nice leisurely morning and had breakfast at Triton's. We were pretty sure we would have a long day in San Francisco, so we wanted to have a good and larger breakfast than usual.
I started off with some fruit, and of course they always offer us a nice selection of yummy pastries. I had the cinnamon roll, but the chocolate croissant looked good, too.
For an entree I ordered one of Triton's Signature Favorites – Atlantis Secret Tower. It was a stack of French toast and grilled pineapple with strawberry sauce and fruit. It was not bad, but I don't think I'd get it again.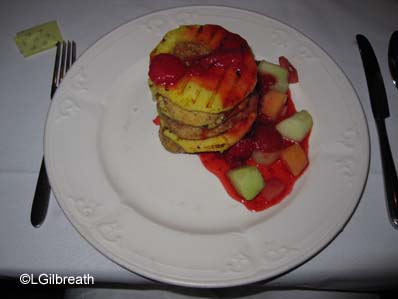 Lee had Sebastian's Trio – French toast, Belgian waffle, and buttermilk pancake with cinnamon butter, syrup, and bacon. It looked really good and I think he ate almost all of it.
Jeanine had the waffles, which she said were 1000 times better than the ones on the Disney Dream.
And here's the Eggs Benedict.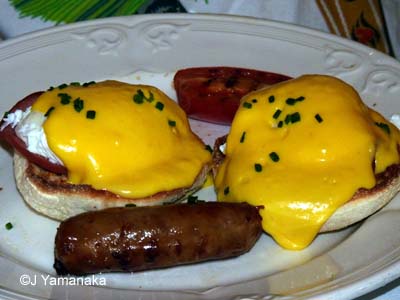 We didn't have lunch in San Francisco, but we did go to Ghirardelli Square and share a Cable Car Sundae. 🙂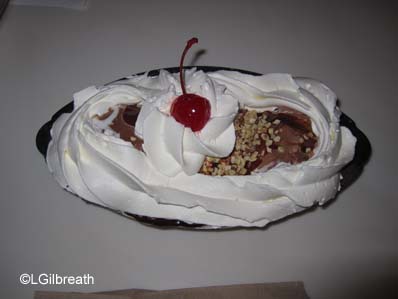 That night we left San Francisco (twice). It was Pirate Night, but there was no Pirate menu on our short cruise – we had the normal restaurant menu, which for us was the Animator's Palate Show menu. I prefer the original Animator's Palate show to the one on the Disney Dream – I like the way the restaurant and the servers get more colorful as the evening goes on. But I'd like to see them update the animation displays and put in some interactive components.
The Animator's Palate menu is one of my favorites. My absolute favorite Disney Cruise Line appetizer is on this menu – the Sesame-flavored Rock Shrimp and Caramelized Onion Cheesecake. It always looks like it's dessert when they bring it out, but it's a savory cheesecake, and not sweet at all. It's quite a good-sized serving, pretty rich, and very filling. It comes with Asian barbecue sauce and micro greens. They posted the recipe for this on
the Disney Parks Blog a couple of months ago, and I made it for Easter brunch – it was very good.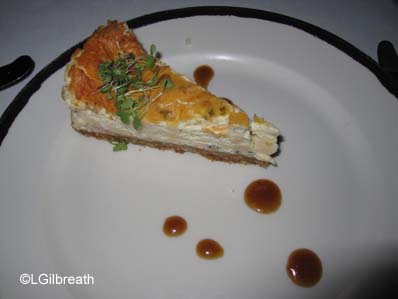 Lee had the Wild Mushroom Risotto and Porcini Twist. It came with a parmesan/reggiano bread stick. He really enjoyed it.
This is the Ahi Tuna Tartare, with caviar, chives, and wasabi cream.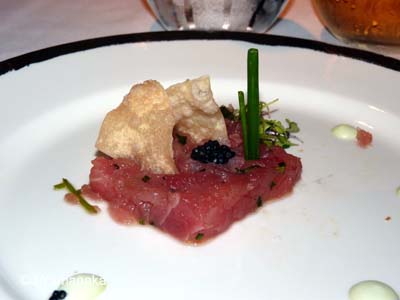 Our second course was the Baked Potato and Cheddar Cheese Soup, topped with bacon bits and chives. This is another favorite, though the Butternut Squash soup that's on this menu is good, too.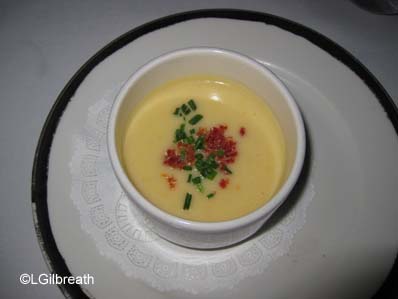 My entree was another of my favorites – Black Bean Chipotle Cakes. They are served over roasted corn and brown rice. Very flavorful, but not spicy hot. Deb tasted it and really like it so, she ordered it next time it was on the menu. Clearly there was a different Chef making the chipotle cakes as it was way TOO spicy to eat – and I agreed!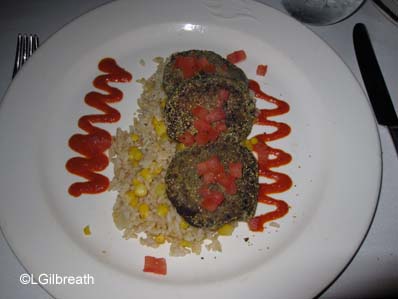 Lee had the Asian Marinated Beef Tenderloin. This is served with wasabi mashed potatoes and bok choy with tamarind bbq sauce. I don't think this was quite as good as the beef tenderloin he had at Palo two nights before, but it was right up there.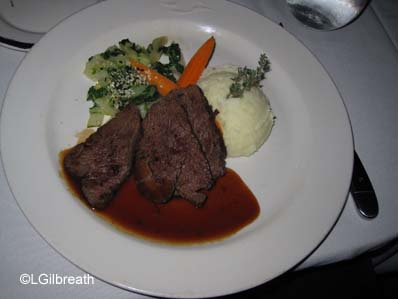 This is the Phyllo-wrapped Salmon Fillet, with garlic cream cheese and fava beans.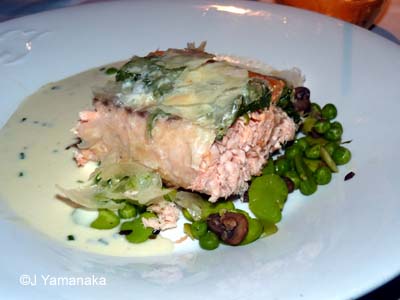 Balwan got Lee with one of his tricks. 🙂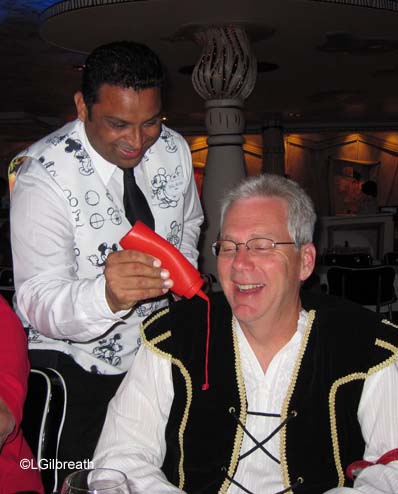 I love this photo of Balwan and Tita. They seemed to really like each other – they certainly worked well together!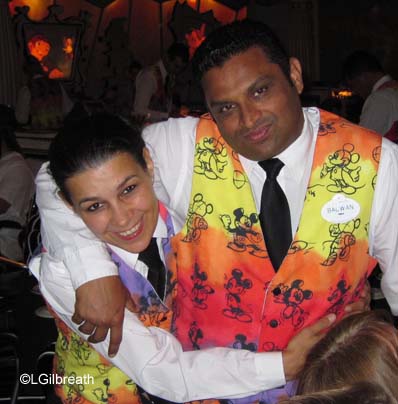 For dessert I ordered the Double Fudge Chocolate Cake. This is not what I expected from the description, but it was pretty good.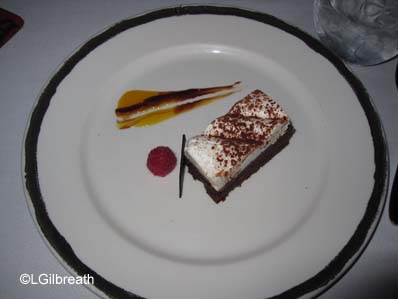 Lee had the Buckled Warm Apple Crumble. It was topped with vanilla ice cream.
Deb had the No Sugar Added Chilled Lemon Souffle.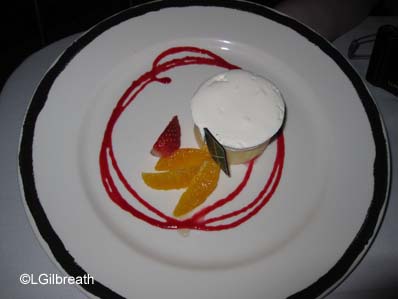 Jeanine had the Animator's Sweet Temptations – strawberry sable, cranberry and orange cheesecake, and double-fudge chocolate cake.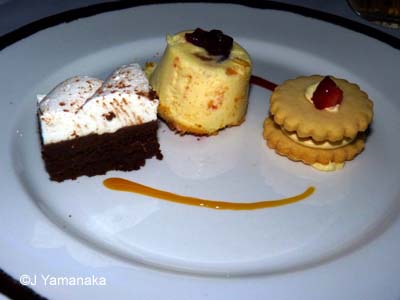 Part 2 is coming soon.