by Jack Tarulli
Guest Blogger
It was a beautiful, crisp, sunny day, the kind of day where you felt we just might have made it through a tough winter here in the Northeast. Today (as well as being Valentine's Day) was day two of the American International Toy Fair at the Javits Convention Center, and it was a special D23 / Media presentation of the new line of Cars 2 toys at Chelsea Piers. My buddy Erik and I arrived early (come on, we are Disney Park Fans) which gave us a chance to walk around the lobby of the convention center and look who we found"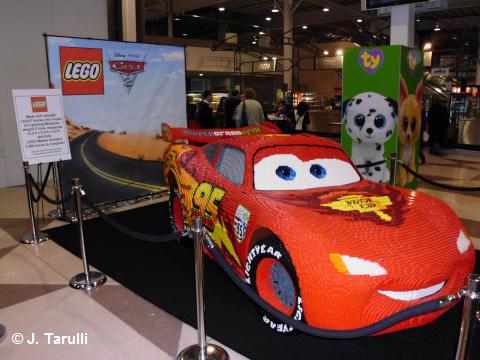 A life-sized Lego Lightning McQueen made up of 325,000 Legos. It was amazing to look at in person, and told me the day was going to be great. We were directed to an outside area where Disney personnel would direct us to a special shuttle bus that would take us downtown about 10 blocks to Chelsea Piers.
We found ourselves pulling into Chelsea Piers about an hour early for the 10:30 start time. This was great giving us a lot of time to walk around and take pictures with minimal crowds around. At check-in we were given our credentials and we also ran into our old friends from the D23 event yesterday, Becky and Laura.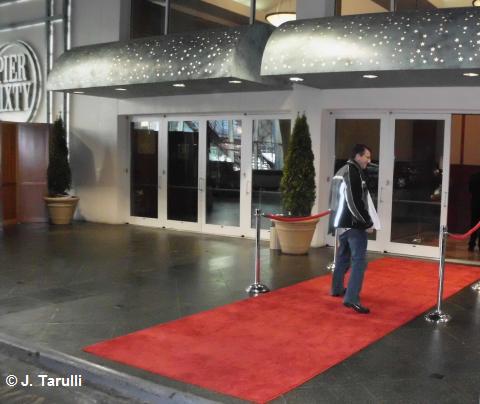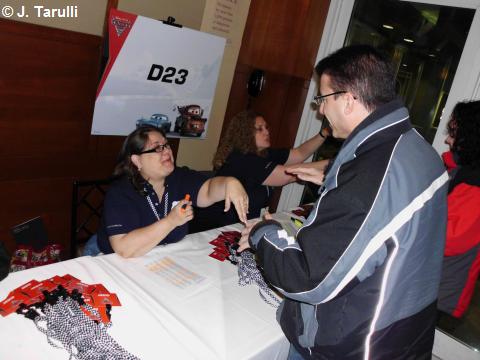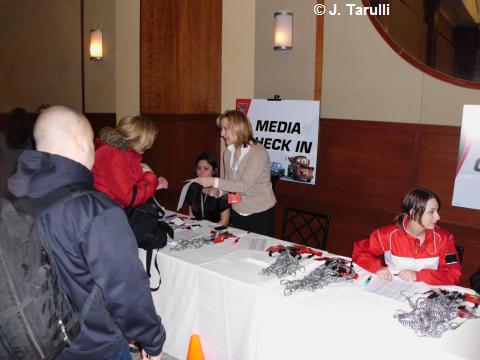 We were then directed into a theater for the presentations, but before that we had a chance to take pictures of the hallways that were lined with Cars 2 material. The theater seemed to hold about 500 people (About 200 D23 folks had seats reserved for them in the center. Off on both sides were seats for Media and Toy Fair attendees). By the time the event started, there was hardly a seat available.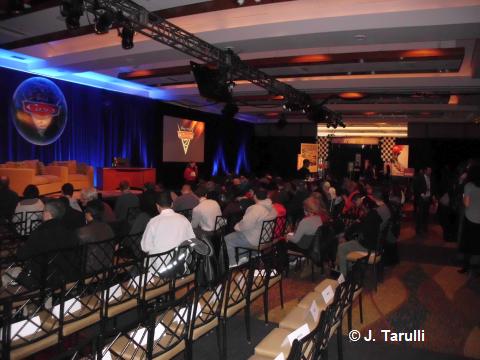 While waiting for the event to start we were able to get an early sneak peek in the merchandising room next door. This was a fantastic opportunity to walk around and take lots of pictures of the hundreds of toys coming out in conjunction with Cars 2, but little did we know what and who we would also run into. Take a look at just some of what we saw of the new Cars 2 product line coming to a Toy Store near you soon.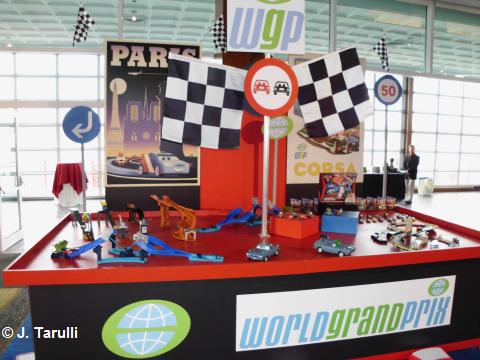 It was at this point we came upon a life-sized covered car. We were told that this was none other than the famous British super spy, Finn McMissile, star of the new Cars 2 movie.
It was at that moment while looking at the covered car I heard an unmistakable British voice say, "Why I think that's me under those covers." It was none other then the voice of Finn McMissile, Michael Caine. He was amazingly charming and funny and a delight to speak with. While there he was directed to officially unveil the car. He spoke about how great it was to work for Pixar and John Lasseter, and how deep down he did this movie for his grandchildren (otherwise they would have to wait till they were 18 to see any of his other work).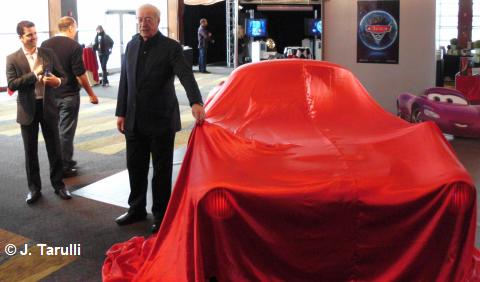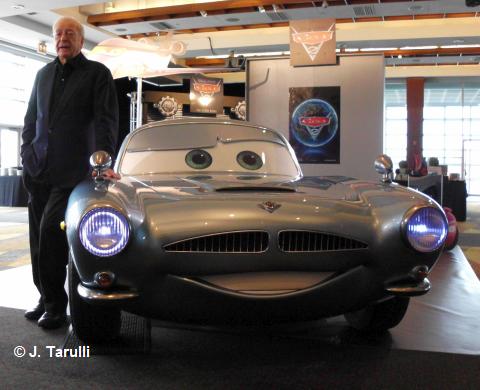 Observing all of the new toys was another star of the movie, Emily Mortimer, voice of his spy-in-training, Holley Shiftwell. It was great hearing her discuss what it was like to be made into a toy, and how much her son loves Legos.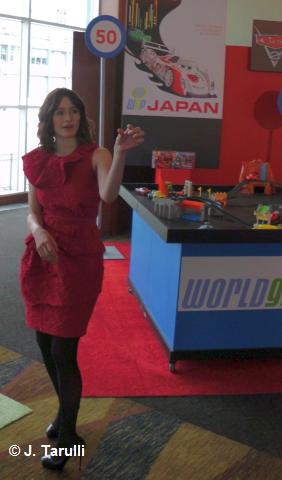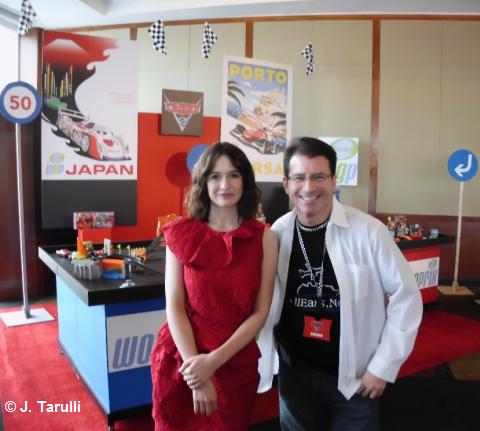 At this point the presentation was about to begin. It was hosted by Vince Klaseus, Senior Vice President of Global Toys, Disney Consumer Products, and it was set up like a 'Talk Show' theme. Vince spoke about the growth and strength of the Cars 2 product line, as did Mary Renner Beech, also from Disney. At one point Mary did mention the products are so strong they are even building a land devoted strictly to them, but this was the only mention of Cars Land at Disneyland. In addition, they also announced that a new Cars 2 character called 'Miles Axlerod' will be voiced by Eddie Izzard.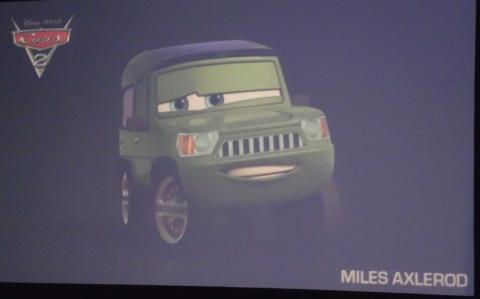 At this point Vince introduced a taped piece specifically for this presentation from John Lasseter. It was great to see such enthusiasm and excitement from someone, and it made for very enjoyable viewing. John also revealed that John Turturro will be the voice of the new character (and Lightning McQueen rival), Francesco Bernoulli. After John's taped piece they brought out both Emily Mortimer and Michael Caine to talk about the experiences they both had making the movie and it was very entertaining to the crowd.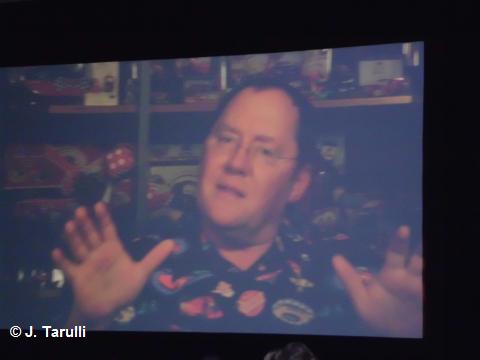 Once the presentation ended, everyone was welcome to browse around the merchandising room, and grab some hor d'oeurves for lunch, plus as a gift for attending get a limited edition (of 500) Lightning McQueen Mattel car only produced for this Toy Fair. This was a great opportunity to get one last look at the Cars 2 toys that we know we will be buying, to chat with friends one last time, and to meet new ones before leaving. Having worn our AllEars.Net shirts, it was quite enjoyable walking around receiving so many positive comments from readers. Made us feel great to be even a small, small part of such a wonderful team.
(Pic 28, Pic 29, Pic 30)