We visited Disneyland and Disney California Adventure last Saturday – it had been a while since I'd had a chance to tour in the parks, and I was very surprised at all the construction walls that were up in both parks! Imagineering is obviously working overtime in imagining new attractions for us. 🙂
And it's interesting to see what kinds of things they put on the walls – the ones that are going to be up for a longer time have a lot more detail than the ones that are up more temporarily.
That said…apparently most of the walls at Disneyland are temporary. 🙂
Town Square had a wall just as we entered the park. This actually ran most of the way up Main Street. There was sort of a "box" that covered one set of the trolley tracks from Town Square almost to the hub.
There's another set of walls around the left side of the hub – I wondered what that does for the fireworks viewing.
There's an entire land missing, as all of Critter Country is closed, and you can see there's scaffolding up on Splash Mountain.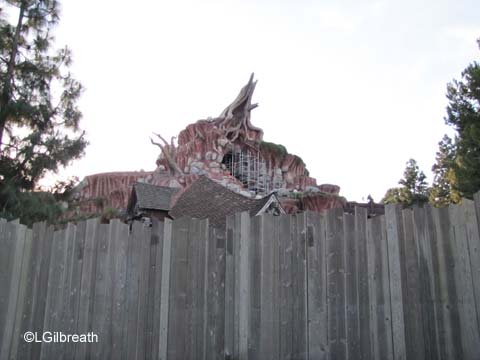 We noticed that even though Disneyland really wasn't that crowded it felt a lot more congested because of bottlenecks and narrower paths created by the walls.
Not surprisingly most of the construction walls are at DCA – and those were much more interesting walls. Starting with the entrance – the "CALIFORNIA" letters are gone now and they have walls all around that area, which is between the esplanade and the entrance turnstiles. They have cast members stationed there to keep people moving to the entrance turnstiles.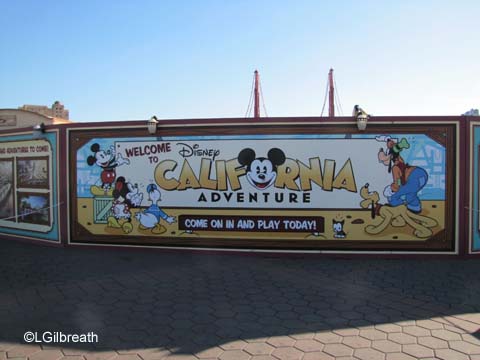 I really liked the design on the walls, though – all of those classic characters, and the year they made their first appearance. Apparently there eventually was a "Mortimer Mouse", even though that name was rejected for Mickey. (Mortimer made his first appearance in 1936 in the cartoon "Mickey's Rival".)
Horace Horsecollar and Clara Cluck – and they even got the Big Bad Wolf to go to work pushing a wheelbarrow!
There's a wall just inside the entrance, too – it looks better as you're exiting the park.
Sunshine Plaza is no more – but the walls around it have Carthay Circle Theatre period advertising and period character artwork.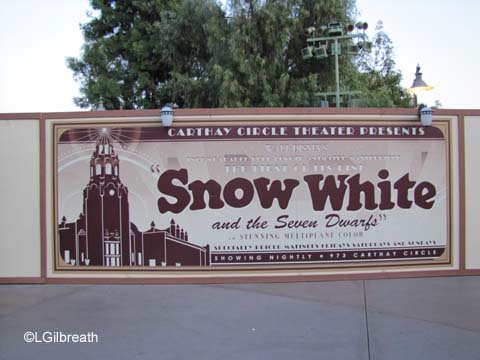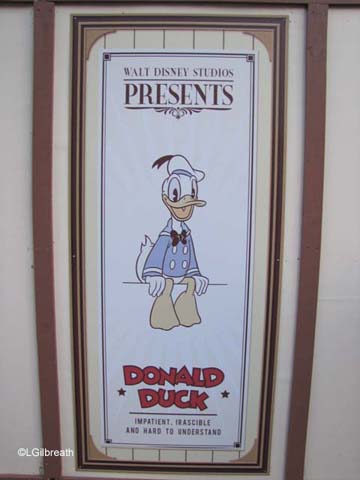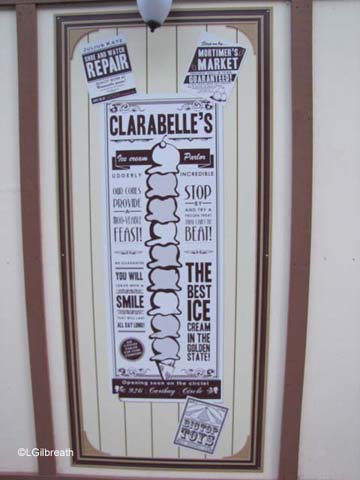 There's walls up in front of the former Bountiful Farm area and Cars Land – you can see the Cadillac mountain range in the background.
Some very nice artwork on these!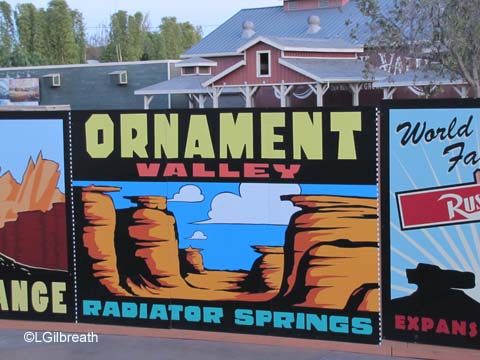 And there's walls I didn't actually photograph – like all of those around Ariel's Undersea Adventure, Goofy's Sky School, and the new Paradise Pier restaurants: Paradise Grill and Boardwalk Pizza and Pasta.
But most of those will be coming down in the next few months, since all of those attractions and restaurants are scheduled to open this year. Lots of fun to come!