Deb Wills, Deb Koma and I are in Florida, where we have will be sailing on the Christening Cruise of the new Disney Dream ship! We have been invited by Disney attend the media events and go on the cruise. We are so excited!
The actual christening is Wednesday, January 19, and there will be live coverage of it on the Disney Parks Blog (http://disneyparks.disney.go.com/blog/) starting at 10:30 a.m. EST.
We will be on the ship from January 19-21, and will be trying to explore every inch that we possibly can so that we can share it all with you. I am hoping to blog each day, internet connection permitting. But you can bet that we will have tons of photos and answers to your questions once we are on land again. If you have any additional questions, please send them to [email protected] – we'll have AllEars team members on the first two cruises of the Dream in addition to the Christening Cruise.
Deb Wills and Deb Koma will be sending photos on Twitter, especially on Tuesday while we are still in port. You can follow them:
Deb Wills: @AllEarsDeb
Deb Koma: @dcdeb_allears
It promises to be several exciting days – stay tuned!
Tuesday – some clouds in the morning, but it turned into a beautiful day this afternoon!
From the Polynesian I walked over to the TTC and took the Tronorail to Epcot. I really like the look of the Tronorail from the outside, but it's not so great on the inside – the windows are covered with a heavy screen, so it's a pretty blurry view from inside.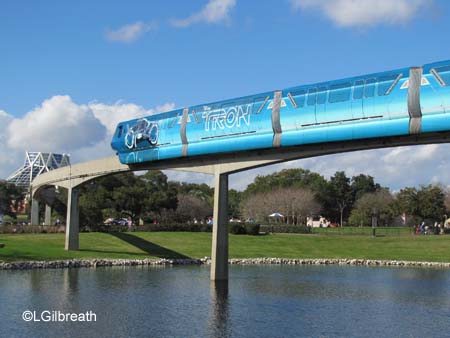 It was really a beautiful day at Epcot – so much nicer than when I was here in December.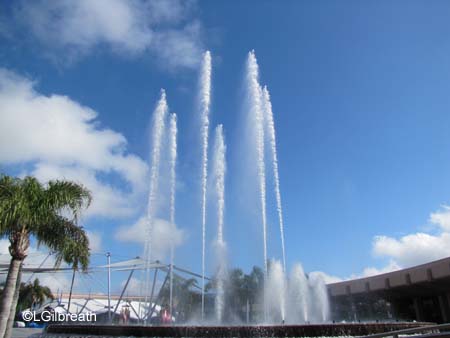 I felt like saving the world, so I signed up to be an agent for Team Possible. With the help of Kim, Wade, Ron and the gang I foiled nefarious plots in the UK, France, Germany and Japan.
I've done missions in all of the countries now (America, Italy, Canada, and Morocco apparently don't need saving), and Germany is still my favorite. The zombie villagers and singing beer steins are such a hoot.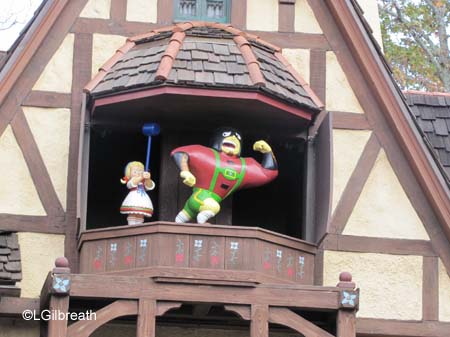 I'd missed Voices of Liberty on my last two trips, but I got to see them today. Love their beautiful voices and harmonies.
As I was on my way out of the park Stitch was mugging for the cameras.
We're getting ready for tonight's press event at the Magic Kingdom. Earlier today Disney issued a press release on the new Fantasyland, along with some artist renderings. I expect we'll hear more about that in the Media Briefing tonight. We'll also be seeing the new "The Magic, the Memories and You" castle show. We'll have more on that later.
Ok…we're back from the media event. The castle show was really cool – the projections are pretty awesome, with some great effects. I haven't had time to process too much video yet, but here's some footage of Deb Wills interviewing Eric Jacobson about the Fantasyland expansion.
And here's the world premiere of the new show on the castle: The Magic, the Memories, and You: