My wife Vickie and I visited Walt Disney World a few days after Thanksgiving to check out Disney's progress with holiday decorations. We like Disney popcorn, so we bought a small box. You probably know that holiday food and drink containers often contain Hidden and Decorative Mickey images. We weren't disappointed! Some decent Hidden Mickeys are in snowflakes on this Epcot holiday popcorn box.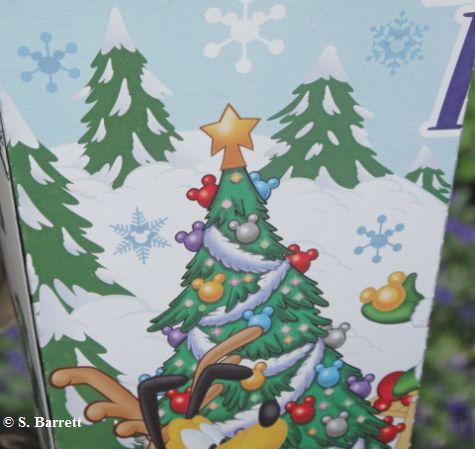 A nice touch to the miniature train exhibit in Epcot's Germany Pavilion is Santa Claus with his sleigh and reindeer on this house.
Notice the "snowflakes" suspended around and below Santa.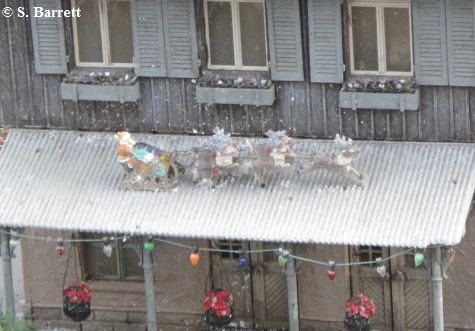 The landscapers in Germany try to maintain the Hidden Mickey bush in the train exhibit. These bush and plant Mickey images are difficult to preserve over time.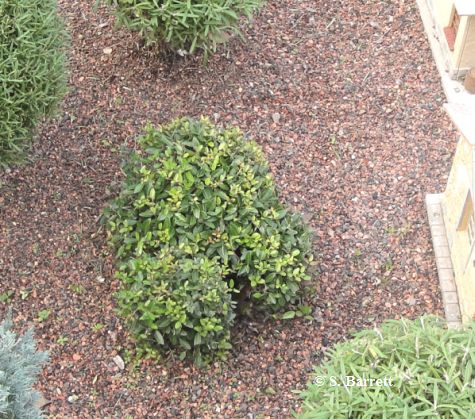 Vickie and I stopped by several Storytellers in World Showcase. One was speaking about the spirit of Kwanzaa at the American Adventure Pavilion.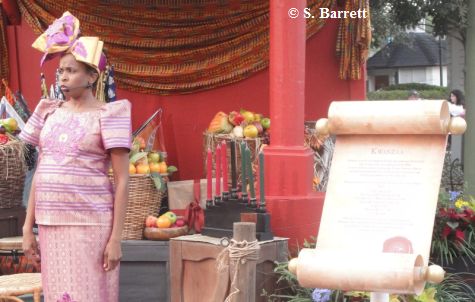 At the France Pavilion, Pere Noel entertains with a child's (Babette's) story of Christmas.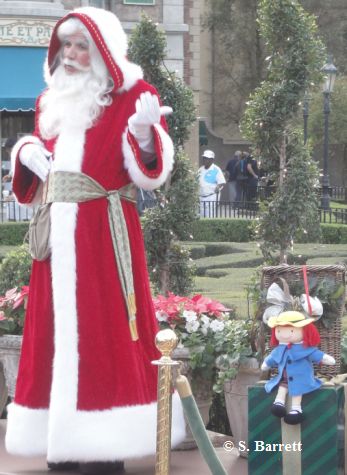 When I'm made aware of new Hidden Mickeys, I often wait a while to see if they persist for all of us to find. Karen Williams and her child, and Tim Devine, informed me of a Hidden Mickey inside Guest Relations near Spaceship Earth at Epcot. Mickey ears sit on a high window ledge beside the entrance. (Thanks to Tim Devine for the photo).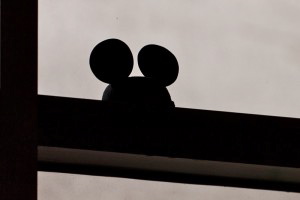 Alas, a few days after Thanksgiving, I checked the area and the Mickey ears are gone! Unfortunately, some Hidden Mickeys don't last!