by Guest Blogger John Kurowski
Before Mickey Mouse squared off with Pegleg Pete at the helm of a steamboat, to after a group of plane crash survivors squared off with a smoke monster, the tradition of history and entertainment by the Walt Disney Company spans many generations.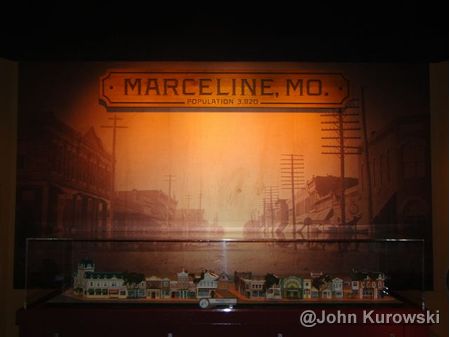 For an up-close look at this legacy, Disney's Hollywood Studios recently reopened its One Man's Dream attraction after a three-month rehab. Our friends at D23, Disney's Official Fan Club, welcome guests to this exhibit that Walt Disney World introduced in 2001 as part of its 100 Years of Magic celebration that celebrated the 100th birthday of company founder, Walt Disney.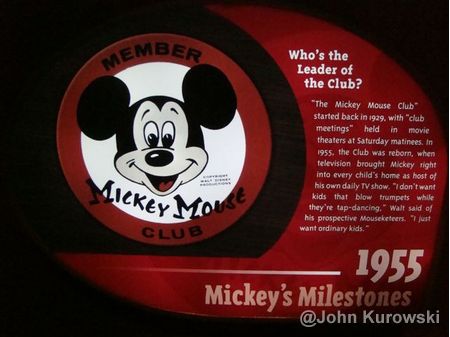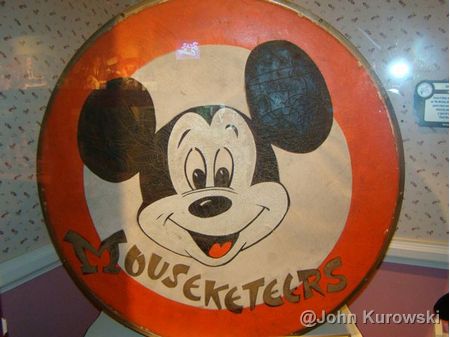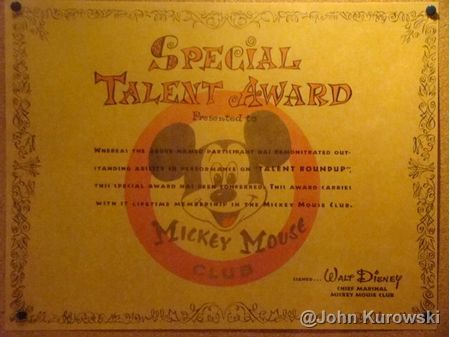 When the attraction first opened, guests could trace the life and times of Walt Disney and the influence he had on the company in the years after his death. Light-up placards gave a brief history on various topics that meant a lot to Walt.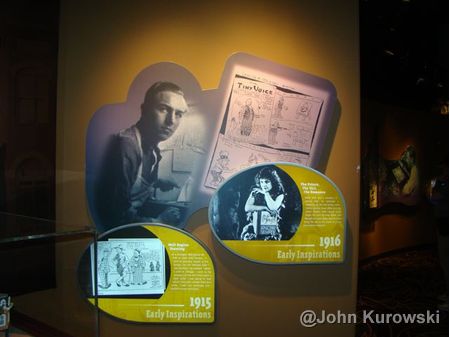 "Transportation" for example, in the old exhibit, started with Walt Disney's enthusiasm for steam locomotives, followed by his building a model train in his backyard, to the construction of the Disneyland Railroad, and then finally, the introduction of linear induction motors with Walt Disney World's WEDWay PeopleMover in 1975.
With an exhibit covering the history, present, and future of an ever-changing company like the Walt Disney Company, challenges usually arise when trying to keep your content fresh. As a result, many artifacts and assets throughout the years have been replaced. Nothing usually too major — maybe by replacing a small poster highlighting 2003's The Lizzie McGuire Movie to some promotional materials showcasing 2008's High School Musical 3.
Other elements of the exhibit have disappeared due to being on loan from various owners. For example, the special Academy Award Walt Disney received from Shirley Temple honoring Snow White and the Seven Dwarfs belongs to the Disney family. They loaned the statuettes to Walt Disney World for a short period of time as the attraction was only scheduled to be open for the 100 Years of Celebration. As the exhibit remained popular, Disney kept it open and the time came for Walt Disney World to return its borrowed goods. A portrait of the award with a picture of Walt and Shirley Temple is still on display.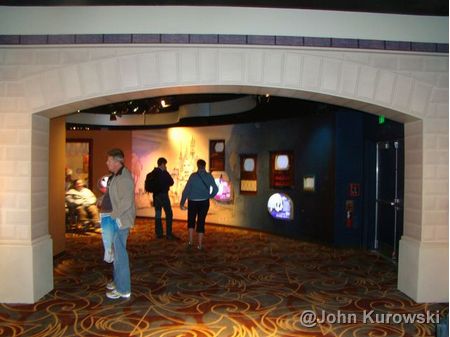 Some cosmetic changes to the set-up occurred during the downtime. The color palate at the entrance went from blues to a wood panel and wall-to-wall carpet replaces the different tiles and themed floors that reflect each decade on display.
When the attraction first opened, guests would meander through the the first four decades of Walt's life then encounter a series of doors with a mural of Imagineer Herb Ryman's concept art of Disneyland. After an announcement the doors would open and invite guests to take part in Disney's legacy from the 1950s to the present. The opening of the doors effect has been abandoned for a few years but now a castle stone facade replaces the doors with a smaller version of the concept art of the castle next to the panel of televisions playing the opening of Walt Disney's Disneyland series.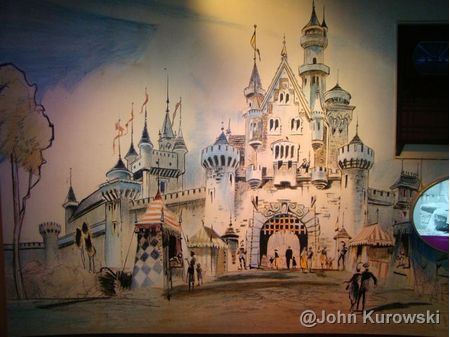 The small lighted panels of history have changed as well. Each highlighted text now falls in a category that seems to reflect a milestone in the Walt Disney Company's history, as opposed to the man, Walt Disney. "Mickey's Milestones," for example, depicts four key moments within Mickey's career, his debut in Steamboat Willie, his first color appearance in The Band Concert, his memorable role in The Sorcerer's Apprentice, the premiere of The Mickey Mouse Club, and, finally, the release of the video game Epic Mickey. Other categories include "New Media, New Magic" which highlights Disney acquisitions like ABC/Capitol Cities and the New Amsterdam Theatre in New York City.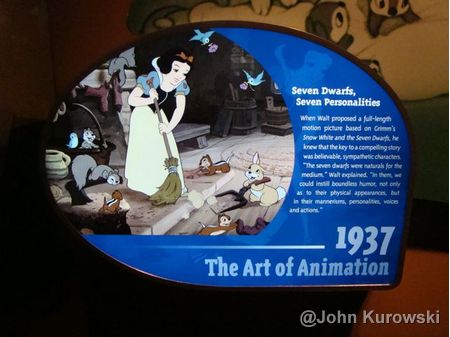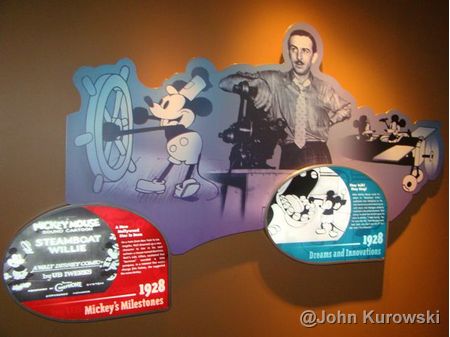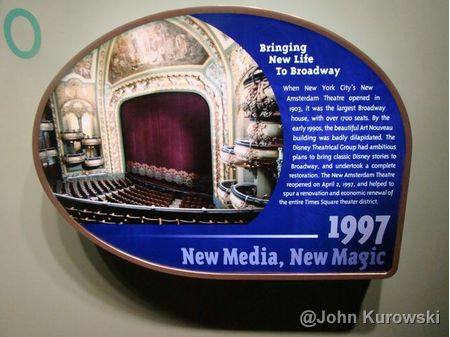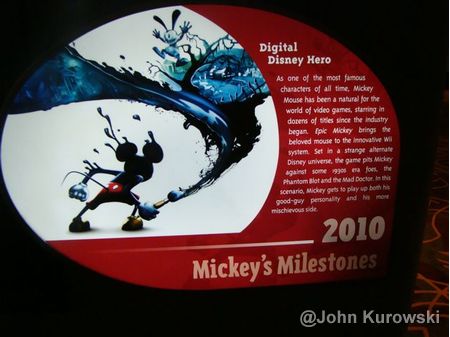 Some notable changes throughout the display include Julie Andrews' white dress from Mary Poppins has been replaced with Fred MacMurray's suit from the little seen Disney film Bon Voyage.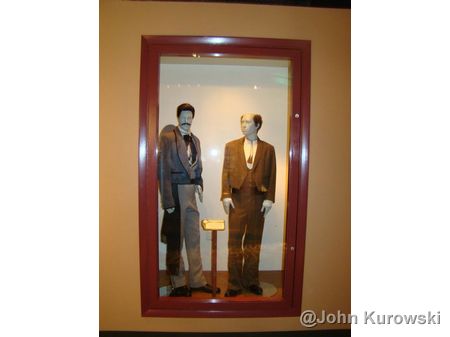 Guy Williams' mask and cape that he wore as Zorro have been replaced with a suit he wore as Zorro's alter ego, Don Diego de la Vega, accompanied by a suit worn by his silent companion, Bernardo, played by Gene Sheldon. Disney Legend, Betty Taylor, known for her years of playing Slue Foot Sue at Disneyland's Golden Horseshoe is now represented in the form of a beautiful dress worn as the hostess of a beloved Disneyland classic.
The display featuring the controls of Audio Animatronics now can be seen behind glass. A model bust along with rubber and hair depiction of Abraham Lincoln can be seen over a bare animatronic body, as well as a scale model of Disneyland's "it's a small world" facade. The Tower of the Four Winds model from the 1964 New York World's Fair moved from its previous home at Disney's Contemporary Resort to One Man's Dream, as did models of Figment, Horizons' Robot Butler, and plush characters from Epcot's extinct Kitchen Kabaret.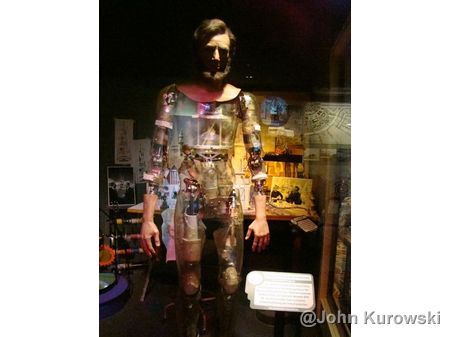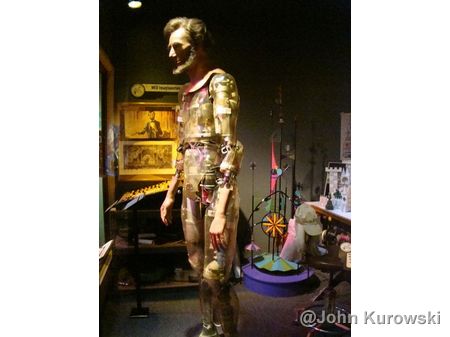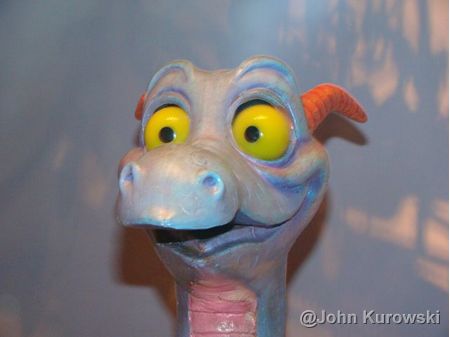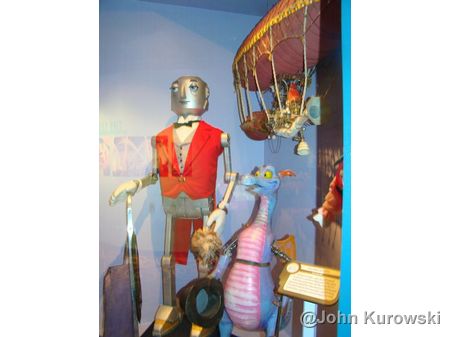 A wall promises that in the Fall 2010 the legacy will continue with more exhibits as a wall that looks temporary surrounds the entire conclusion of the display. Various Disney pictures from all areas of the company are given their due from ESPN's SportsCenter to Buena Vista's syndicated television talk show Live! with Regis and Kelly to various Disney and Pixar animated films.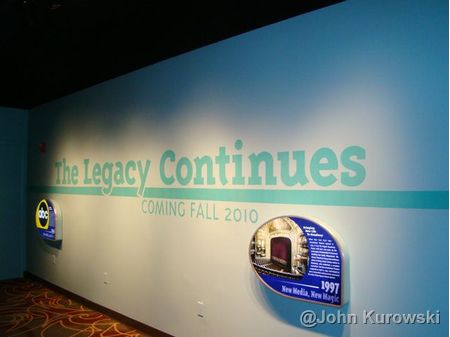 The glass containers devoted to the 20th Anniversary of Disney's Hollywood Studios have been replaced with a model of Disney California Adventure's Paradise Pier, complete with a model of the World of Color fountains. Guests with eagle eyes will spot the model Mr. Potato Head within the display and concept art and models for The Little Mermaid and Beauty and the Beast additions coming to Walt Disney World's Magic Kingdom in 2012.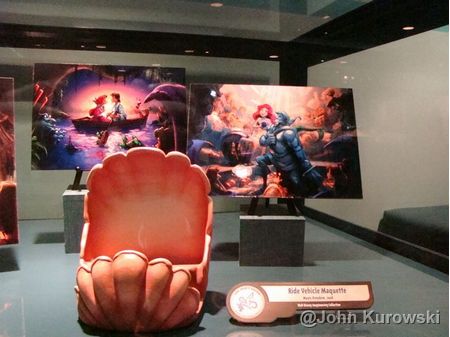 Many people claim that Walt Disney always said that Disneyland is not a museum but a living breathing place that will constantly change. In short, One Man's Dream serves as somewhat of a museum, but with such a vast past and ever-changing present and future new additions and replacements make it a treat to stop in for many repeat viewings. While taking the time to stroll through Disney's memory lane it gets easy to find a connection with a certain Disney decade or element that brings a sense of history and nostalgia that you can not find anywhere else in the park. As time goes on, One Man's Dream becomes more a valuable resource to allow us all to thank the Walt Disney Company for giving us the opportunity to remember the magic.