Eye exams, street sign replicas, 3D animation, ice skating, and Lady Liberty weren't anything I expected to find inside the Javits Center in New York City but there they were, awaiting a slew of by-invitation-only* Canon guests. From late morning until early evening on Thursday, September 2nd and again on Friday, September 3rd, ending mid-afternoon, the camera company who produces much more equipment and technology than most of us realize, entertained cinematographers, graphic artists, medical technicians, environmentalists, buyers for dry print labs, television news crews, and of course, photographers.
There was something for everyone but for photographers and cinematographers there was something extra, a series of seminars, They were open to everyone and a few folks stuck around for a little while to see what was happening but those outside the profession generally left part-way through the 45 minute sets.
The first seminar I enjoyed was by Alex Buono, Director of Photography for Saturday Night Live. He discussed using Canon's EOS 5D to shoot the opening of the show as well as the 7D for commercial parodies. Alex was terrific in explaining what he does, how he set up his shots, complete with stills showing how he rigged his camera to the taxi and offered lots of tips and advice with a welcome for further conversation from attendees. Afterwards, some of us wanted to talk with him and as I waited the expo personnel asked us to exit so they could setup for the next session. I started heading out and turned around to look back and realized that Mark Feuerstein, the star of TV's Royal Pains had just walked up to Alex so I "ran" back and got some shots of them talking. They were totally cool with it. Too bad I couldn't get any entertainment magazines to pick up the shots and believe me, I tried.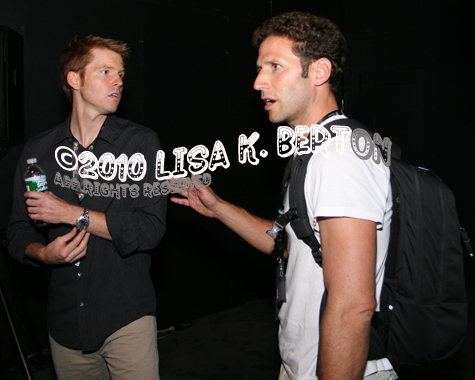 An actor, a director, and a cinematographer walk into a bar…
My next seminar was hosted by fashion photographer, Robert Farber. The blurb about him didn't mesh with what he showed us. I was expecting to see and learn how he kept the look of film in digitally shot fashion photos. Instead he presented a slide show consisting mostly of female nudes taken for his various books and how some of those lead him to discrete versions for advertising gigs. I tried showing him some of my fashion work but couldn't get his attention, probably because my models are clothed and male.

Here's Robert Farber shooting during one of the fashion shows. A pro photog was onhand to demonstrate results from using Canon gear during every performance.
The third and final seminar I attended on Thursday was Denis Reggie, a celebrity wedding photographer. Now, he was great. He explained his philosophy on wedding photojournalism, working with clients, what gear he uses and how with specific technical detail we appreciated. That's where he lost the non-photogs but it's alright because they probably just wanted to look at pictures and he did show us some celebrities. He offers workshops if you're serious about taking your work to a professional level.
During a break in my day I went in search of the food court someone told me about. My adventure went like this.
Me: Where's the food court?
Security guard: Walk straight ahead, turn right, and go through the doors all the way to the back.
I followed his instructions and wound up in the backstage area behind curtained, makeshift dressing and makeup rooms for the fashion show models and production areas.
Me: Excuse me. Where's the food court?
Javits Center employee: What food court?
Me: Great. Is there a cafeteria? I brought my lunch and am just looking for a place to sit and eat but I need a fork.
Javits Center employee: OK. You wanna go back down this hallway, and go through the doo…wait. All you need is a place to have lunch? Hang on.
She walks me over to one of the makeshift production rooms and asks the guys if they mind me joining them for lunch. They didn't mind and she found me silverware. So, I quietly sat and ate and took a few photos with the camera sitting on the table. Then a well-dressed gentleman came in, grabbed a boxed lunch provided for staffers and sat down with us. We started talking and he asked me what my job was at the expo. I smiled and told him, "Attendee." I went on about how I wound up at the table with my can of tuna, granola bar, and water. He thought it was pretty funny, and thankfully so because he was the production manager for the entire event. These are the kinds of backstage things that have happened to me off and on when shooting some sort of event.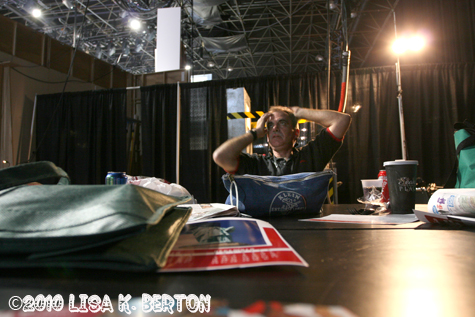 Production offices in concert venues aren't much different except they have walls, doors, lower ceilings, and less cases.
Throughout the day, repetitive fashion shows took place for the sole intention of letting people play with various Canon cameras and lenses. On either side of the stage were 3 levels with equipment tethered to railings. Every camera contained a SanDisk 2GB compact flash card for us to keep. There was only one spot open the 2nd time I went to check it out. The first time left me in a crowd facing the stage for a few minutes before I decided to try again later. I used the Canon EOS 5D with the 85mm IS USM lens. It was beautiful but being in the second row meant the folks in the first row unintentionally blocked some of my shots and I couldn't get anything tighter than 3/4 body. I would have to try again on Friday.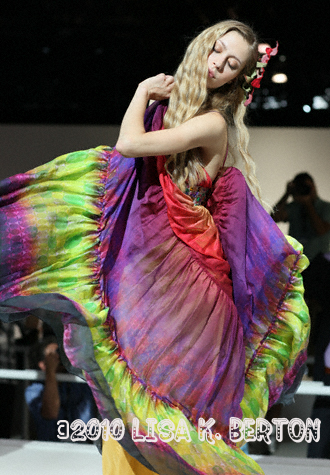 Starve a cold. Feed a model.
They had free coffee, tea, and soda available in the hub. Come to think of it, the design was much like a Disney theme park with a central location featuring seating and drink stands with company divisions branching off like lands. Very interesting.
Next week I'll tell ya what I did on my 2nd day at the expo and why a large number of people walked out of actor Corbin Bernsen's seminar.

Just a few of Canon's L-series lenses. :swoon:
*While many guests were invited by Canon, you could also request a code online giving you access to sign-up for the expo.