I don't know about you, but I love the 3-D attractions at Walt Disney World! I think they are so well done. I never tire of them and enjoy seeing them over and over again.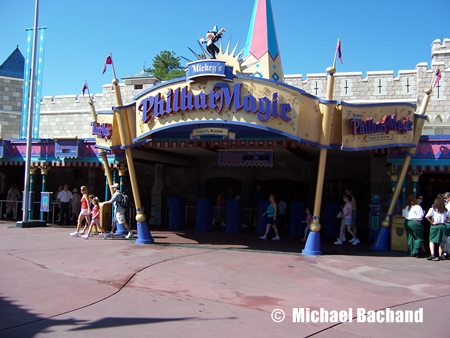 As you may have guessed from the above photo my favorite is Mickey's PhilharMagic. What a great movie! Recently I took my 18 month old grandson to see this. I wasn't sure that he was old enough or that I'd get him to sit and watch for that long. Well, he loved it! When it was over he looked at me and said "more". That's the way I feel about it. I wish it was at least five minutes longer. My second selection would have been Muppet 3-D had they not brought back Captain EO. The very first Disney 3D movie I saw was Captain EO. So seeing it again has brought back so many wonderful memories of our earlier visits to WDW. Now I do have to say that the pre-show for Muppet 3-D always makes me laugh. It's almost as good as the 3-D movie itself. I think the special effects (water, mice, etc.) for both Honey I Shrunk The Audience and It's Tough To Be A Bug are really good. I love hearing the screams and laughs from guests as they are startled and surprised.
Favorite WDW 3-D Movie
1) Mickey's PhilharMagic
2) Captain EO
3) Muppet 3-D
4) Honey I Shrunk The Audience
5) It's Tough To Be A Bug
OK, I've told you mine, now it's your turn to let me know what your favorites are.
You could win an AllEars® baseball cap. I will take all the names of those who post a comment (see below) with your list within the next couple weeks, and I will put them in a hat and randomly draw the name of the lucky winner. The only rules are that you must reside in the US, be 18 years old or older and you must provide your email address so I can contact you should you win.
All comments must be posted no later than Sunday, August 29, 2010 in order to be eligible to win the baseball cap. The winner of the AllEars® baseball cap will be announced shortly thereafter.
To make things a bit easier for you can just copy and paste the following into the Post A Comment section below and add your information:
_________________________
Favorite WDW 3-D Movie
1)
2)
3)
4)
5)
Your comments:
_________________________
In the coming weeks I will blog on more "favorite" things to do in Walt Disney World. Also, let me know if you have any suggestions as to other things you would like to see "top lists" of. I'm open to any and all suggestions. So far readers have suggested I blog on Magical Moments and Favorite Disney Tours. Great ideas! What do you think? Based on the number of comments, I think you all agree that these are fun to do.
And the winner is: the winner of the AllEars® baseball cap for commenting on my "Why Do You Love Disney" blog is: Emily James from Delaware. Congratulations to Emily and "thank you" to everyone who took the time to share their reasons "Why Do You Love Disney" with me and all the loyal AllEars® readers!
I also want to comment on last week's blog. There were lots of different opinions but Crystal Palace and Cinderella's Royal Table were on quite a few peoples list. Also, Donald's Safari Breakfast at Tusker House was very popular. Others that were mentioned often were Cape May Cafe, Chef Mickey's and 1900 Park Fair. I think that the everyone agreed that these character meals are great fun for families. Good food and great fun for all!
Did you know AllEars® has a huge area called Rate and Review where you can share your dining reviews with fellow readers? Check it out!
Finally, be one of the first people to hear when my newest blogs go live on AllEars.net by joining "DisneyMike's World" Facebook group.
Well, that's all for now. As my good friend says, "see ya real soon"…DizneyMike
Hey, see this little green button? Well, it allows you to share this blog with your family and friends quite easily. Give it a try; it's pretty neat!