I enjoy a good meal after spending a day walking around a Walt Disney World park. Thankfully, you have a choice of all kinds of table and counter service restaurants in the parks, resorts and Downtown Disney. I like to photograph the food for future restaurant reviews at the PSCalculator.net website. However, judging by all the photos I see on Disney forums, photographing Disney restaurant food is very popular.
To get really good photos of food with a digital SLR camera, I suggest you bring a flash unit you can rotate the flash head in order to bounce it off a nearby surface to spread and even out the light on the food.
Photographing food is not unlike anything else. Watch your backgrounds and edges along the frame, focus carefully, hold the camera steady and get a good exposure. A couple of other things, don't start eating until after photographing the food and arrange everything the way you want. This is what I did for the lunch buffet plate at the Tusker House restaurant in Disney's Animal Kingdom.
A plate of food from the Tusker House restaurant lunch buffet.
Nikon D70/18-200VR, 1/6s, f/3.5, ISO 200, EV +0.3, 18mm focal length, flash at -1 power
I took the photo directly from above as it worked best for the amount of different items arranged on the plate. For the Maine Lobster entree at Narcoossee's restaurant in the Grand Floridian, I photographed as one would see it if they were seating in my place. Yes, the lobster was as good as it looked.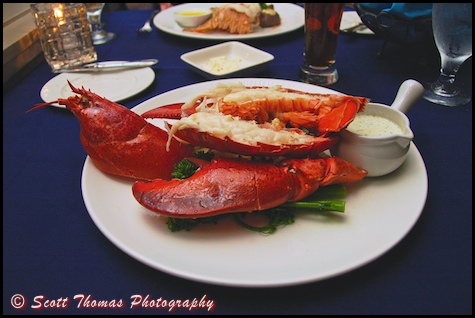 Maine Lobster entree served at Narcoossee's restaurant.
Nikon D70/18-200VR, 1/60s, f/5, ISO 400, EV +0.3, 18mm Focal Length, flash at -1 power
In both the above photos, I used the Nikon SB-600 Speedlight flash unit bounced off the restaurant's ceiling with a -1 power setting to give the food the added pop of color and succulent lighting.
When waiting in line at Norway's Kringla Bakeri og Kafe, I remembered Barrie's wonderful photo of the Cloudberry Horns. As I didn't want to duplicate her version, I made the famous Kringla Sweet Pretzels the main subject using the Cloudberry Horns in the softly focused background.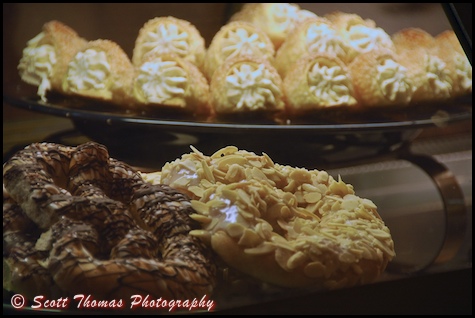 Cloudberry Horns and Kringla Sweet Pretzels at Kringla Bakeri og Kafe counter service restaurant.
Nikon D70/18-200VR, 1/15s, f/, ISO 360, EV +0.3, 170mm Focal Length
One last thing, you may have to get down low or stand up above or even look a bit goofy as you find the best angle to get a favorite snack properly framed in the viewfinder. Don't worry, the servers and cast members have seen it all before.