Sharon Sipple returns with the 3rd and final part of her photo blog of the Animal Kingdom Youngsters.

Western Lowland Gorilla
The gorillas are the main attraction on the Pangani Forest Exploration Trail. Did you know that when Animal Kingdom opened in April 1998, this trail was named Gorilla Falls Exploration Trail — it was renamed a few months later.
On February 19, 2010 a baby western lowland gorilla was born in Animal Kingdom. The baby belongs to the gorilla family group which includes first-time mother, Kashata, father Gino, and two other females, Benga and Hope. Mother and baby are generally seen in the first gorilla viewing area which is under cover and behind glass.
Most gorilla mothers keep their offspring close for several months while the baby adjusts to the environment. In addition, gorilla babies typically nurse for approximately 12 months and may be weaned between the ages of four and five. (Read more on the press release issued when the baby was born.)
These first photos were taken in March 2010.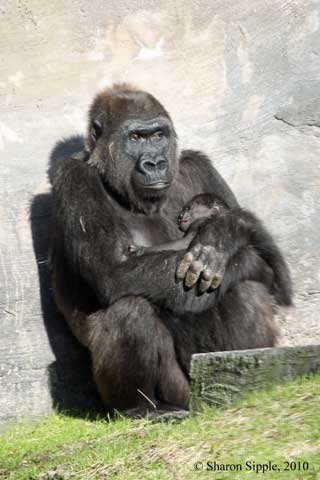 Canon 50D, ISO 640, 1/250 sec, F11, 400mm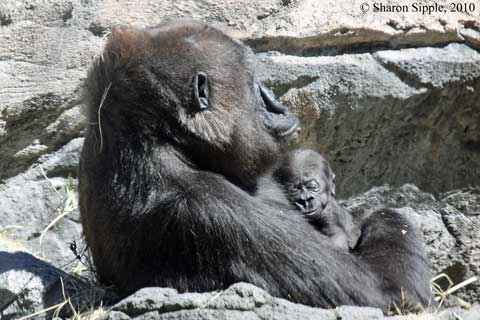 Canon 50D, ISO 500, 1/125 sec, f14, 400mm

Canon 50D, ISO 1250, 1/160 sec, F7.1, 275mm
These photographs are from May 2010.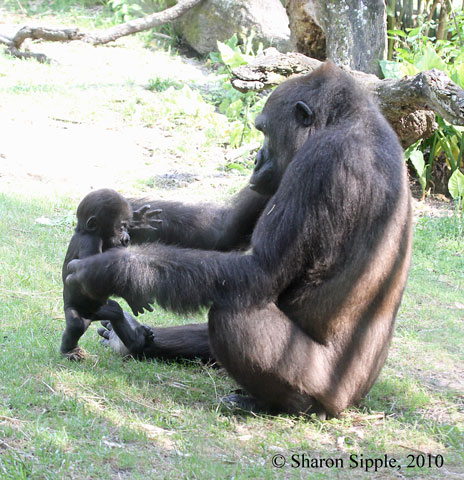 Canon 7D ISO 1000, 1/160 sec, F7.1, 100mm, +.3EV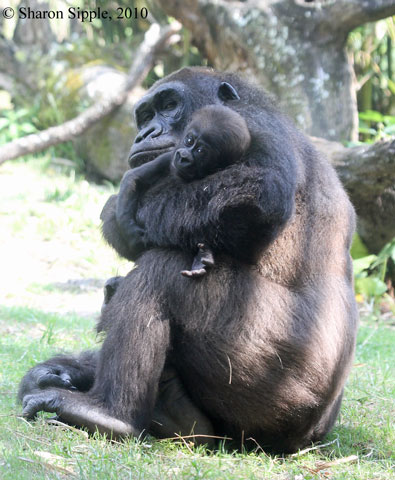 Canon 7D ISO 1000, 1/160 sec, F7.1, 170mm, +.3EV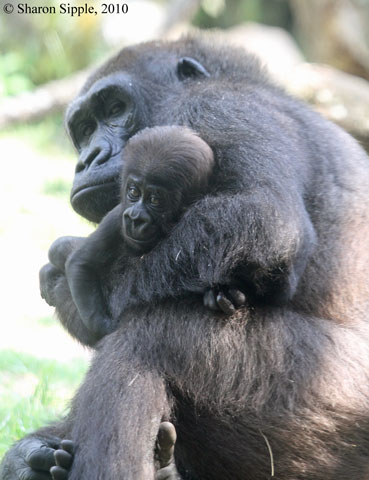 Canon 7D ISO 1000, 1/160 sec, F6.3, 275mm, +.3EV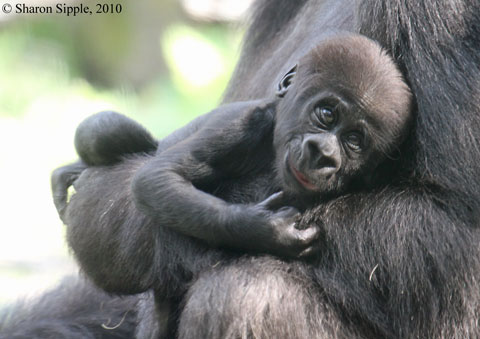 Canon 7D ISO 1000, 1/160 sec, F5.6, 400mm, +.3EV

Canon 7D 1250, 1/100 sec, F10, 135mm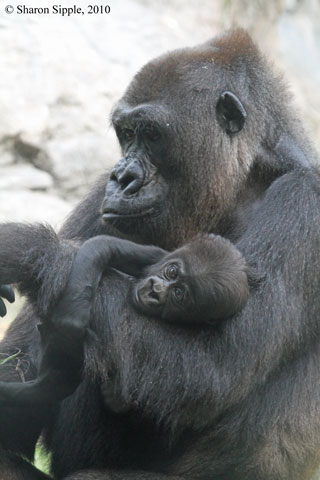 Canon 7D ISO 1250, 1/100 sec, F10, 285mm

Canon 7D ISO 1250, 1/100 sec, F11, 190mm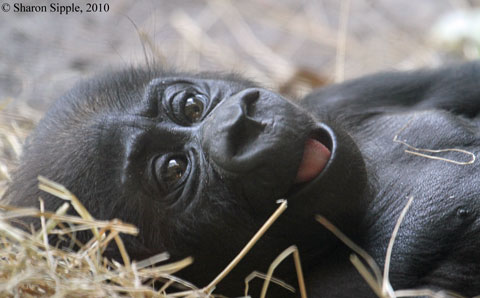 Canon 7D ISO 1600, 1/80 sec, F5.6, 400mm

Canon 7D ISO 2000, 1/125, F5, 200mm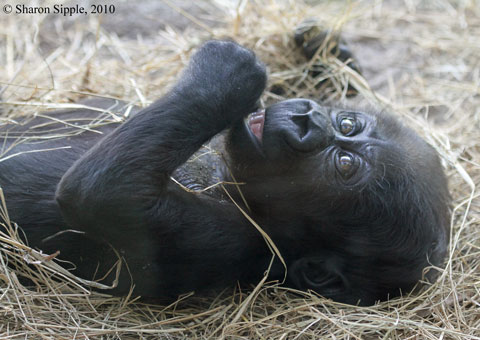 Canon 7D ISO 2000, 1/125, F5, 135mm

In case you are wondering…..
The equipment I used to shoot the images are a Canon EOS 50D and a Canon EOS 7D camera, a Canon 100-400mm L (low dispersion) series lens, and a Canon 17-85mm IS (image stabilization) USM (ultra-sonic motor) lens.
I normally do not use a tripod or monopod to shoot.
The key to successful shooting of the animals while on safari is to be able to get shutter speeds fast enough to stop the action. I normally shoot at a minimum of 1/320 of a second. In order to do this, you often must increase your ISO settings. With the 7D, I am able to comfortably push my ISO to 4000 and get great images with very little digital noise. I will caution you that while some cameras will allow you to push the ISO to 3200 or 6400, you must be careful. Depending on your equipment, pushing the ISO too high can result in an unacceptable level of digital noise.
Prior to shooting something important, experiment with this in a low light situation either around your house or somewhere else where the images are not 'once in a lifetime' images.
I hope you enjoyed the blogs on Animal Kingdom Youngsters. Feel free to leave your comments below!
Hey, see this little green button? Well, it allows you to share this blog with your family and friends quite easily. Give it a try; it's pretty neat!