You wake up in your room at Walt Disney World and look outside and see dark gray sky and rain falling. This can be a bit disheartening especially if you were planning on doing a lot of outdoor photography while your family enjoys the Florida sunshine. For such days may I recommend visiting Epcot. All the attractions are inside (except for Test Track which may not be running on rainy days) and have lots of photographic opportunities. For this week and next, I am going to take you around World Showcase and show you how I enjoyed a rainy day.
I would suggest bringing a tripod or Gorrillapod for low light photography. A flash can be used to add light where you need it, too. Please be courteous to your fellow guests when using either a tripod or flash.
We are going to start in Mexico and work our way clockwise around the World Showcase. The plaza inside Mexico's pyramid is like any lively marketplace with brightly colored Mexican souvenirs and The Mariachi Cobre band serenading guests. I set up my camera on a tripod to overlook the San Angel Inn dining area and zoomed in on the temple and volcano that overlook the restaurant. The long exposure brought out the muted colors.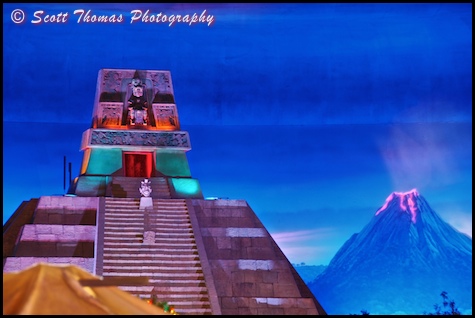 The Aztec temple and volcano which looms over the San Angel Inn restaurant.
Nikon D70/18-200VR, 25s, f/8, ISO 200, EV +1.0, 130mm focal length, tripod
Not sure many people take the time to go inside Norway's Stave Church to see the exhibit within. The Viking exhibit is a nice rainy day stop with displays of some of the most famous Vikings like Olaf II, Erik the Red and Rognvald. The model of the Oseberg longship caught my attention. Did you know this is the same longship seen in the opening of the movie, Spirit of Norway, which guests can watch after riding The Maelstrom.
There is not a lot of room in the Viking exhibit so I did not set up a tripod. I did get on one knee for stability and a better angle and used da Grip.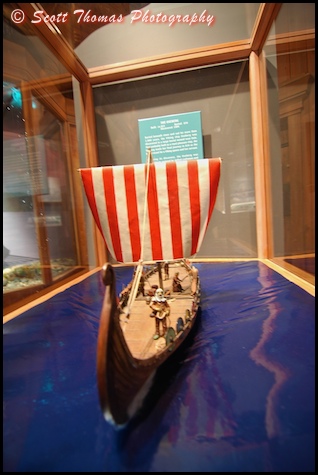 A model of The Oseberg longship is in the Viking Exhibit inside the Stave Church.
Nikon D70/Tokina 11-16mm, 1.3s, f/2.8, ISO 200, EV +1.0, 11mm focal length
I have wanted to get this shot for awhile of the colorful ceiling inside the Temple of Heaven in China's World Showcase pavilion. I thought I would get on my back and shoot straight up but another photographer told me to instead, put the camera down on the floor and use my camera's timer to fire the shutter. Make sure you keep unsuspecting guests from tripping or kicking your camera if you do this.
The magnificent ceiling inside the replica of the Temple of Heaven.
Nikon D70/Tokina 11-16mm, 3s, f/8, ISO 200, EV +1.0, 11mm focal length
There's a couple of great indoor places in Germany. You can photograph a village while dining at Biergarten or you can enjoy the many shops of the pavilion. Being a fan of beer, I spotted these jovial beer steins in Der Bucherwurm. With an ISO of 1100, I was able to keep the shutter speed at a very hand-holdable 1/60th of a second.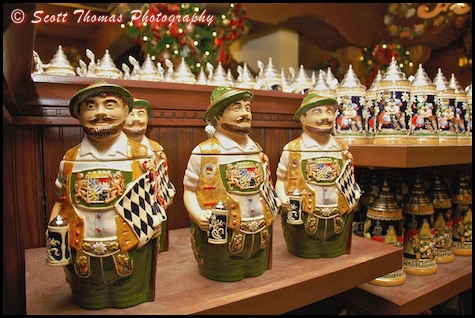 Beer steins in Germany's Der Bucherwurm shop.
Nikon D70/18-200VR, 1/60s, f/4, ISO 1100, EV -0.3, 18mm focal length
Getting into more shopping, I photographed this colorful and extremely expensive glassware in Italy's Il Bel Cristallo shop. If you dine in Tutto Italia, definitely take a tripod as it has very moody lighting but very rich in colors and textures.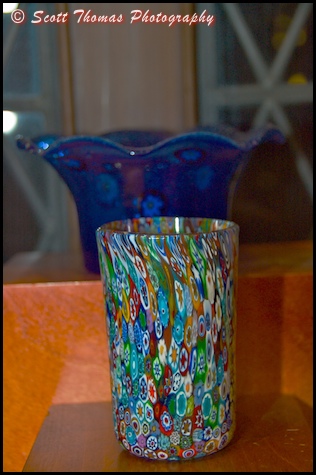 Glassware displayed in Italy's Il Bel Cristallo store.
Nikon D70/18-200VR, 1/60s, f/4.8, ISO 400, EV +0.3, 50mm focal length
As you can see, there is lots to do, see and photograph around the World Showcase even on a rainy day. Next week we'll finish our indoor tour of World Showcase starting with the American Adventure.