Hello friends. I thought it would be important to talk about our good, reliable pal, the 35mm camera.
Some folks fear that film is no longer being made. Put your fear to rest. All of the major maufacturers are indeed producing rolls of negatives as well as slide film. It's true that film might be harder to find than in years past but they're out there waiting for you to buy them.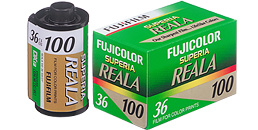 Fujifilm Reala 100.
Fujifilm's array of 35mm consumer and professional film as well as APS.
Kodak offers 35mm print & slide film and APS film, which they invented.
Ilford Photo produces B&W 35mm and 120 roll film.
AgfaPhoto, a German company, produces 35mm consumer film.
Sadly, it is rather difficult near impossible to locate 35mm cameras. I say, if you find one, snatch it because 35mm cameras will outlive any digital camera. It's true, especially the cameras built in the 70's. Those cameras are built to last and they have.
Nikon only makes the F6, a professional top-of-the-line 35mm body. Canon makes the pro body, EOS-1V. Yashica has 4 point and shoot models available. Leica, an extremely well-respected European company has several options for the film enthusiast. Pentax, Olympus, Kodak, Ricoh, and Fujifilm have stopped production of analog cameras with the exception of some disposables and instamatics.
Hold onto your cameras because when your digital is out being serviced for a month or longer at a high fee, you're going to learn to love your 35mm or APS camera all over again.
Photo © Fujifilm. Used for educational purposes.