The 2009 Washington DC Avon Walk for Breast Cancer is over and now it's time to let everything settle in and reflect on the weekend. As always, the event is an amazing gathering of several thousand folks – all working hard for a single purpose – to fight breast cancer. And as always, it's very difficult to put the emotions of the weekend into words.
This was my 10th major Breast Cancer event since 2001. Each one has its own character and energy. It's a weave of threads of various shapes, sizes, colors that all blend together to create an amazing tapestry of smiles, tears, sadness and triumph!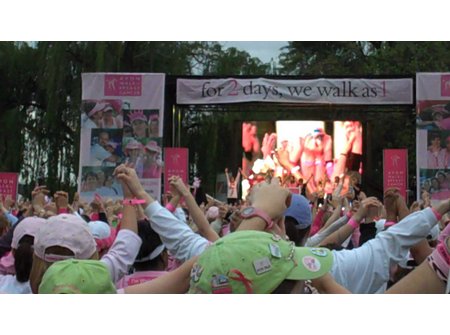 For me, the journey began last June, a few weeks after the 2008 Avon DC walk ended. I made the decision to walk again, signed up and quickly began my fundraising and awareness drive. I really hope that my efforts help make people more aware of breast cancer and the fact that it can strike anywhere at any time – and not just women. I saw a couple women walking for their husbands!
This year, in addition to my wonderful teammates, the Seneca Sisters, a friend from NY was coming to town to walk the event. Mary Newell is a 3 year survivor. If her name sounds familiar to some of you, she is Mike Newell's wife (Mike of the WDWToday podcast and MouseWorldRadio). Mike and Mary have visited the last 2 years and cheered all the walkers on. I did my best to talk her into Walking this year — I think she's glad she did!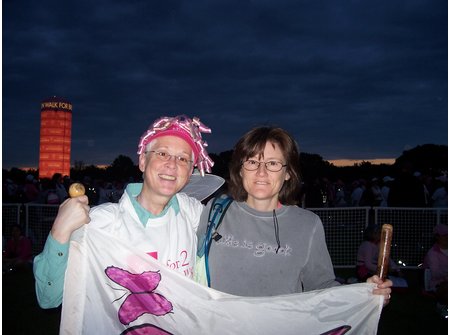 From the moment one arrives at Event Eve, a transportation of spirit takes place. Suddenly you have thousands of strangers who have become your friends and support for the next 2 days. People you have never seen before and may never again will smile at you and offer words of encouragement, support and understanding. There is a huge buzz of activity: people checking in, last minute fund raising, turning in donations and much more.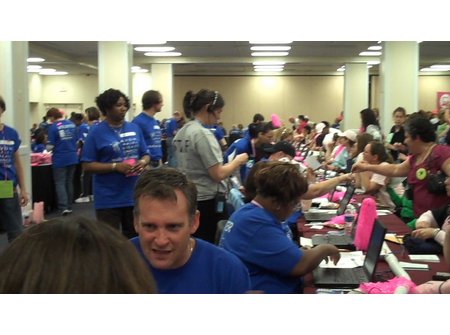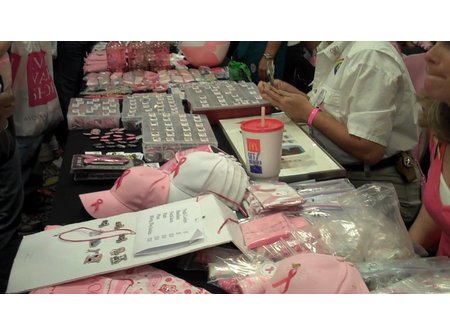 During the Event Eve activities I scurried around looking for friends from previous years. Plus, I had several things to accomplish!
I had additional donations to turn in! Another $700!!!!
I received my Avon Breast Cancer Fundraising Ribbon for raising over $5,000!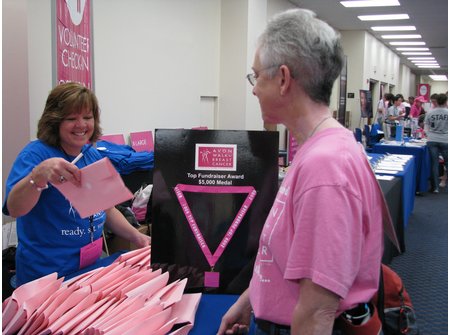 And I needed to sign up for 2010!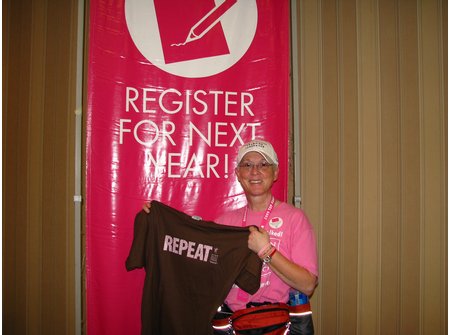 Friends, who I see every May, walk quickly towards me as I walk quickly towards them to hug in support of the fight that brings us together.
Barbara Jo Kirshbaum is one of the most amazing women I have ever met. She began doing the Breast Cancer events in the year 2000, when they began. She knew no one who had been touched by breast cancer. Since that time, she has walked in every single Avon and Komen weekend events (over 100 now!) and has raised over ONE MILLION DOLLARS for the cause. She is one of my heroes and someone provides inspiration to me as I continue my fundraising efforts. Visit her website!

Here I am hugging Seneca Sister Team Captain Helene Block. This woman has led the Seneca Sisters since 2000! She has amazing energy and a great spirit. She is another one of my Breast Cancer heroes!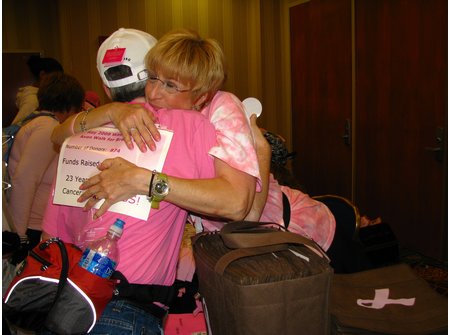 I was so happy to see Allison on Friday afternoon. We walked into the Closing Ceremony together in 2008. I almost didn't recognize her because last year, she walked during her treatments and was bald. I've thought of her often during this past year – hoping all was well. Indeed – she is doing fantastic and it was a very happy reunion.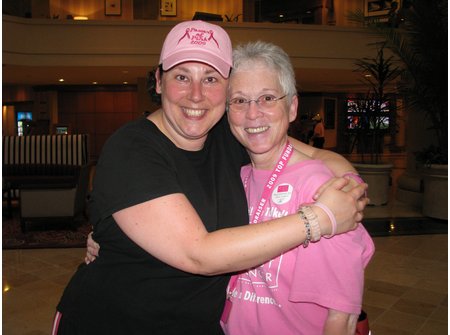 The walk is much different than training. Most of the time the pace is much slower since you are bunched up with hundreds of folks, walking thru residential area sidewalks or near main highways. But that also gives you time to get to know the people around you and hear a bit of their story.
Saturday was a very cloudy day. Fortunately for all of us, only a few brief sprinkles of rain.
Some photos from Opening Ceremony: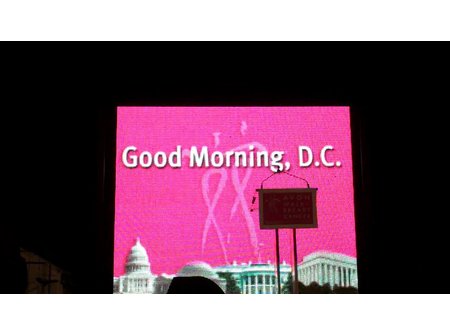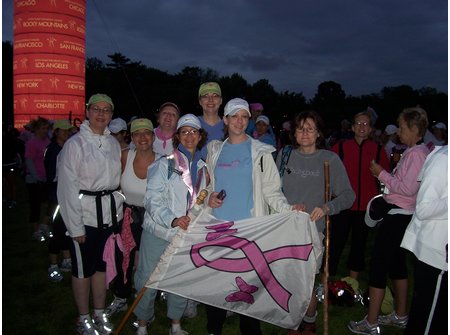 There are around 30 of us on the Seneca Sisters Team. Here are the 4 Breast Cancer Survivors: Hetty, myself, Elaine and Thuy.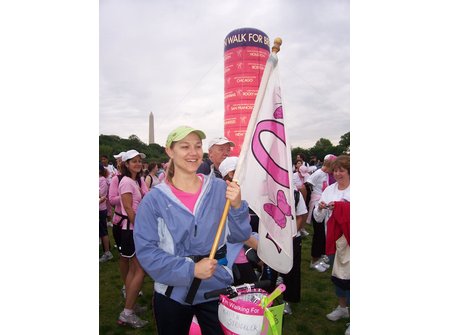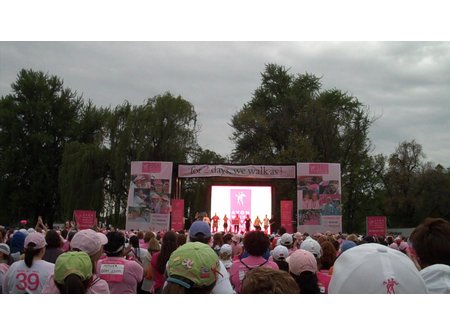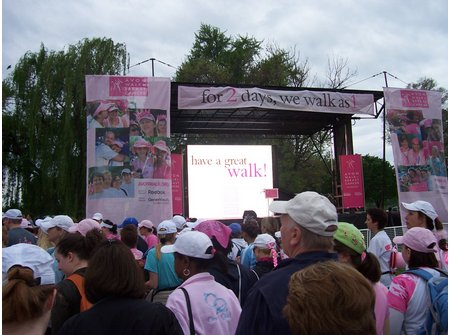 I wore 2 signs this year which got lots of attention and enabled me to meet many new folks. On the first sign, I had the names of all your loved ones that you sent to me.
The other had the number of folks who generously supported my walk and the total raised and my years of survivorship! Many many (over 800) folks donated to my walk and most of the donations were $5 – $25. I think it is quite powerful that together we CAN and DO make a difference!!!!
When I got to the first Rest stop I was pleasantly shocked to find a Porta-John with my name on it LOL! Names of all the top fundraisers had their own place of honor 🙂 It gave me a huge huge smile!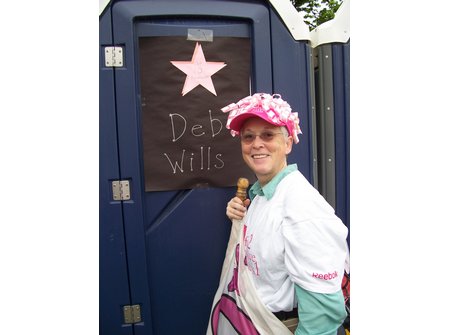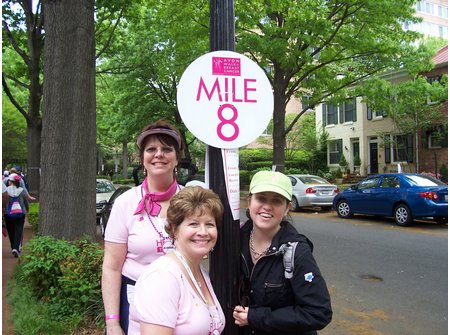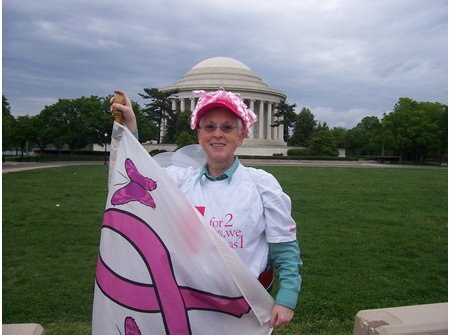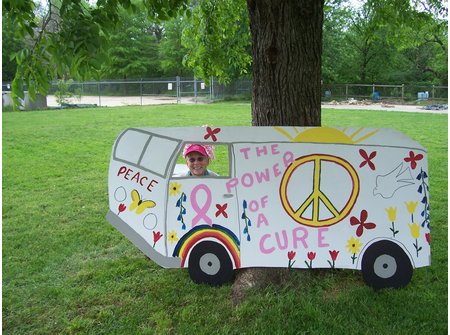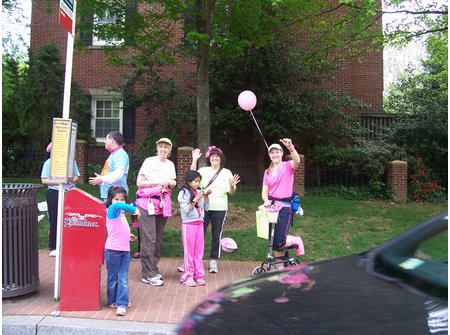 Proud Mike smiles at his wife Mary, who just completed 26 miles on Saturday!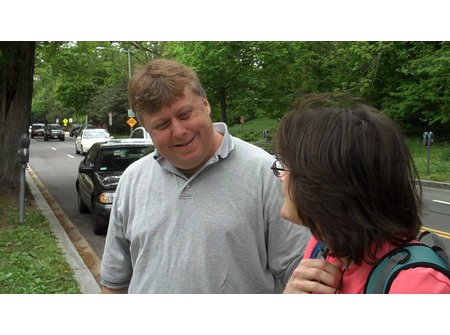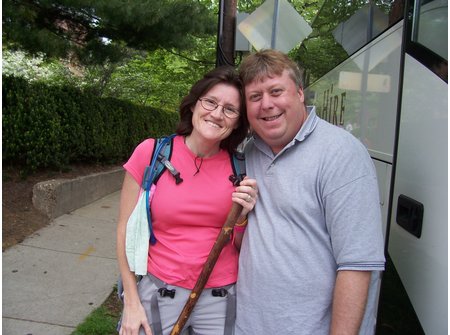 Carol is a long time walker buddy from the Needwood Solemate days!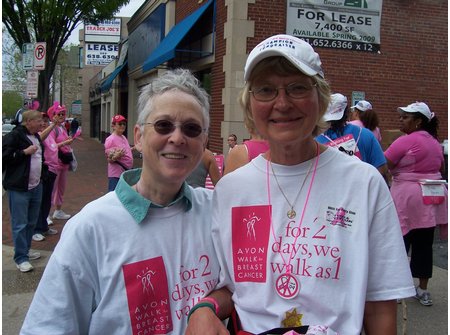 Finishing up the day!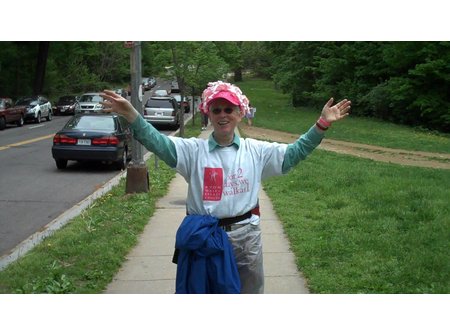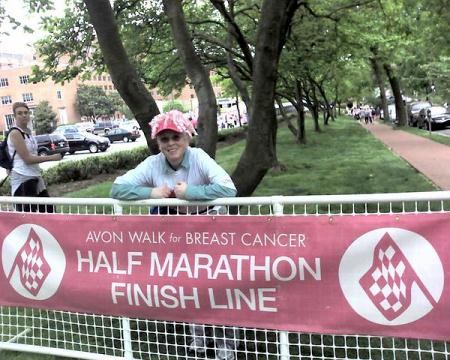 Part 2 of this blog will share stories of our rain-filled Sunday!
Part 3 has final thoughts, reflections, and an announcement!