Ah, the sacrifices I make for you all. Today (May 6) was the official opening of a new Tomorrowland show in the Magic Kingdom called Stitch's Supersonic Celebration. It takes place in a new venue that was especially built for this event. And to make sure you read about it on Allears®.net and not some other website, I made sure I was in the Magic Kingdom at opening today so I could cover the show and blog it. It's a tough job"¦ 😉
The first showing was at 10am, but I was there a little after nine (I wanted to be in the front row). The first thing you'll notice about the theater is that there are no seats. However, cast members were busy laying out mats on the ground directly in front of the stage so a small number of children (and some of their parents) could sit. Arrive early as this space is VERY limited.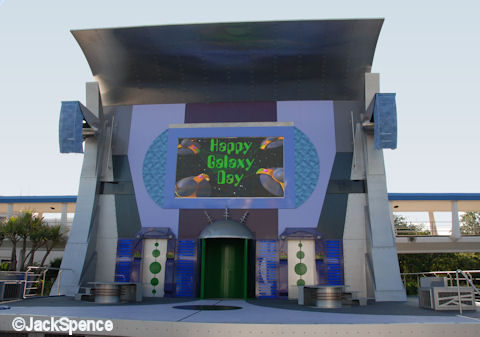 In reality, I was glad I got there when I did. About 30 minutes before the show started, the large monitor positioned over the stage began a slide-show presentation – a very clever presentation if I do say so. I'm not sure it's worth going out of your way to see, but if you're a true Disney geek like me, then you'll want to watch the entire set of slides. The complete cycle took about ten minutes and played twice.
Ten minutes before the show, the Tomorrowland News Network began broadcasting. A number of topics are discussed, among them a piece about the supersonic sensation Tip Trendo and the Galactic Girls who will be performing at Tomorrowland in honor of "Galaxy Day."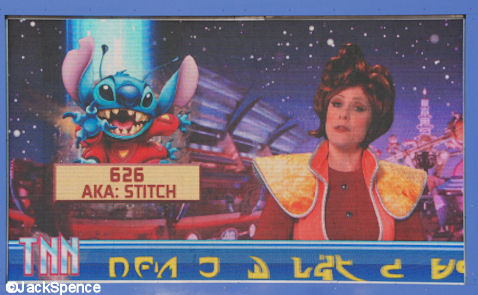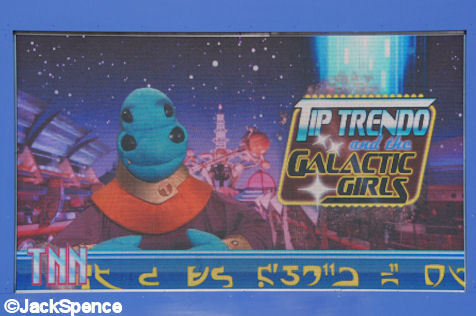 The cosmic weather and traffic are also discussed. Look closely and you can see that two of the Astro Orbiter rockets were involved in a head-on collision.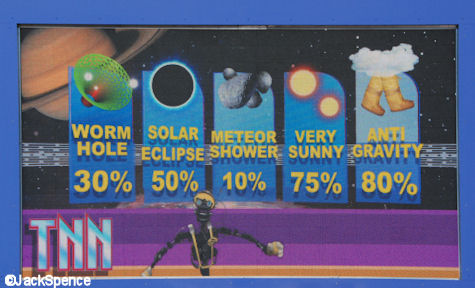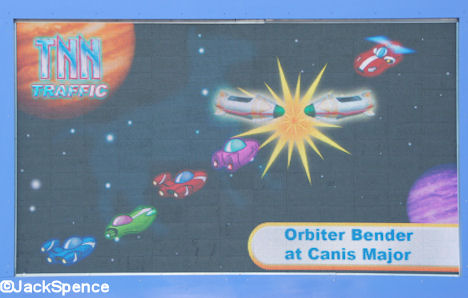 When the news completes, Tip Trendo and the Galactic Girls appear on stage. Tip is a true lounge-lizard. Don't believe me, look at his suit. The material looks like scales. And the Galactic Girls are a combination go-go dancer and extraterrestrial hybrid. They spend the first several minutes with introductions and a high-energy song and dance number.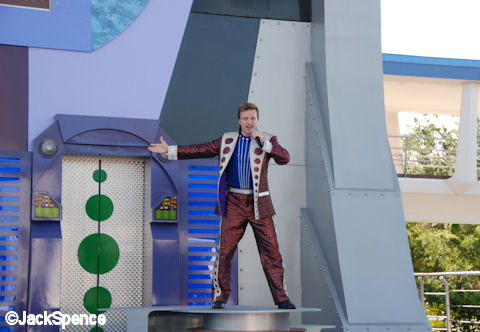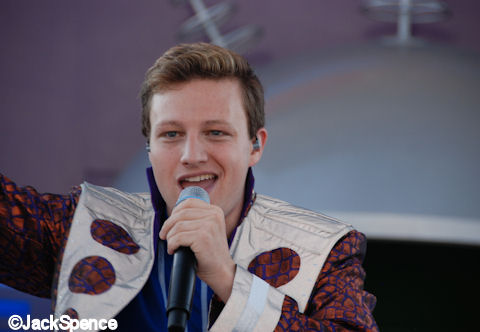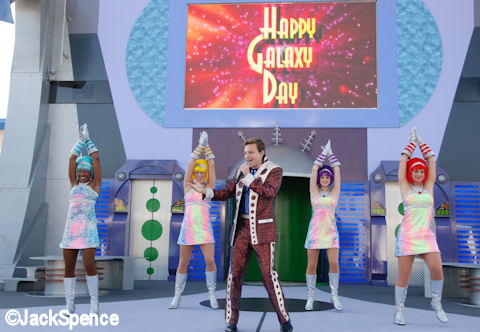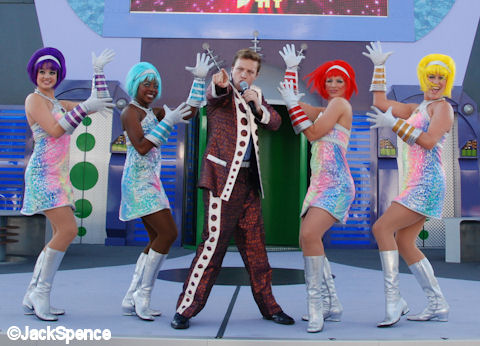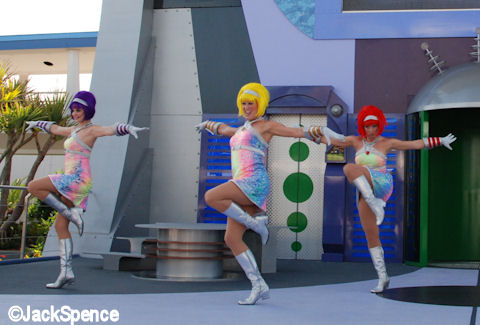 After their first song, Stitch appears on the monitor overhead. You soon learn that he can interact with the audience like Turtle Talk with Crush at Epcot. In fact, if you've seen the Stitch show at Hong Kong or Paris Disneyland, you'll recognize the set and some of his pranks.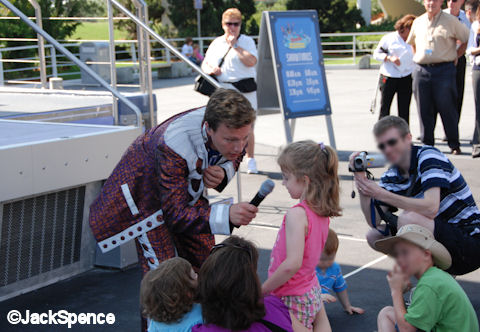 Stitch, being Stitch, soon grows bored and wants presents to cheer himself up. He goes online to Robo-Mart and orders a custom made robot. If you've watched the preshow that I mentioned earlier, you're already familiar with Robo-Mart – and their dubious quality. A few moments later, two "mechanical men" are transported to the stage and begin a great dance number.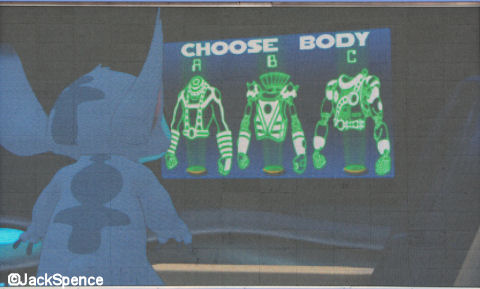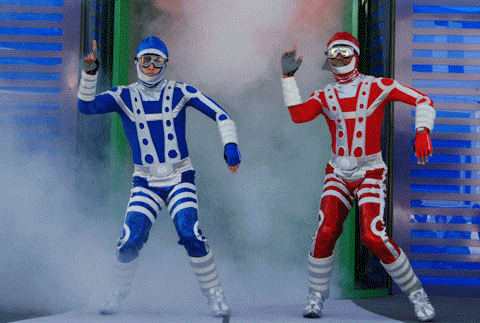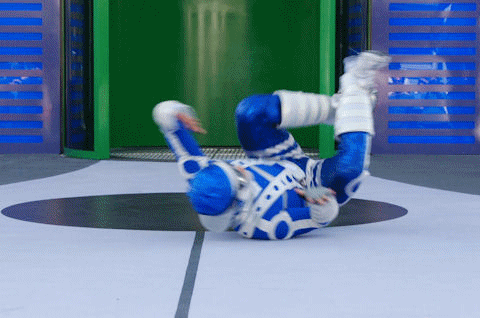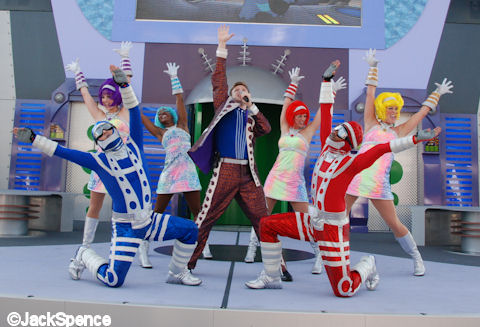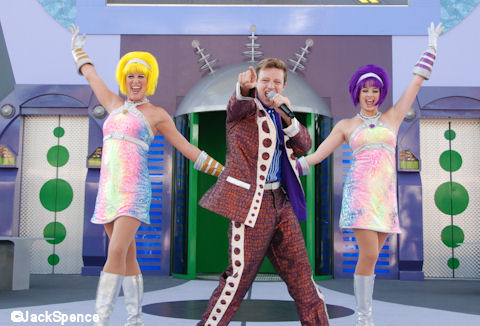 Eventually Stitch wants to join the Galaxy Day festivities and he too beams to the stage – resembling his Elvis persona.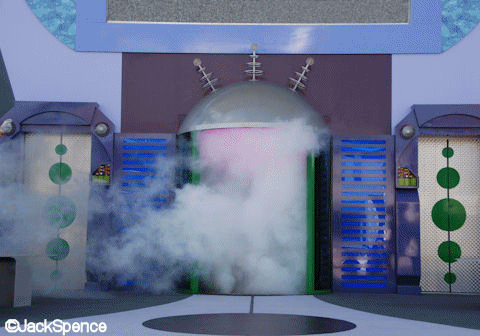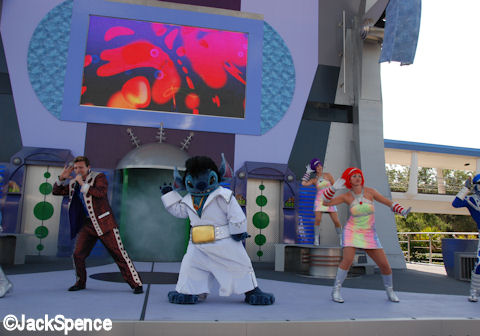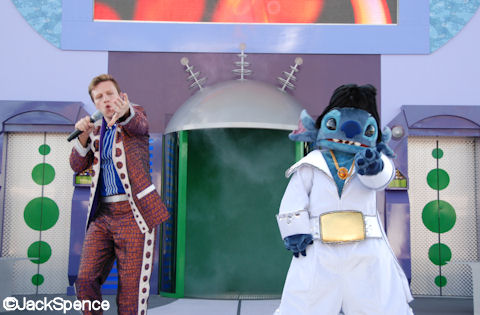 This show is a lot of fun. It is every bit as much for adults as it is for kids. The Galactic Girls rendition of "These Boots Were Made for Walkin'" is worth the wait alone.
The show runs for 25 minutes and is presented multiple times a day. Check your Times Guide on the day you visit.