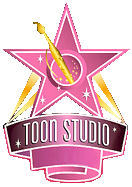 Les Tapis Volants – Flying Carpets Over Agrabah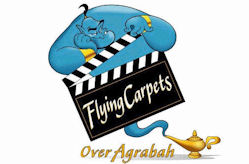 For those of you familiar with the Magic Kingdom at Walt Disney World, "Flying Carpets Over Agrabah" is the exact same attraction as "The Magic Carpets of Aladdin" in Adventureland. Sixteen flying carpets circle and soar around an ornate structure and the Genie's lamp. However in Paris, the attraction is part of an elaborate movie set rather than an event outside the marketplace of Agrabah.
A large backdrop encircles almost half of the ride. Painted on its surface are various scenes from the movie, Aladdin.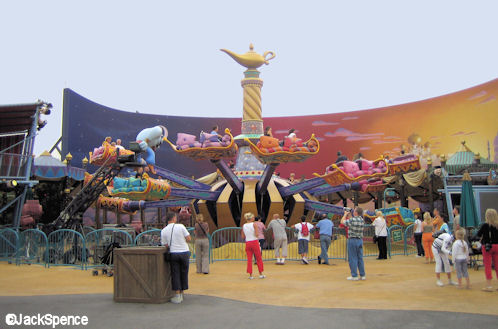 To the side of the attraction we can find Director Genie, megaphone in hand, watching over his actors. Before the carpets take flight, he yells "Action!" and the "movie" begins.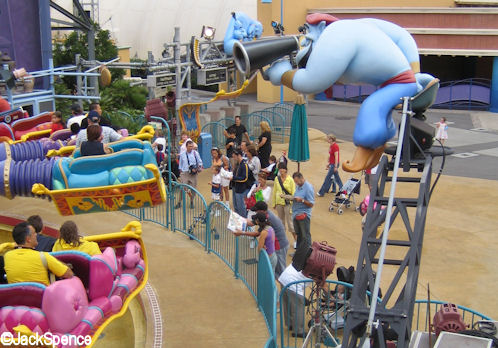 One nice feature that "Flying Carpets Over Agrabah" has over its Florida counterpart is a viewing stand on the second floor. This allows parents to get close-up photos of their little pilots as they fly by.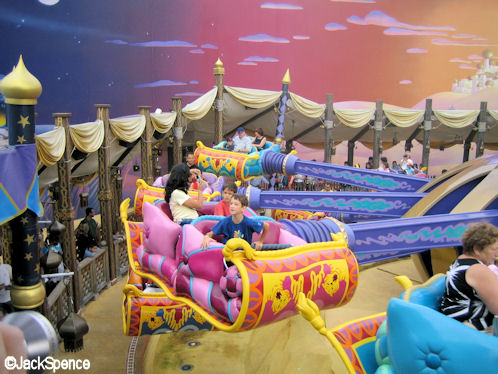 Each carpet holds four guests, two in the front seat and two in the back. The front seat has a control that regulates the carpet's height and the back seat controls its pitch. The adventure last approximately two minutes.
This ride is intended for children, but its fun for everyone.
The next two attractions are new since my last visit. The pictures were provided by my friend TDLFAN.
Cars Race Rally
Welcome to Radiator Springs!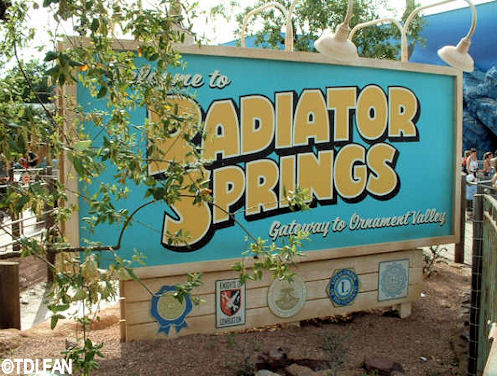 Walk down Route 66 and you'll see some of your favorite stores from the Disney/Pixar movie "Cars." You can stroll by Flo's V8 Café, Luigi's, Ramone's, Doc Hudson's, and Tow Mater's. These buildings house the queue for "Cars Race Rally." While in line you can enjoy a number of props such as street signs, an old gas pump, a map of Radiator Springs, and a lot of other gas station paraphernalia.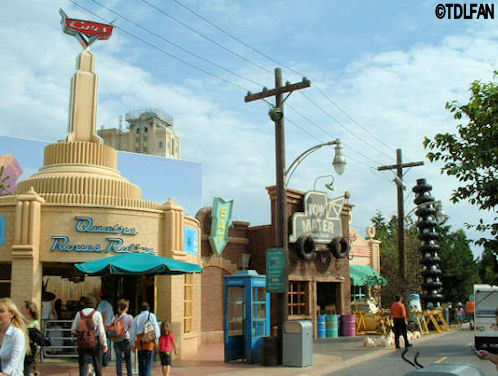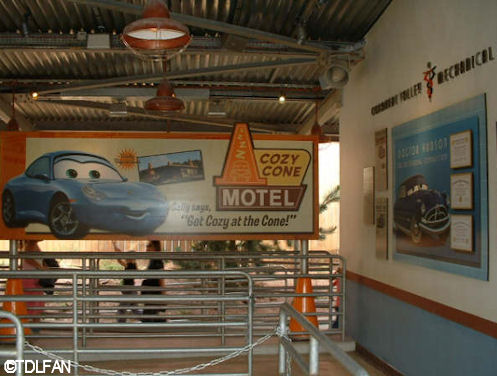 The ride itself is reminiscent of the Tea Cups. You board four-passenger cars that spin and turn. But instead of being on a large turntable, here your cars ride on a figure-eight and they nearly collide with one another as they cross over from one circle to the other. Country music plays and driving advice is dispensed by Lightning McQueen and Tow Mater as you race in the desert landscape.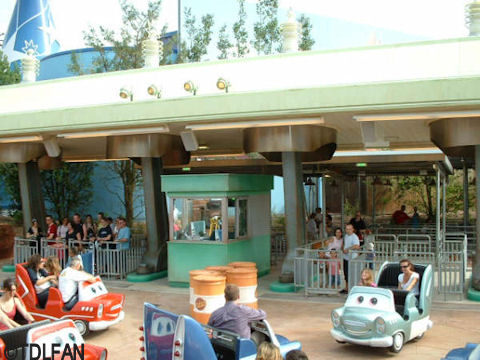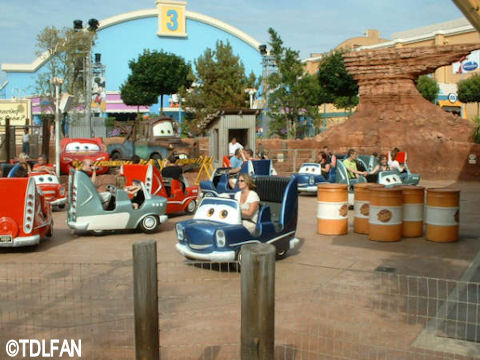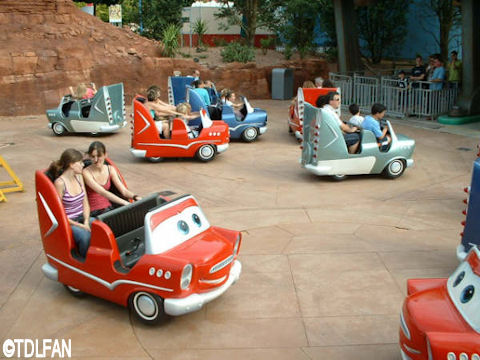 Although I have not seen this attraction in person, I have seen videos of Cars Race Rally and it is visually appealing to watch.
Crush's Coaster
The exterior of Crush's Coaster is reminiscent of a Wyland sculpture and painting. First we see a statue of Crush enjoying himself in the sun and in the background, Soundstage 5 is painted with a large mural depicting creatures of the sea.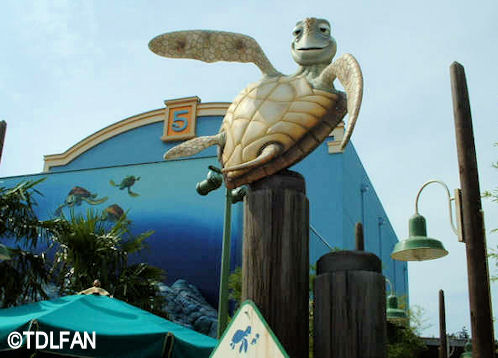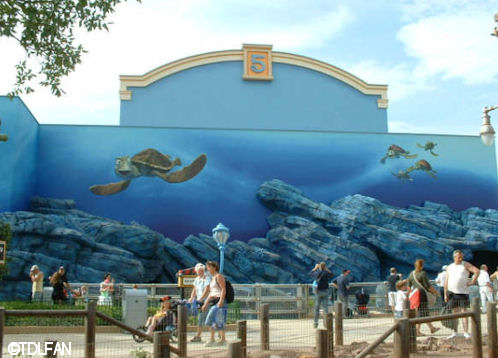 The boarding for Crush's Coaster takes place at Angel's Cove, a Sydney fishing pier. The area is rustic and you can almost believe the ocean is nearby. The selfish Seagulls are perched nearby squawking "Mine, mine, mine."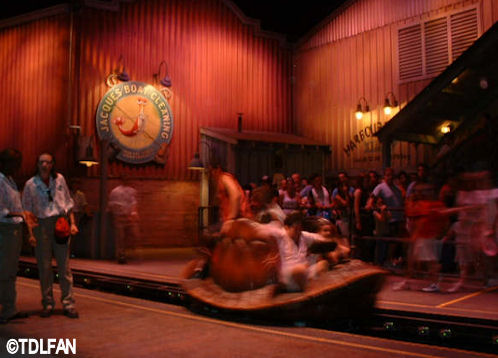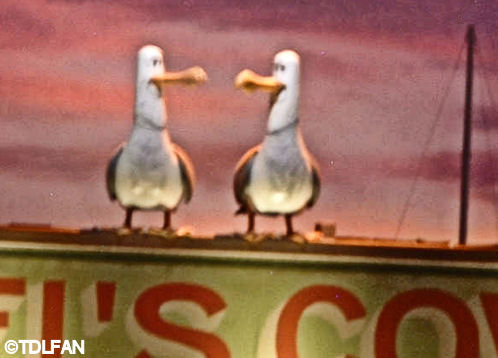 Crush's Coaster is sort of a cross between "Primeval Whirl" at Disney's Animal Kingdom, "The Seas with Nemo and Friends" at Epcot, and "Space Mountain" at the Magic Kingdom. Four guests ride in a turtle shell, two facing forward and two backwards. The seats are tight so larger folks might want to request a seat to themselves.
As soon as your shell leaves the pier, you enter a dark tunnel and you travel up a small incline. As you descend the hill, you emerge outside for a short moment before reentering the building.
Your vehicle slows slightly and a number of sights come into view. You're surrounded by a coral reef and you see Nemo and Squirt playing in the water. You might also encounter an angry Angler Fish who is hungry for a bite. Another turn and you see a number of jellyfish bobbing up and down. A short while later you enter a sunken submarine and ascend a second, larger hill. While traveling upwards you see Bruce and some of his shark friends hungrily peeking out at you.
At the top of the hill you enter the EAC (East Australian Current). With the exception of bubbles being projected everywhere, it's very dark. At this point, the coaster portion of your voyage begins, as does the spinning of your turtle shell. With each dip and bank and rise and fall you turtle shell spins accordingly as you travel through the EAC.
The ride is approximately two and a half minutes in length. It reaches a speed of 37MPH and the spinning can be intense for some. If you're okay on "Primeval Whirl" and the "Tea Cups," you should be okay on Crush's Coaster, otherwise, you might want to think twice before riding.
Toon Studio offers a great photo op. Here you can stand in front of a façade of ToonTown. Occasionally a character or two might show up.
Well, that's it for my description of the Walt Disney Studios Park. I'll be writing one more blog to sum everything up.