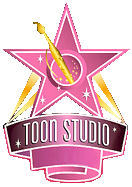 When the Walt Disney Studios Park opened in 2002, Toon Studio was known as Animation Courtyard. The area was uninspired and building exteriors lacked magic. In January 2005, Disney announced that Animation Courtyard would receive a makeover and expand. In June 2007 the renovations were complete and the name was changed to Toon Studio. The area is now much more fanciful and it's a pleasant environment in which to spend time.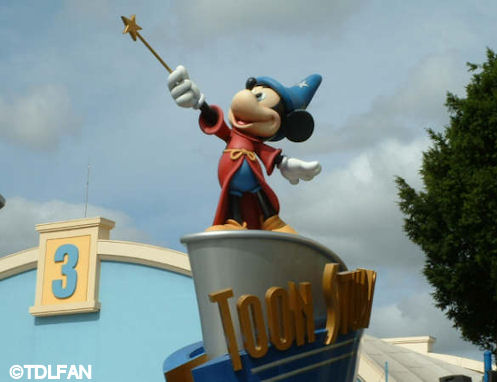 One of the original attractions in Toon Studio is the Art of Disney Animation, which I'll discuss in more detail in a moment.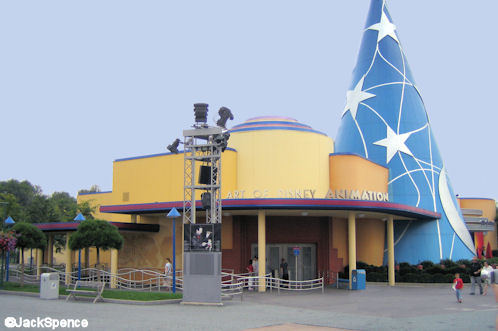 The building has been painted blue since I visited in 2005 to fit in better with its new surroundings. Also, the façade of a Hollywood Boulevard structure is now adjacent to its left side. The "Animation" building now seems to be part of a greater whole rather than just a stand alone structure. My friend TDLFAN provided me with the picture below.
Surrounding the Sorcerer's Hat are 12 bronze statues of Disney characters.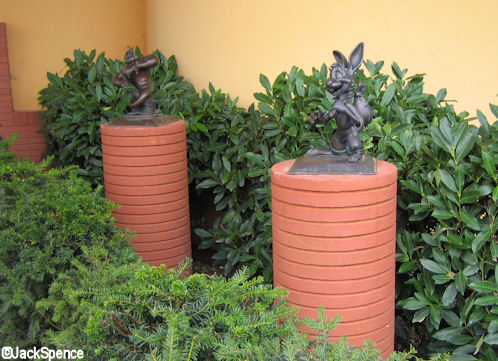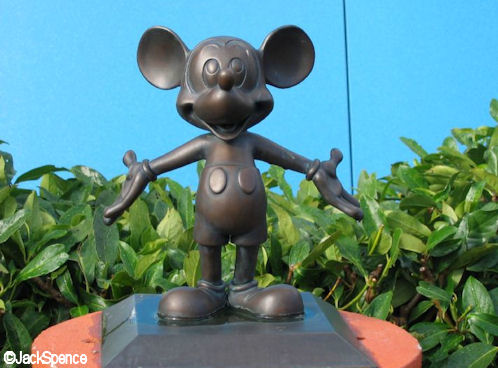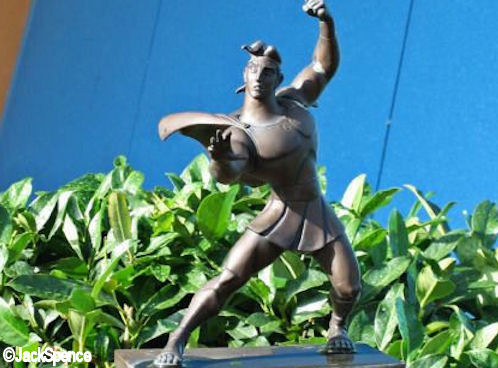 The "Art of Disney Animation" tour begins in a pleasant room full of unique exhibits and Disney art. Here you can explore the history of animation from the Magic Lantern to one of Disney's multi-plane cameras.
In the center of the room is a zoetrope. A zoetrope is a device that creates an illusion of movement from a quick succession of still pictures. Here we see Dumbo take flight.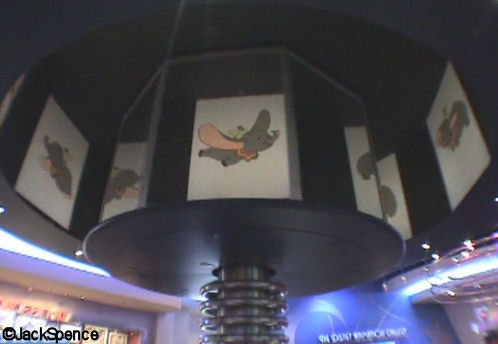 An abundance of Disney art is also on display.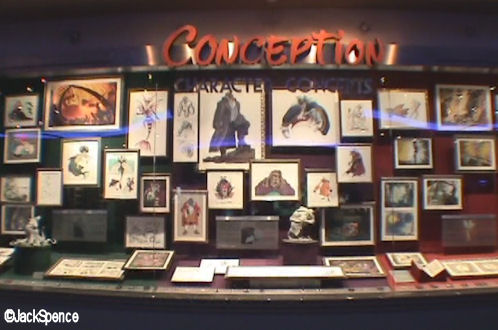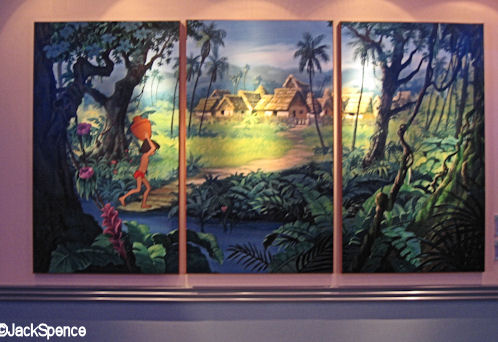 Before the actual tour begins, you're invited to watch a short video of Walt Disney paying tribute to the European pioneers of animation. Then you move into a theater reminiscent of a Hollywood studio screening room. Here you watch an array of clips from Disney's wonderful library of animation. You'll cry and you'll laugh. You'll cheer and you'll boo. All of your emotions will be brought into play. This film is similar to the one shown on the old animation tour at the Disney/MGM Studios in Florida.
The next stop is "Drawn To Animation." In this theater, Mushu, the little dragon from Mulan, and your human host explain how characters are developed and chosen to be in a Disney animated film. This is the same show as seen on "The Magic of Disney Animation" tour at Disney's Hollywood Studios.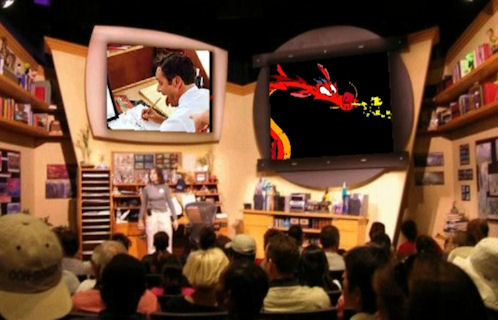 The final leg of this attraction is also similar to the Disney World animation tour. You enter a large room filled with various "stations" where you can play and explore. You can give Ursula your voice at the "Speak for Yourself" kiosk. "Colourful Characters" lets you paint with an electronic brush. And "Sound Tracks" lets you add your own sound effects to a Disney scene.
But the best part (just like at Florida) is the "Animation Academy." Here an animator will walk you through the process of drawing Mickey Mouse or some other Disney character.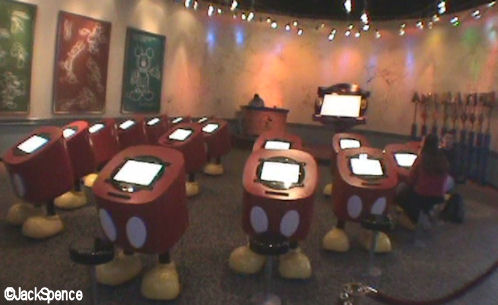 Animagique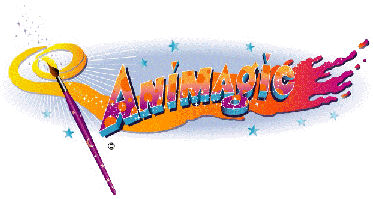 Animagique is presented multiple times a day in a 1,100 seat theater. The building is a copy of the CinéMagique Theater found in Production Courtyard; however the Animagique Theater has been painted blue since my last visit. The show is 25 minutes in length and a schedule is posted on a marquee out front.
The queue is rather unremarkable.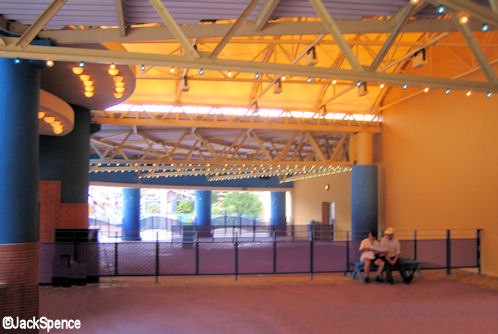 In an odd way, the story of Animagique is the same as Mickey's Philharmagic, except it uses real characters and puppets rather than animation. The show starts with Mickey and Donald onstage, each at their own easels. Some sort of contest is taking place to see who is the better artist. I'm sure I don't have to tell you who wins. At the end of the competition, Mickey leaves the stage.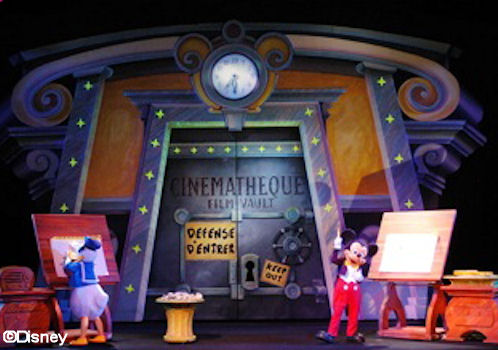 A frustrated Donald walks around in a huff and eventually finds Mickey's magic key to the vault located behind him. He unlocks the door to reveal hundreds of reels of film from Disney's animated classics. A moment later, some of the characters come to life. First we have the pink elephants from Dumbo. They dance out onto the stage and surround Donald as the haunting "Pink Elephants on Parade" is played. Black lights are used and their florescent colors come alive.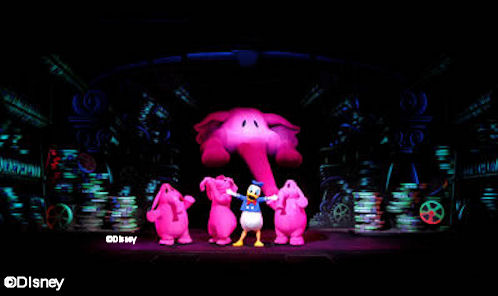 This routine is followed with the characters from Jungle book, Little Mermaid, and finally The Lion King. Each segment is about four to five minutes in length. Portions of the production will also remind you of the "Voyage of the Little Mermaid" show at Disney's Hollywood Studios. Black lights and puppets are used imaginatively and it's intriguing to watch. In the end, Mickey joins the fun for a big finale.
This show does have a catchy theme song which I like. But I'll warn you, it will be stuck in your head all day like "it's a small world."
I have to be honest; this show doesn't really work for me. Obviously I was supposed to like it, but I didn't. I thought it was juvenile. I enjoyed the "black light" segments, but I don't feel they're executed as well as the "Voyage of the Little Mermaid" show. But I also wanted to be fair and not pan this production without some other input. So I asked four of my friends who have seen Animagique for their opinions. Here are their responses:
Flo: I've seen Animagique three times – 2002, 2005, and 2007. I loved it the first time I saw it, as did my traveling companions (all hard core Disney freaks). But sadly, the next two times I found it to be a watered-down version of its former self. For example, there is a part that has puppet performers that walk in the aisles with puppets that are like kites on sticks (similar to the ones in Finding Nemo). In 2002, the theatre seemed like it was filled with them. They were in every aisle, surrounding you. The next times, there were only two. It made a big difference. There were other things that were reduced too. In 2002, we liked it so much that we made time to go back and see it again. The next two times, one viewing was enough. I still liked it, but didn't love it. Unfortunately, it appears to have followed Disney's usual pattern – open a great attraction but then let the bean counters drag down the show quality by cutting the performers back to the bare minimum.
TDLFAN: I honestly do not care much for "Animagique". I disliked the music the first time I saw it. In fact, the one aspect of the show I liked was the use of black lighting, which made the characters and props on stage glow to some degree. But the show was a bit slow, amateurish and mediocre for my taste. Maybe because I am so used to the big budget standards used at the Tokyo Disney Resort for these types of show/stage attraction. I could only recommend this show for families who bring small kids into the parks or for those who are "character lovers" to the core. Besides that, "Animagique" is not worth it.
Anita Answer: I thought it was unintentionally hilarious. It was so bad, I laughed out loud at some of the dialogue, such as when Baloo says in a monotone, "Hey buddy, gimme some." Slang always suffers in translation, I guess. I literally fell out of my seat and into the aisle I was laughing so hard. Verdict: Like Kraft Macaroni and Cheese, "It's the Cheesiest!"
Donald: I was so unimpressed with the show I can hardly remember seeing it.
So the vote is 1 in favor, 4 against. But don't take our word for it. You should ALWAYS judge these things for yourself. So if you ever find you're at the Walt Disney Studios Park, I think you should give this attraction a try. You just might love it.
I have heard a rumor. Let me say this again. I have heard a RUMOR, that this show will be retired and replaced with Mickey's PhilharMagic. I think this would be a great improvement and I hope it's true.
In my next blog I'll be discussing Cars Race Rally, Crush's Coaster, and Flying Carpets Over Agrabah.