Just like Frontierland, Adventureland is set back from The Hub. Because of this, it is much less intrusive in this otherwise Victorian area.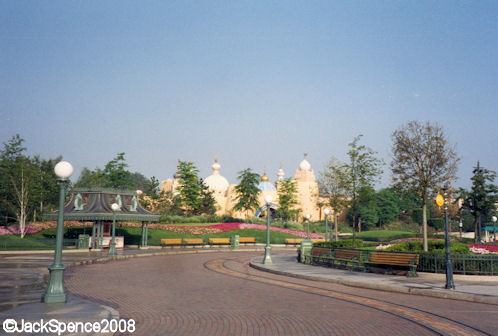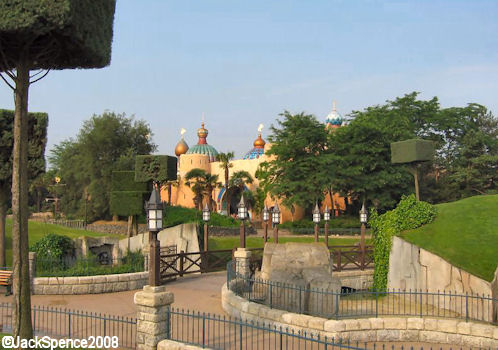 I've also mentioned that the transition between lands is remarkably seamless at Disneyland Paris. Here is a picture taken from Fantasyland, looking through a portal to Adventureland. If you study the photo carefully, you can see that this portal is a covered walkway with a different architectural style on each side – Tudor on the Fantasyland side and a sandstone-look on the Adventureland side.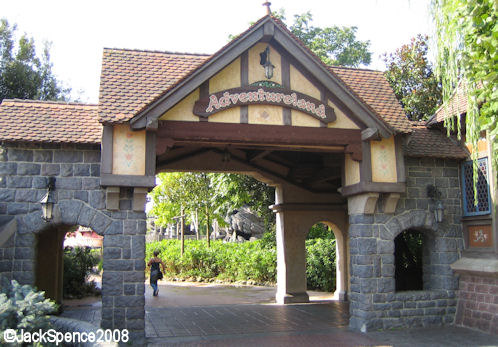 Returning to The Hub we move closer to the primary Adventureland entrance. Like the other Adventurelands around the world, this version is a collection of far-off exotic lands. Here you'll find romanticized adaptations of the Middle East, the West Indies, Africa, Southeast Asia, and a make-believe land called Adventure Isle.
On the other side of this arch we enter Aladdin's home town, Agrabah. Here in the Adventureland Bazaar we find busy shops and a tasty restaurant.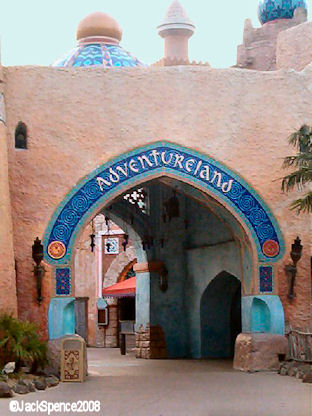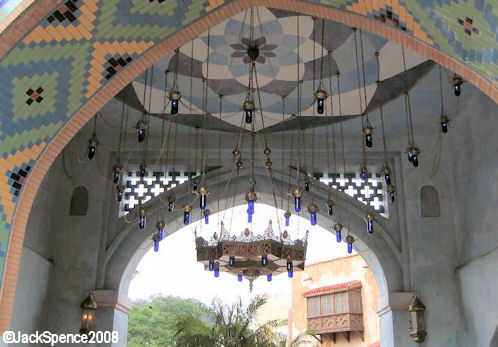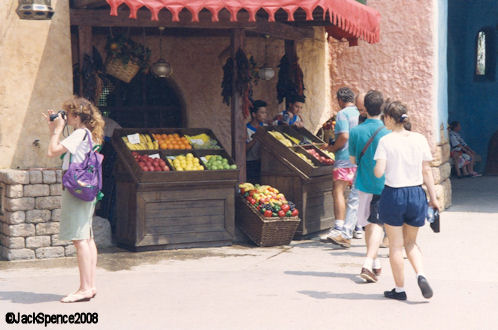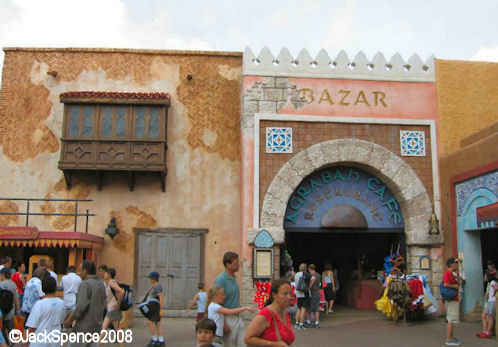 Agrabah Café can be found within the Arabian Bazaar. This buffet-style restaurant serves Mediterranean and Asian delights. There are a number of small, adjoining dining rooms, each with a mysterious, faraway feel and an outdoor courtyard for al fresco meals. This restaurant is open seasonally.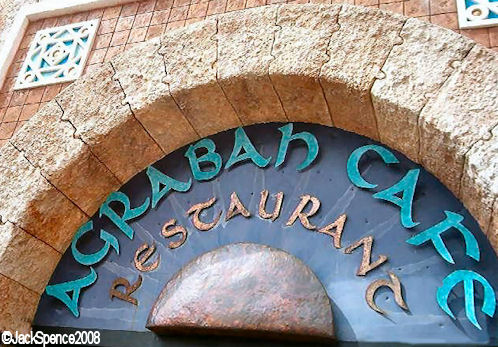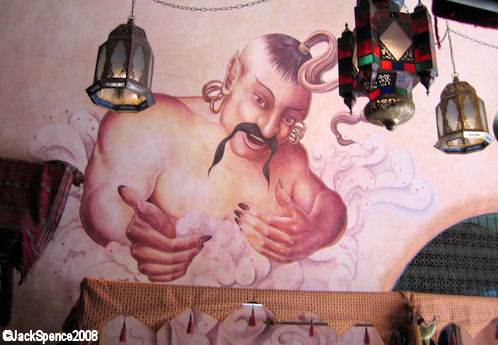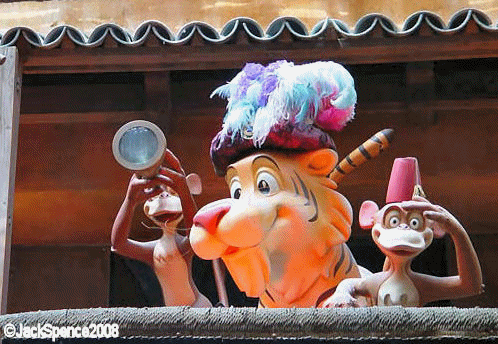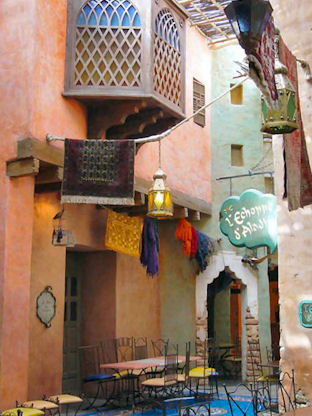 Near the entrance of Adventureland and Agrabah you'll find "Le Passagé Enchant' d' Aladdin."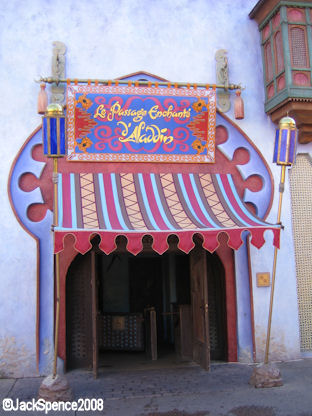 This is a walk-through attraction that tells the story of Aladdin and his magic lamp. A series of minimally animated tableaus and storybook passages recreate Disney's animated classic in this charming attraction. Definitely low-tech, but very enduring.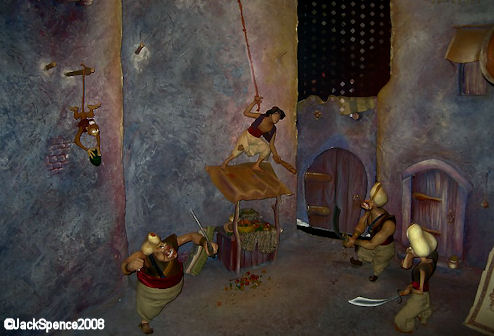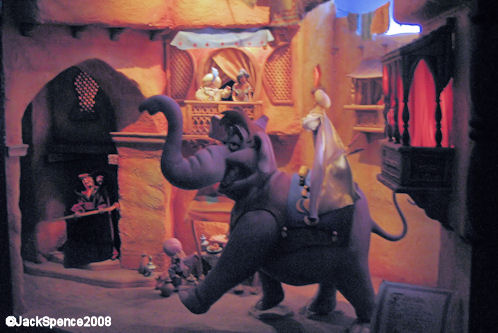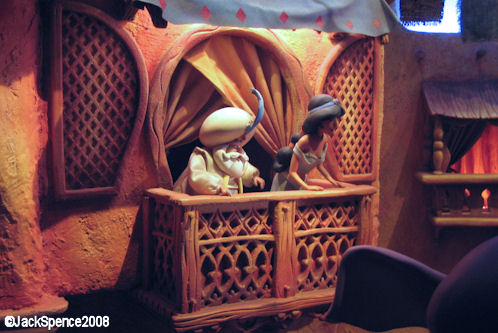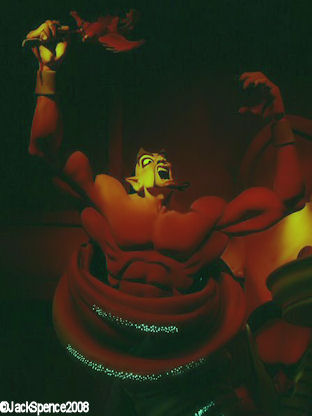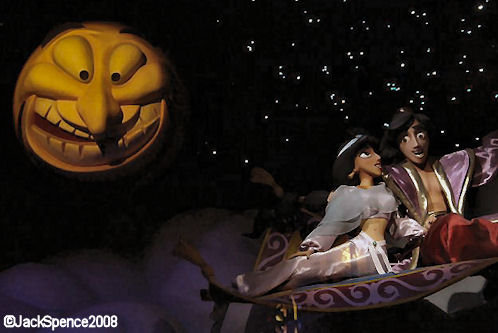 As we journey deeper into Adventureland, the Middle Eastern architecture of Agrabah transforms into Timon and Pumba's Africa.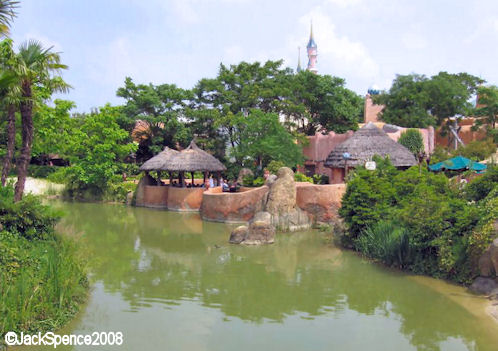 The Restaurant Hakuna Matata has a few references to "The Lion King" but overall, this eatery is more about the exotic locale than our animated friends. This is a counter service restaurant serving African inspired dishes.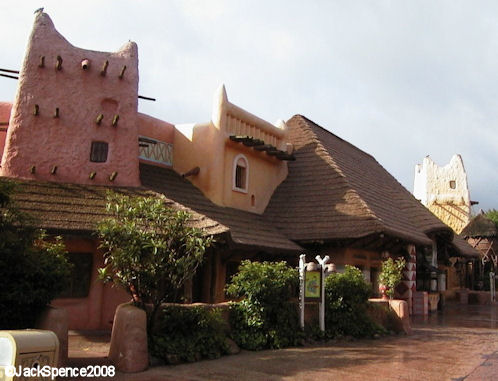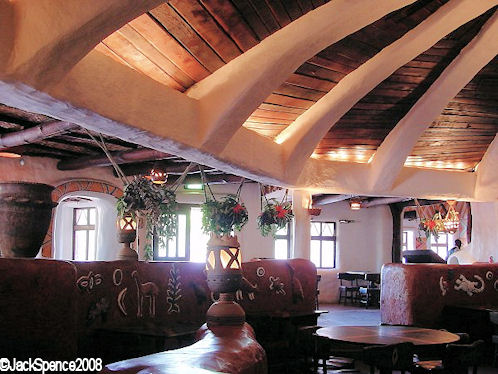 When the Imagineers were designing Disneyland Paris, they labored under the opinion that Europeans would prefer to linger over a meal at a table service restaurant rather than grabbing a quick bite to eat at a snack bar. But they were wrong. It turned out that most Europeans, like their American and Japanese counterparts, were more interested in experiencing the attractions than spending an hour or more eating.
Before there was Colonel Hathi's Pizza Outpost, there was the Explorer's Club. This was an elegant, table service restaurant located in a Colonial building found in some remote locale. Audioanimatronic birds and animals entertained guests as they enjoyed their meal. But due to a lack of need, this restaurant was eventually closed and converted to its present day, counter service incarnation serving pizza and pasta.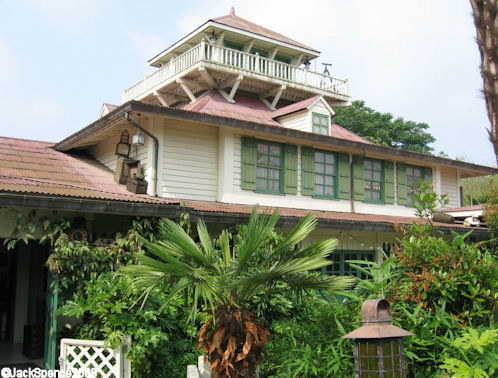 Today, audioanimatronic birds still sit high above the dining room in a large tree. They move and sing and tweet, while watching the guests below enjoy their meals. And when you think about it, it makes you very happy that these birds are mechanical and not real!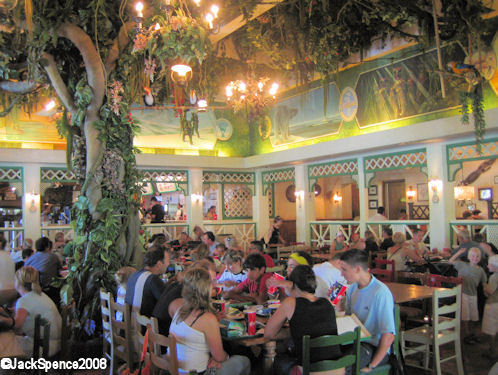 In my next blog I'll talk about Adventure Isle.