It is twelve-thirty p.m. on a Sunday in the Animal Kingdom and the air is filled with shrieks that can be heard from almost every corner of the park. As soon as you enter Asia and Dinoland USA and Discovery Island, you can hear them. The echo of cries make DAK goers look up and take notice; some in sympathy, some in dreaded anticipation and others in disbelief.
Are visions of hanging backpacks and Indian deities dancing in your head?
Unfortunately, I am not referring to one of Disney's newest scream-machines, Expedition Everest. I refer to the over-arching protests and complaints of toddlers and young children everywhere in Disney parks.
Above the roar of Everest, the blowing of train whistles, and the scream of Test Track you can find the screeching of over-tired children all over WDW desperately in need of a juice box. Their parents follow in-tow with an equally desperate need of a wine glass.
I know, I've been there. Disney with children is the best-I love taking my daughter, Lily, to the parks. But some days you find yourself with children that have been awake since six-thirty a.m. literally whipped (as in cream, lots of it, on top of their Mickey waffles at seven a.m.) into a character-breakfast-chocolate-syrup-fueled state of pure energy. Breakfast is followed by a thirty minute navigation of the Disney transportation system until you've arrived at the park, pushed (rammed?) your Hummer-Stroller through the turnstiles, and finally made it,only to turn and see Junior mouth-open about to implode Spaceship Earth with an anguished cry of waffle-crash/very high heat index.
So, you can repeat above process backwards sans waffles or you can search for the light at the end of this ever-darkening tunnel: the Baby Care Centers (cue celestial choir*).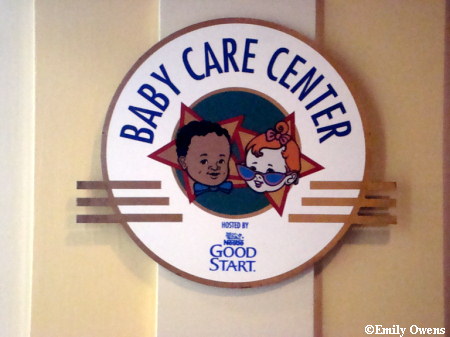 There is one Baby Care Center in each of the Disney parks. I will admit I was at first a skeptic of the Baby Care Centers. Was this like a giant bathroom with Mickey painted on the wall? Free soap and tap water? What else do we need at a WDW park for your child except a decently stocked diaper bag, Motts for Tots, and a comfy stroller?
After two years of parenthood I can tell you besides a full-time nursemaid, second husband, and air-conditioned-bubble-ball for your stroller you need a Baby Care Center while visiting the parks.
Back to my recent Sunday when the rest of my friends journeyed on their first Expedition Everest as my daughter and I headed out on what I have ruefully entitled Lily's Never-Rest Expedition.
She's two and in love with Mickey so what can I expect? Who wants to sleep when hopped up on a Mickey-ear ice cream and post seeing Nemo in person? I was two once-I get it. But toddlers, even good-natured ones, must slow down at some point. We head to the Baby Care Center tucked away under giant wooden lady-bugs in a non-descript and shaded corner of DAK.
Lily and I slip in the front door and immediately relief (mainly in the form of 72 degree AC) washes over us both. Lily struggles out of my arms to run into the kids' playroom while the CM cheerfully greets us both. The playroom is bright, spacious and equipped with a television (!).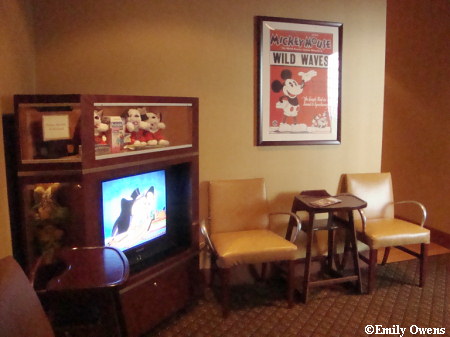 There is a water cooler and multiple items for purchase including diapers, baby food, infant and children's medications, binkies, clothes, etc. I would avoid these purchases at a BCC if possible. The diapers run for about 8.95 for a small (very small) pack. But when desperate, it is a relief to know there is somewhere to go.
Each BCC also has a stocked kitchen where you can warm food and bottles, find free utensils and each center features complimentary feeding areas including high-chairs.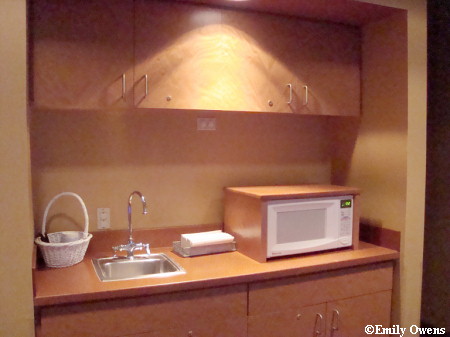 Each BCC also has a nursing mother's room and private bathrooms. They also sport an impressive changing station collection with plenty of Disney artwork to minimize mid-change squirming when your Dory-memory-level toddler suddenly remembers they are at Mickey's house and must go find him right now.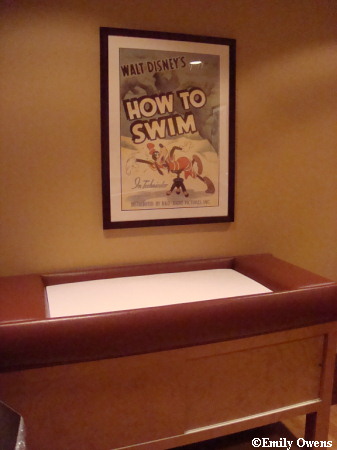 Back to the CMs. They truly are the highlight of these centers, as they are for most Disney facilities and attractions. Instead of looks of scorn at your squirmy, red-faced, generally disgruntled child you are graced with a smile of understanding and a pleasant overview of the facility.
The BCC are certainly larger and better-equipped at the more family-focused parks. The Magic Kingdom BCC is well… magical. The nursing mother's room is a peaceful oak rocking chair lined room with Victorian shade lamps and pictures reminiscent of Main Street USA.
Disney's Hollywood Studios have the least extensive Baby Care Center. It is just off to the side of Guest Relations on your left when immediately entering the park. It's nice-but small and there is no attendant actually inside the center though it is kind of attached to the Guest Relations center in general.
The best indication of Baby Care Center value to me is the parents I have come in contact with while warming bottles and changing diapers amidst Gerber puff feeding-frenzies. I actually had a mother grab my arm while waiting for the stove and whisper urgently, three-inches from my surprised and slightly wary expression, 'Don't you love this place? It has saved-my-life.'
While I don't know that I can give the Baby Care Centers that strong of an endorsement I will say the centers have most likely prevented mid-day meltdowns, heat stroke, and serious temper tantrums in the Pickle family.
And Lily really likes them, too.
~EOP