The big day finally arrived and we are in our home-away-from-home for the next two weeks! Yeah! Even yesterday, it felt like we wouldn't get everything together in time. After packing and re-packing twice, we managed to fit in nearly everything, kept our checked bags under 50 lbs., and still have some extra space for special treasures we find along the way.
And, what would a great vacation be without a snafu or two? When we got home from dinner last night, we found the A/C in our house had died. Of course, we were on day 3 of 100+ degree temps; fairly unusual for Portland. Sleeping was tough. And, it didn't help that we stayed up late to catch all of the great swimming action at the Olympics. And, it didn't help that there was lightning and thunder overnight causing the dogs to bark, whine, and shake. Sleep usually comes at a premium when we travel to WDW. Will the same be true for this cruise?
Once we got going this morning, everything went like clockwork. Got to the airport with a couple hours to spare, checked in, scanned through security, and boarded our little plane for LA. A relatively quick two hours later we were landing! In that time I managed to read an entire book — start to finish. Okay, so it was only 80 pages, but a delightful story called "About Alice". Thanks, Donna!
One thing I was a little concerned about was the logistics when we arrived in LAX. I knew we needed to collect our own luggage, but I thought we might be a little early to find the Cruiseline folks. No need to worry as they were right there waiting for us! After a fairly short drive to the port we had our first glimpse of the Magic! Not quite the same as coming over that hill in FL and seeing the entire ship there in front of you, but lovely nonetheless. We waited a bit to check-in and then we waited to begin boarding. Things have changed quite a bit since we first cruised on the Magic 10 years ago.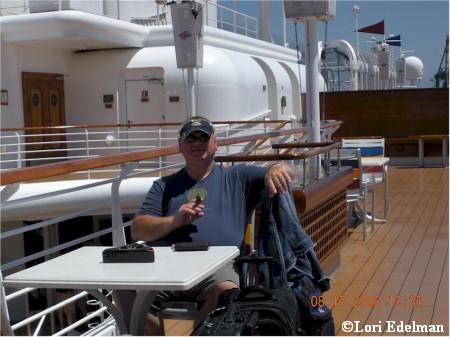 Once onboard we headed straight for Parrot Cay for a bite to eat. None of us had eaten much and everything tasted extra good.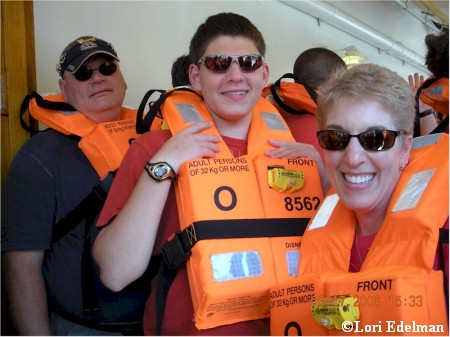 Now it was time for Adventures Away, the exciting sail-away deck party. The first time the horn sounded I cried. I'm such a sap (as in sentimental, not the HR database that I support — no, I am not thinking about work!)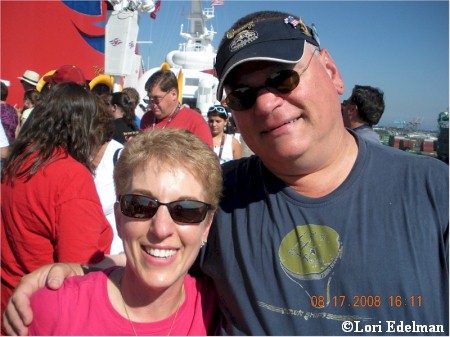 When we finally made it back to our stateroom, our luggage had arrived and we had a nice welcome from the Disney Vacation Club. Eventually, we made it to dinner. Our rotation begins in Parrot Cay and we have the very last dinner seating at 8:30pm. Toney and Marija are our servers and I think they will make this a very enjoyable trip. Apparently, we are sharing our table with others, but none joined us tonight; just the 3 of us at a table set for 8.
After dinner, Aaron headed off to the Stack for some 411 with the other teens. In the meantime, Michael and I headed back to the stateroom to change. We intended to go to Rockin' Bar D, but our eyelids have other ideas. Definitely time for some sleep.
Tomorrow will be our first full day at sea and we have lots to do – a visit to Vista Spa, Bingo, and a talk about the building of the Panama Canal, among other things.
Follow my Panama Canal Cruise Blogs. Beginning entries at the top, for most recent entries scroll down.
Follow our journey on the Disney Magic. The call sign is C6PT7
This link will show you in red dots where the Magic is. You can use the ZOOM in and out feature to get a better idea of where the ship is.
To see all cruise ships sailing click here. Then you can click on any area of the map to get a closer view.