Ok so the Pirate and Princess party was amazing!
The highlight of my night had to be meeting Captain Jack Sparrow though! Wow just looking at him is worth the price of admission! I seriously almost fainted!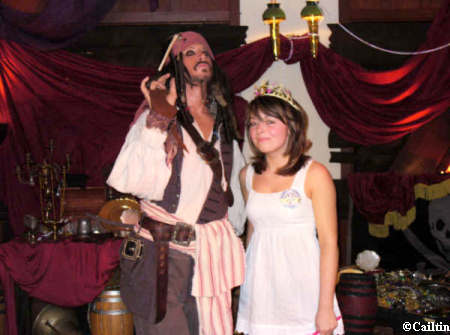 The parade was spectacular! The pirates float was probably my favorite because it was full of excitement and got your blood pumping. The cannons on the boat actually worked too! Of course it didn't explode with a cannonball but the light and smoke coming out of it was cool!
The fireworks are probably the best set of fireworks I have ever seen at the Magic Kingdom, which is actually saying a lot since Wishes is so amazing. I would explain more but it's something you have to see for yourself and my words wouldn't do the show justice.
Caitlin Tip: You should be in front of the castle if you want to have the best seat in the house for the fireworks.
For teens I would recommend skipping the treasure hunt, all you get are some bead necklaces and since there are so many rides to go on and characters to see you won't regret missing it.
It was also cool walking around with my Happy Birthday pin on. I was told happy birthday countless time and the River Roulette band sang me happy birthday!
I definitely recommend the Pirate and Princess party to anyone who has a chance to go!