Recently, I met up with neighbors and friends for dinner at the Yachtsman Steakhouse in the Yacht Club Resort.
Bob and Rita Ondercik are long-time Disney fans and have been DVC members since the beginning of DVC (when awesome benefits were added for joining). Bob and Rita also volunteer at Give Kids The World, a resort near WDW that is a retreat for children with medical problems.
Paul and Gretchen Gregg are Disney fans, though not as rabid as the Onderciks and me. (However, I think we've stimulated their interest!). Of course, we all had to pay tribute to Minnie Moo. Rita and Bob are on the left side of the photo, and Paul and Gretchen are on the right.
I like the Yachtsman Steakhouse; I usually order fish or chicken, and my wife Vickie assures me that the steak is decent and worth a trip for dinner.
Before the meal, Vickie and I explored the Yacht Club for Hidden Mickeys. We found a cool one made of coiled rope in a display window of the Fittings & Fairings shop; it's in the closest display window to the main lobby. Display window Hidden Mickeys at WDW tend to come and go, as the displays change from time to time.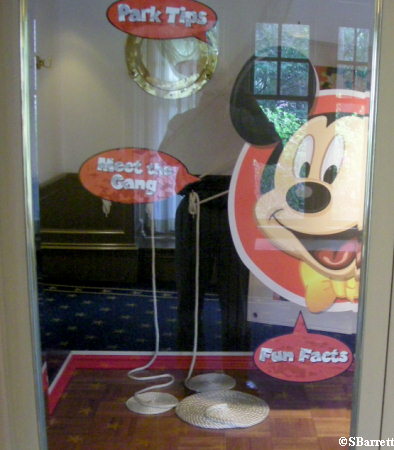 The next day, I joined Bob and Rita at Epcot. We flew on Soarin' several times, and I snapped a somewhat decent photo of the classic Mickey made of rocks in the snow. It's at the top center of the photo, which is a difficult photo to get right! This Mickey image is more convincing when you first spot it, as you're soaring up to it. (Thanks to Jen T, Beci Mahnken, and Annette Owens for first alerting me to this classic Mickey).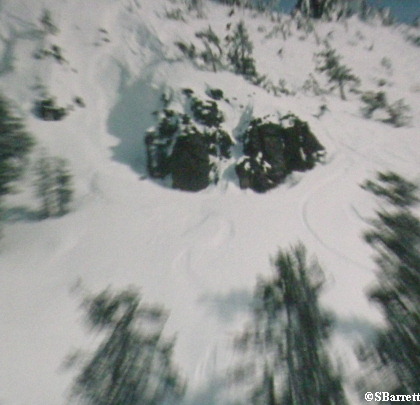 Rita found a Hidden Mickey in the House of Innoventions (the House of Tomorrow) inside Innoventions East, on the rear wall of the bedroom. It's an upside-down Mickey made of ad buttons. You have to queue up and wait for a tour of this futuristic house, but it's worth a short wait, especially to find Rita's classic Mickey!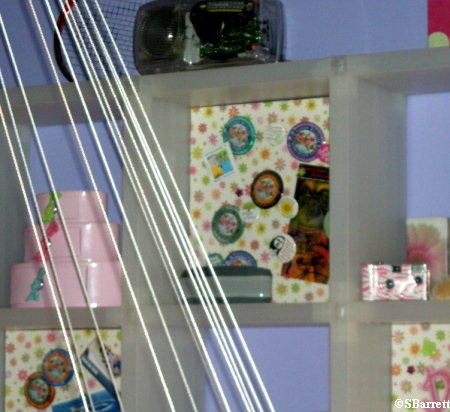 Before we called it a day, I snapped a photo of Bob and Rita in front of the upside-down waterfall at the Imagination Pavilion. A day at WDW can be quite refreshing!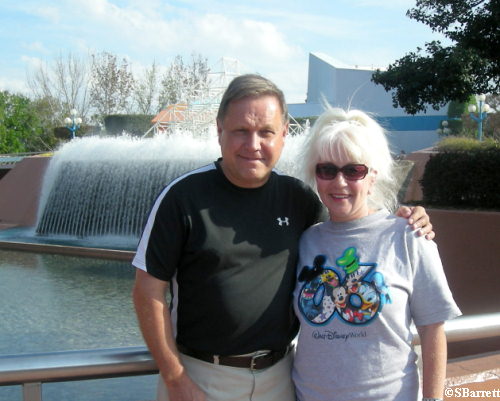 Read more about Steve's Hidden Mickey finds on AllEarsNet.com
Steve maintains a Catalog of Hidden Mickeys on the Hidden Mickeys Guide.