I kept telling myself to put together a mailbag blog entry and kept forgetting but forget no more. Here is the first of what I hope are many opportunities for me to share with all of you some of the letters I receive from time to time. I'd like to share them all with you and it was most difficult choosing which to share"¦perhaps that's what has taken me so long to getting around doing a mailbag blog entry.
Anyway, here are some I hope you will enjoy.
Surprise! Surprise
From Jennifer:
Was catching up on your marathon posts, as I haven't had time to read your blog lately and imagine my surprise when I came across your picture of the people in the Soarin' queue guiding the bird through the forest. No, it wasn't me, but my brother! He's the one in the gray Illinois State t-shirt. He was visiting Epcot that day by himself, the only free day he had while attending an Army National Guard conference at a nearby resort.
Thanks for making him just a little bit more famous and for giving me a good laugh for the day 🙂
Love the blog and love WDW Today. Keep up the great work.
Jennifer
LOL…thanks Jennifer…here's the picture Jennifer speaks of.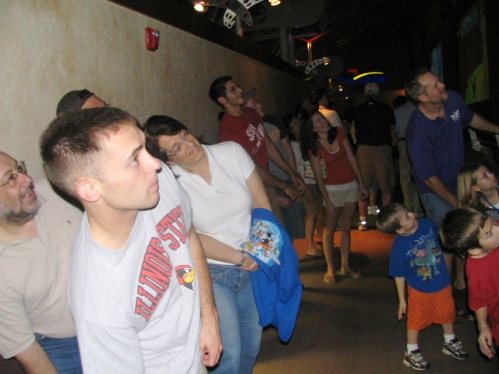 There's a Reason for Everything
From Leslie:
Dear Mike,
I just returned from my first "official attempt" at a 1/2 marathon and I am very pleased to share that it was this year's Donald. WOW, Disney sure makes sure that this experience is one to remember!
I wanted to send you a heartfelt THANK YOU for the marathon information that you posted on January 5th… It made this experience so much easier and calmed my nerves on what to expect… I did not finish, as I knew that I would not, but your words of wisdom within this blog helped me to start the race, give it my all, and have a sense of grace about when it was time to stop.
I am sure that you receive tons of email like this, but earlier this year I suffered a hip injury that required surgery and during this surgery they found a genetic defect that required repair as well. I did not lose hope about the Donald, but as I am only 11 weeks out of surgery knew that my chances of finishing were slim to none. So many emotions… frustration as I was ready, disappointment that I was not there for my walking buddy, and fear that I would be picked up before the first pacing point…
I am very proud to say that I started this race, kept up the pace as best I could, and made it through the Magic Kingdom with the help of many well meaning fellow walkers. I surpassed my own goals! Thanks for the words of wisdom and encouragement!
Leslie Mack
Leslie the only regret I have after reading this note from you is that I did not get a chance to see you at the race and give you a hug for your tremendous attitude and effort. You are an inspriation to us all.
Perseverance Pays Off!
From Janelle:
Congratulations on the Race, Mike!
I religiously read every entry you wrote for the year leading up to the race and I thank you for all your advice and words of wisdom.
For my first race…ever…I, too, entered as walking wounded. I had 3 rounds of pneumonia since Oct. and had taken my coaches advice to sit it out. But something came over me at the Expo and I thought, "I can definitely make to MK."
I kept plugging away and did finish (a time I'm not proud of, but finish I did. I hope you will keep filling us with race thoughts as I'll need it in the coming year…I've taken leave of my senses and am going Goofy next year. Hope to see you out there!
Janelle
Janelle…I think that certain "something" that came over you at the Expo was your confidence in yourself to do this. Nice job.
Congrats to Claudia!
From Claudia:
Hey Mike,
I've just been catching up after coming back from WDW and the marathon weekend. Wasn't that an awesome experience? It was my first and I really, really loved it. I wish I lived closer and then I could do this more often but as it is, I won't really be able to get back to WDW for a marathon in a while – transatlantic flights are a bit costly!
I've also been listening to your discussion on WDW radio (I'm about 1/3 of the way through the podcast!) and it's been a great way to re-live the experience, even though I did the full and you guys all did the half. I finished with such a buzz from the whole thing that even now, more than two weeks after the event, I still can't stop talking to everyone about it. It was magical and yes, surreal…
I wanted to write to you and thank you. It was your blog, along a few others, that inspired me last year to sign up for this race and I don't regret it. Sure, I had my bad days when training didn't go very well or when my confidence was shaken and I didn't think I would finish. It was all totally worth it for the sheer experience of running at the World and getting that amazing medal. So thank you – I wouldn't have done it if it wasn't for your enthusiasm.
Also, this is the only exercise that I've stuck to longer than a few months and I'm actually starting to enjoy it. So I will keep running (I have the whole kit now too, so better use it) and look forward to the XX marathon weekend when I plan to go again and get myself another one of those special edition medals.
Congratulations and thanks again,
Claudia (in UK)
Way to go Claudia. Thank you for the kind words and sharing your experience.
My American Cousin
From Joan:
I have just read your article about the American Adventure. I too love the attraction. I visit Disneyworld at least once a year. The reason I'm writing to you is because my cousin posed for the father in the "two brothers" segment.
I am attaching the picture of my cousin standing next to his animatronics figure. I gave a copy of the picture to one of the men at the American Adventure. I hope you enjoy it.
Sincerely,
Joan Neumann
Author's Note" Unfortunately Joan's cousin passed away a few years ago but here is a photo of her cousin standing next to his animatronics counterpart.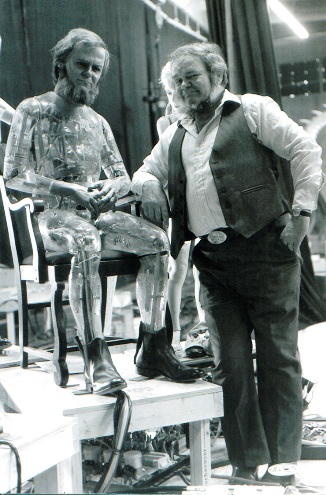 Disney Magic!
From Nicole:
Reading Mike Scopa's article "The Unheralded Treasures of Walt Disney World" spoke of Streetmosphere at Disney Hollywood Studios. One of my favorite memories of my dad comes from a trip I took with my family when I was 10 (over 15 years ago).
My mom and I were talking a few steps behind my dad when a mime walked next to him and took his hand. Thinking it was my mom he started a conversation but got no response. When he finally looked at his "wife" he was shocked to see the mime and even jumped a little while my mom and I were laughing.
My dad was a good sport and every time we reminded him of what happened he would smile and laugh a little himself.
Thanks Mike for bring back his happy memory… can't wait to tell my mom!
Nicole
Vacations serve many purposes Nicole and one purpose is to make memories. thanks for sharing.
Special Moments
From Holly:
I just read the "Unheralded Treasures" article. What a great term. We all have had those special moments which is what keeps us coming back. The article reminded me of our Unheralded Treasure.
One HOT June afternoon we (2 men, 3 ladies and 2 children 6 and 4) took the launch over to Tom Sawyer Island. The magic happened when the men chased the kids around the island the 3 ladies relaxed in the rocking chairs, in the shade on the boat dock with cool lemonade.
It doesn't get any better than that.
Holly
Y'know Holly, I know there is an undiscovered unheralded treasure waiting for everyone on every trip….one reason why we keep going back.
The Little Things
From Sally:
My absolute favorite unheralded treasure is hearing the lovely French music that plays on the lower path of the walkway between the resorts around Crescent Lake and the International Gateway.
It seems like almost everyone is in a rush to get to World Showcase, and takes the much wider "overpass." Perhaps the same music plays up there, but I've never heard it!
My second favorite involves the French pavilion itself – being one of the first patrons of the Boulangerie Patisserie in the morning sitting outside at the little tables and feeding croissant crumbs to the birds.
It's the little things, isn't it?
Sally

Yes Sally it's the little things or as we see in the next letter from Virginal…it's the details.
Here's a picture I took from International Gateway one morning before WS opened…that's the bridge to France.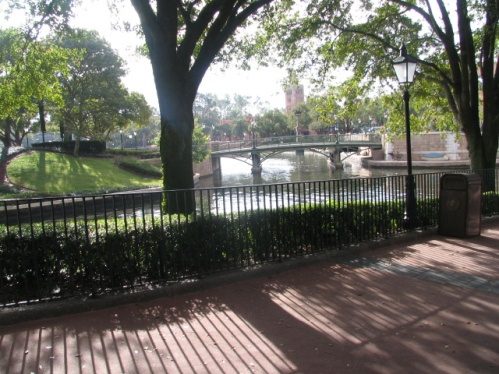 Don't Forget the Details
From Virginia:
Reading your article in All Ears Newsletter made me think those are the special things about Disney that cause us to make the trek several times a year, the thing that most people don't understand. I want to add one to your list.
Last October while I was waiting for Spectromagic to begin, I was eating a snack on a side street off Main Street. I heard a terrible sounding piano, then a women yelling. Then I heard tap dancing. It took me a minute to figure it out.
Across the street, a window read something out Piano Lessons and/or Tap Dance Lessons, and that was the commotion I heard.
Those are the details that make Disney special to me; most people are too busy running to the next attraction to take the time to appreciate the small things.
Thanks for reliving the magic,
Virginia Pierce
Virginia, thanks for reminding me about some of the Magic on Main Street USA.
Thanks to everyone who took the time and effort to drop me a note. I appreciate feedback and any thoughts you may want to toss my way.
2009 Marathon Weekend Alert
For those of you who are planning to participate in any of the races during the 2009 Disney Marathon Weekend I encourage you to register ASAP with special emphasis to those planning to do the very popular Walt Disney World Half-Marathon.
That race is at least 85% full.
Go to the Walt Disney World Half-Marathon Registration Page to register.