All Ears reader Kim Howe had the "dream of a lifetime" in December, when the Walt Disney World Dream Team awarded her a night's stay in Cinderella's Castle. She shares her magical story with All Ears.
I look back now to my every step and action of the morning that put me in the right place at the right time for the Year of a Million Dreams Dream Squad to find me.
There are many "what ifs" that came to mind:
If I didn't take a few extra minutes to look at Marge and Paul's Disney cruise pictures before I left their house that morning.
If my annual pass had worked in the turnstile and I hadn't had to wait for a CM to get me a new one.
If I hadn't taken the time to sit down and write the number of my new AP down so if I lost it, it could be reprinted.
If Lisa and I had waited to ride Soarin' with the MouseFest meet instead of going ahead so not to miss the Walk in Cards Footsteps meet at 10 a.m.
If the three FastPass guests had gone down the Concourse 2 like they were suppose to instead of going down Concourse 1.
If I tried to sit in a better seat instead of deciding to sit where I was suppose to while thinking to myself this is the worst seat on this ride. Little did I know it would turn out to be the BEST seat that morning!
If any of those things when differently, I wouldn't have this story to tell because I wouldn't have been the one on Soarin', concourse 2, hang glider C, row 3, in seat 1 at around 9:50 a.m. on Saturday, December 8 where Dream Squad members Elton, Jackie and Kathryn greeted me after the ride.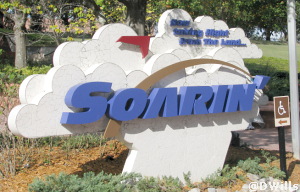 Thinking back I was aware there were people outside the exit door "as I gathered my belongings" but it didn't hit me until I walked through the door that they were Dream Squad members.
I thought that we were going to get FastPasses. I was calm. Lisa told me later, she wasn't. They asked me if I was familiar with the Year of a Million Dreams and told me I was a "potential" winner of a great prize. They asked me if I'd like come with them and Lisa too. They started asking me a battery of questions: Where are you from? Do you know any cast members? Who are they? Are you related? Do you live with them? There were probably others I don't recall now. We walked along the exit hallway as we talked. They kept telling me I could be the "potential" winner of a great prize every time stressing "potential."
When we came to an area where the standby line and exit line meet and there were lots of other guest around to witness what was going to happen next, we stopped. A portable DVD player was placed on the railing and it began to play a commercial for the Year of a Million Dreams and the prizes offered.
The sound didn't work very well at first but it was fixed. I playfully said that I'd take the cruise as a picture of one of the ships appeared on the screen. Next thing I know the words "Cinderella Castle Suite" are on the screen. Still, feeling calm I recall thinking that it would probably be good to act surprised and happy, so I did. The Dream Squad certainly made a big fuss over it! It hadn't really sunk in yet what had happened.
We walked together out the rest of the Soarin' exit and past the FastPass distribution area where the Dream Squad continued to make a big fuss which brought attention to us by other guests. I told them that they must LOVE their jobs making people happy all day and they said they did. As we walked out of the Land and to the Imagination Pavilion, they explained that I could invite five guests to join me. Lisa was a given since she was with me.
Let me back up a bit…..
Lisa and I met at MouseFest 2005 and again in 2006. The first year we communicated via e-mail a few times after MouseFest but in the last year we really didn't keep in touch at all. I didn't even know if she was attending MouseFest this year. I met Mark Goldhaber from MousePlanet at the airport and while we were boarding the plane to FL for MouseFest, he asked me if Lisa was attending. My answer was that I didn't know because we didn't keep in touch at all in the last year. He found that hard to believe since during MouseFest we attend many of the same meets together and even toured together between meets. As in the past two years, sure enough, I was at my first meet, MouseFest 101 and I looked to my right and there she was in her Pooh Santa hat.
Ok, back to the day of dreams!
I had four more people to invite!!
As we were walking I called my friend Paula to invite her and her 16 year old son, Dylan. I lost my calm feeling as I spoke with her and started to cry.
To Be Continued….