Saturday was spent with a family who I've known for several years. Bonny and Andrew have a special daughter named MJ who is featured (page 246) in the PassPorters Open Mouse for Walt Disney World and the Disney Cruise Line book I co-authored.
MJ is a 7 year old girl with multiple disabities including Right Cerebral Cortex Polymicrogyria, autism, epilepsy, fetal alcohol syndrome disorder; to name a few. Her language is limited to single words and some sign language, but spending a day with her is a special treat beyond words. It's been amazing over the years to see what her many many trips to Disney parks has done to help her become more alive, more verbal.
Our day began with breakfast at Cape May Cafe. MJ is fed only by a feeding tube and therefore does not eat or drink. She does enjoy Character Meals. She also enjoys cutting food while the rest of us eat.
Today was a celebration of MJ's birthday (which is later this week). Minnie was the first to wish her a Happy Birthday.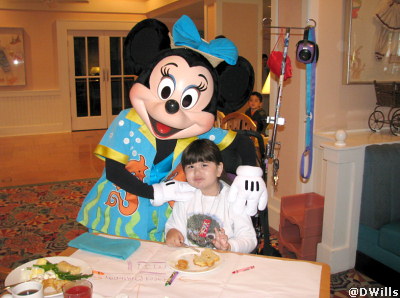 Dale stopped by for some chair dancing with MJ.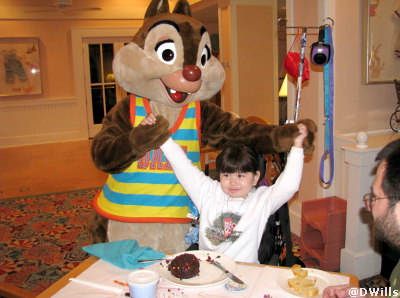 After breakfast we headed to Animal Kingdom. We were still in the Oasis when we realized it was time for White Spoonbill eggs. In the photo below, one Spoonbill had just moved away from sitting on the eggs and another came over and turned them around. About this time, All Ears team member Linda Mac joined us!
Being in a park with MJ is not your typical day in a park. It's a slow stroll with her pointing to various parts of the park that she wants to visit. Her mom will ask, Do you want to go to Planet Watch? and she will either motion or speak, yes or no. And believe me, she knows the names of everything in the park!
Along the way, we encountered Terk. MJ just LOVES to rub Terk's belly!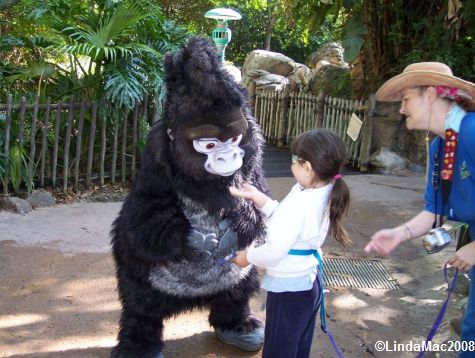 Next was the Wildlife Express Train to Rafiki's Planet Watch.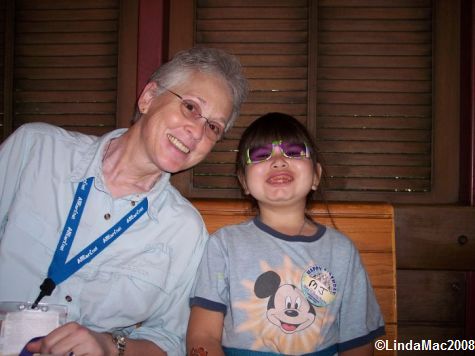 MJ loves all the hands on items and especially being able to pet the animals. "Touch, touch", is what she says about the rabbit below.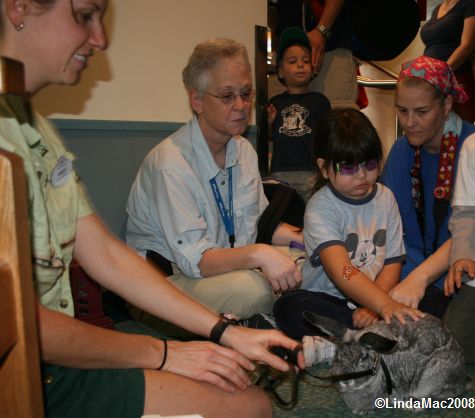 She was also quite fascinated with the cage the rabbit traveled in.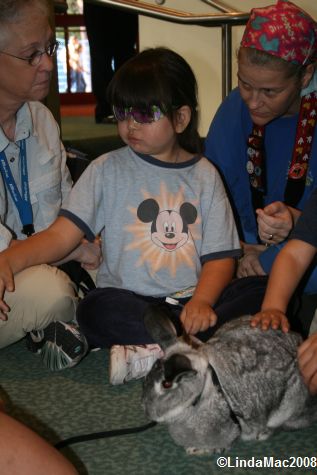 Soon Jiminy Cricket appeared….. It was amazing that he had no line of folks waiting to see him. He took the opportunity to spend extra time with MJ. She was showing him the bird's nest that had 3 babies in it.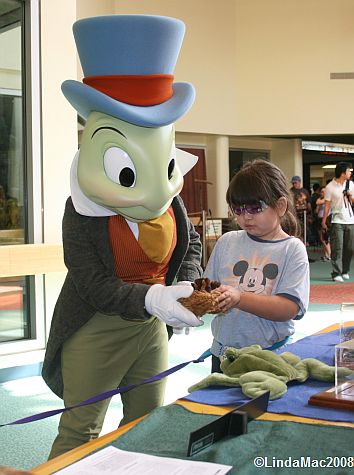 And I couldn't resist the chance for a photo-op with Jiminy!
Next up was lunch at Flame Tree BBQ. I had a Turkey Sandwich on a multi-grain roll. And while the roll was on the dry side, it must be low on the glycemic index as just a low dose of insulin took care of it!
After lunch, we planned to see Finding Nemo the Musical. However, MJ had about had enough of the crowds so we headed back to her house.
One of MJ's friends gave her a Belle dress for her birthday! Here she is modeling for us.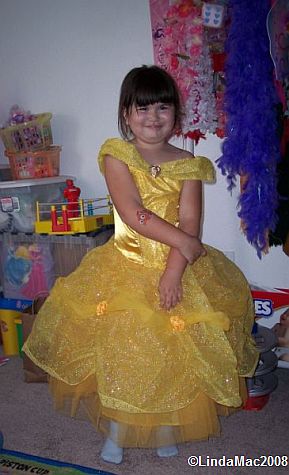 Here is MJ with LindaMac, whom she called "Mac" and her dog Coco.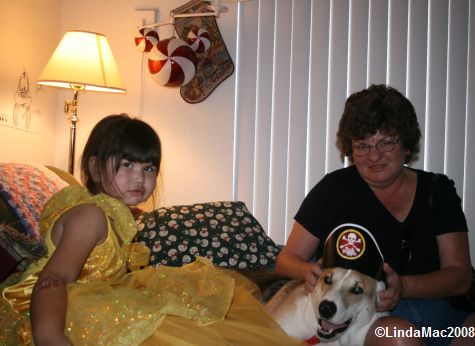 MJ and Deb just hanging out.
A wonderful day had come to an end and it was time to head back to the resort. Originally I was going to call it a night, but then realized I was very hungry. LindaMac said she could eat also and we managed to get a resservation for Narcoossee's at the Grand Floridian for 6:15pm. We could just make it…. A great dinner and server and company……Saturday came to an end.
Tomorrow…my day with NO plans at all! WOW!