On Sunday, October 7, Vickie (my wife) and I met up with Pat Whitson (of the DisneyWorldTrivia.com team) and Byron Hall (and his wife Melanie) AKA phatdisneygeek.com. We rendezvoused at the Sportsman's Shoppe in Epcot's United Kingdom pavilion. As it was the weekend, locals showed up to enjoy the Food and Wine Festival, and World Showcase hummed with activity.
Byron was sponsoring a child's (and his family's) Make-A-Wish vacation to WDW. I had donated my books to Tommy, and I had hoped to visit with Tommy and his family today. Alas, it was not to be. Tommy's flight to Orlando arrived that afternoon, and their visit to Epcot would have to be on another day.
Anyway, it was a great day at Epcot. Earlier, on our way to WDW, I'd driven through hard rain in downtown Orlando. I told Vickie not to despair, as the skies are generally blue over Disney World. My prediction proved true; Epcot was mostly dry (but humid!), and it only misted intermittently. Our group meandered along the promenade, enjoying the wafting scents of food, wine and beer from the kiosks spaced among the country pavilions.
Of course, I had a few Hidden Mickey posts from my website to check out. But first, Pat and Byron wanted to show me a potential Hidden Mickey they spotted inside the waiting area for the O Canada! film. It's on a shelf near the ceiling at the front of the waiting area, not far from the entrance doors to the theater. The inside waiting area is dark, and this image can only be seen when the lights go up before the crowd enters the theater. Check out the attached photo, and let me know what you think by voting on my website (in the Questionable Section of www.HiddenMickeysGuide.com)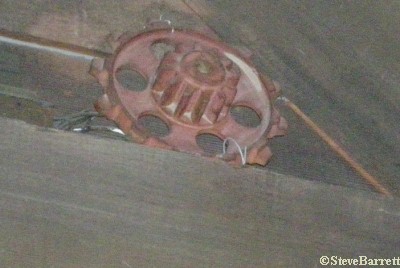 We heard the last few songs from Off Kilter, rockin' sounds from bagpipes and other instruments, including a fab guitarist. In France, we watched Serveur Amusant: acrobatic guys who perform a delightful balancing act with wooden chairs. We wandered toward The American Adventure pavilion, passing by the vibrant drums of Matsuriza in Japan.
In Italy, we ran into Mark Goldhaber (Columnist/Editor, MousePlanet.com and Co-host, the MouseStation podcast), who was busy (and I mean busy! meaning not much sleep!) on a research trip. Our group headed on to Mexico as it was misting by now. Mark took his leave ("a lot left to do!") and the rest of us floated down the "River of Time", now called the Gran Fiesta Tour Starring The Three Caballeros.
Vickie and I had dinner plans with Bill and Donna Iadonisi at Shula's Restaurant in the Dolphin Resort at 5:30 pm. Bill is helping me with my website. He's proved to be a quality Hidden Mickey hunter, and he's now a bona fide Field Researcher for me. We talked Hidden Mickeys and enjoyed an excellent meal. My salmon and sauteed spinach were delicious. This was just the kind of day I love to spend at Disney World!