It really was a beautiful morning which was good since we spent a lot of time waiting. Even though Spaceship Earth remained closed for renovations, it made the perfect backdrop for the festivities against the blue sky.
I purchased a limited edition T-shirt and a Figment for myself which took quite a bit of time. So much time that I could not wait in any of the Limited Edition pin lines. (If anyone has any extra of the limited edition 25th Anniversary pins, please let me know.) From the shop I headed over to the rope drop area. My souvenir shopping put me much further back from the rope than I had hoped. Nonetheless, I was there in person and very excited!!!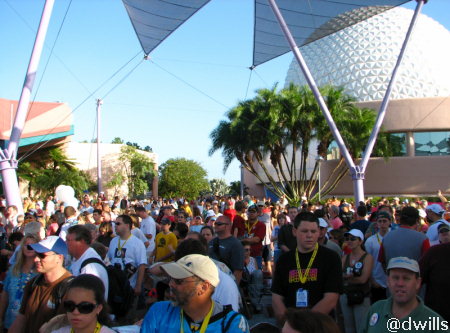 We waited at the rededication location for well over an hour. It provided a wonderful opportunity to talk to those around and listen to the stories of what brought people to Epcot on this special day. Many knew the significance, some, "just followed the crowd."
Here is a photo from my spot, about 5 rows from the front, looking back toward World Showcase. It'll give you an idea of how many folks attended the ceremony.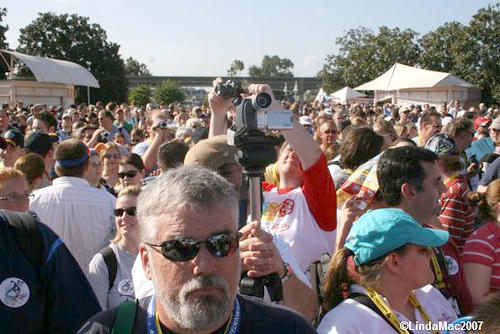 AllEars® Senior Editor, Debra Martin Koma, with AllEars® Guest Columnist, Brian Martsolf.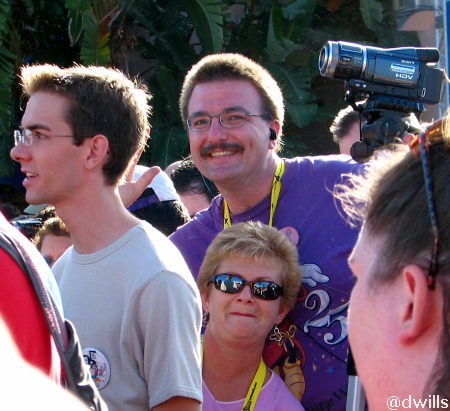 Adam Roth (co-founder Celebration 25 one of the unofficial fan gatherings) is being interviewed for a podcast. Adam is holding an original Figment from the early 80's which belongs to Celebration 25 co-founder Jenn Waitt.

The fanfare began with Ambassador Michael taking the stage. He welcomed everyone to Epcot's 25th Rededication Ceremony…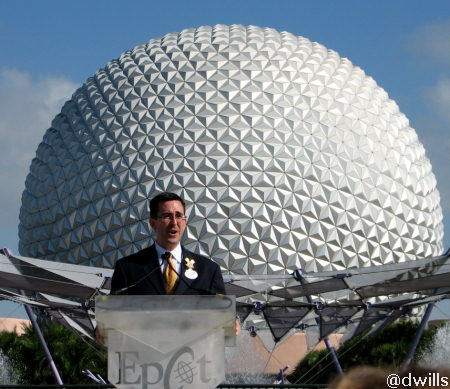 … and introduced Tracy Wui, Rededication Ceremony Hostess.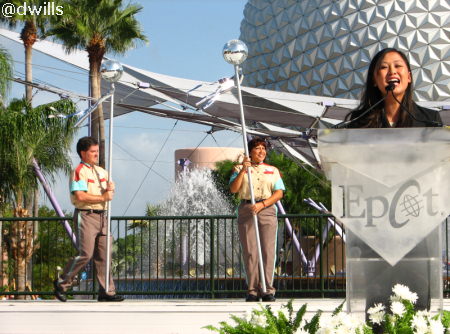 Tracy explained that in the original dedication ceremony, one of the speakers said of Epcot, "This represents a dream come true". The original musical score played 25 years ago, We've Just Begun to Dream, was played again on this special day. And, as Tracy said, "After 25 years we can still say "we've just begun"!
As the music played, Tracy introduced Epcot Cast Members representing Future World. The processional included 2 Cast Members from each attraction, one holding a sign representing that attraction. Spaceship Earth's sign was the original icon for the attraction, followed by Innoventions, Energy, Mission Space, Test Track, Seas with Nemo and Friends, the Land and Imagination. The crowd cheered and applauded as each attraction was announced.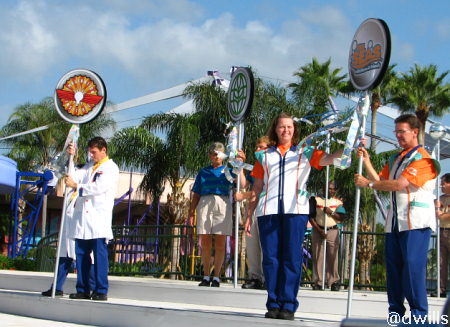 Next on stage came Erin Wallace, Senior Vice President Operations Walt Disney World Resorts and Jim MacPhee, Vice President Epcot.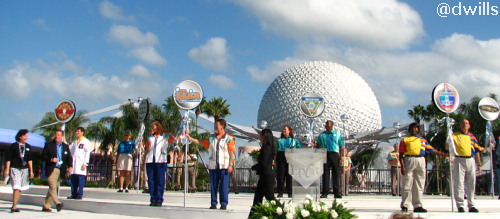 Jim asked for applause from everyone who was here 25 years ago when Epcot opened. He then recounted his opening day story, of being an Epcot Cast Member and working in the Parking Lot! Standing center stage at the 25th Celebration for a Cast Member who began as a parking lot cast member, certainly had to have been "A Dream Come True" for Jim as well.

Erin spoke of the significance of Epcot's opening in 1982, "When Epcot was built and opened, it really signaled an era of growth on this property."

Jim: "We recognize that the heritage and tradition of our founder is woven through the fabric of everything we do here, every moment of every day.
Jim: "You can dream, create, imagine and build the most wonderful place in the world. But it requires people to make that dream a reality." He went on to say, "We have one special person, who was right next to Walt."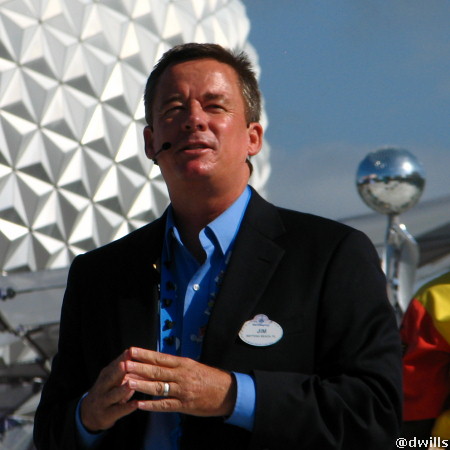 Erin continued: "He began his career in 1955 working with Walt on Disneyland. He is the only Disney Cast member to participate in every opening of our 11 theme parks worldwide; named a Disney Legend in 2001, Executive Vice President and Imagineering Ambassador, Marty Sklar." The crowd broke out in a loud applause.
Mickey and Minnie escorted Marty on stage to a huge applause from the audience.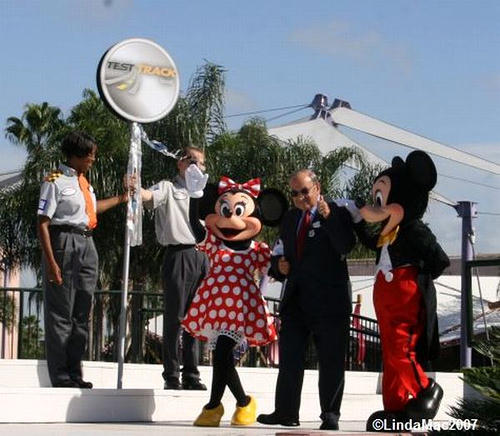 Marty: "Walt's vision for Epcot really set the course for everything that has happened here at Walt Disney World in the 41 years since he announced his vision."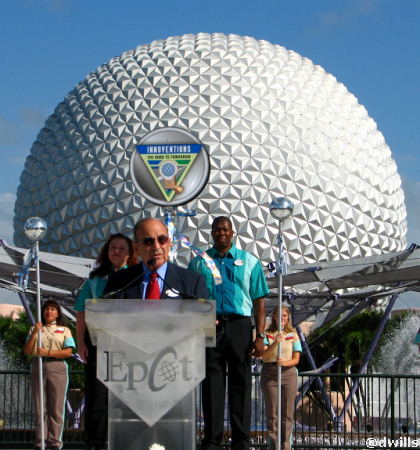 "The passion for excellence that Walt Disney inspired, motivated all of us, Disney Cast Members as well as the designers, engineers, architects, and film makers who joined us to dream big dreams, invent new experiences and tell new stories about the lessons of yesterday, the challenges of today, and the promise of tomorrow."

Marty then read Card Walker's dedication of Epcot 25 years ago and added his own remarks:
"25 years ago we said, the 21st century began on October 1, 1982. Today, on October 1, 2007 we rededicate Epcot, and ourselves, to a new future that begins now. "